| | |
| --- | --- |
| Leggett calls Ray Tanner to clear the air, put "incident" in the past | |
---
| | | |
| --- | --- | --- |
| Wednesday, March 9, 2011, 2:54 PM | | |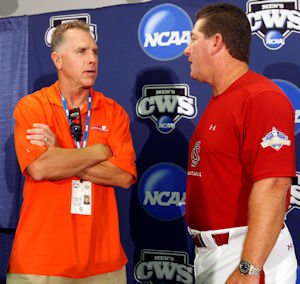 AUDIO: Jack Leggett teleconference
CLEMSON – Clemson baseball coach Jack Leggett woke up Wednesday morning, after an admitted restless night, and picked up the paper where he read South Carolina head coach Ray Tanner's tirade following the Gamecock's 5-4 victory at Fluor Field Tuesday night.
And he knew he needed to clear the air.
Tanner spent almost seven minutes blasting Leggett and some of Clemson's players regarding an incident in which Leggett had umpires check the bat of South Carolina centerfielder Jackie Bradley, Jr., following Bradley's first inning home run in Saturday's game.
Clemson catcher Spencer Kieboom had told Leggett that he picked up a South Carolina bat during Friday night's game at South Carolina, and the bat was hot to the touch, leading to speculation that the Gamecocks were cooking their bats, or warming them up in order to improve performance.
There were also some postgame comments from Clemson centerfielder/pitcher Will Lamb in which he called South Carolina pitcher Tyler Webb "soft", and Tanner took almost seven minutes to vent his feelings on the subject.
Tanner said he told his team it was ok to be emotional during Tuesday night's contest.
"To be quite honest, I told them it was OK," Tanner said. "I felt like that we were called out and we had to put up with some shenanigans. We have a great baseball rivalry and it's been all about baseball. It's been taken out of context a little bit. I didn't appreciate it, our players didn't appreciate it. It has nothing to do with us winning or losing tonight but we responded. Our guys were not very happy they got called out. I don't think it's part of the game.
"We tried to come in here and play aggressive and play emotional. I think it's OK. It's not something you want to do all the time but I'm proud of our players. For many, many years, I've taken the high road. In this situation, these guys were affected by some comments. I felt like it was OK to give the guys an opportunity to tell them how they felt. They did. I said, 'OK, let's battle. You don't have to keep yourself in check so much. If you feel like saying something, say it.' Then we got back to baseball."
Tanner said he took particular exception to having Bradley's bat checked.
"They called the bat out," he said. "When [Richie] Shaffer hit it 600 feet, I guess I should have called their bat out. I didn't appreciate it. I'm offended by it. I don't cheat and I don't allow my players to cheat. We haven't done anything wrong. I felt like we were called out a little bit and I don't appreciate it. I don't appreciate what Will Lamb said about one of my pitchers. I don't appreciate that. He's entitled to say whatever he wants to say. I don't like it and my players didn't like it. End of story."
Tanner then went on to say that his relationship with Leggett was damaged because of the weekend.
"I don't think it's what it was," Tanner said. "There's no question about it. I'm not happy with the situation and maybe nobody cares. That's fine. I just don't think what happened was appropriate. It's not part of what this rivalry is about. We've had some great, great games. Tonight was great. They had us, we battled, they battled, and they almost got us in the end. That's what it should be about and we shouldn't have this conversation. I'm not happy about having it but I'm telling you how I feel. For many, many years, I don't tell you how I feel but I'm telling you tonight. I'm not happy with what has transpired."
Leggett left Fluor Field without having knowledge of Tanner's comments, and said he was shocked when he read them in the morning paper. As a result, Leggett picked up the phone to call Tanner and clear the air.
"After reading that and listening to it, I felt like it was important we talk about it," Leggett said Wednesday afternoon. "We are both rational, passionate people who care about what we are doing. We want to do things the right way all the time. We both have good programs, and I just felt like we needed to put the focus back on baseball and the players and the programs and all of the good things that have happened."
Leggett said he wanted to make sure that everybody knew the air had been cleared.
"I wanted to address some things and move on," Leggett said. "Coach Tanner said some things in his postgame press conference, and I wanted everyone to know that I made a call down there today and we had a good 45 minute call with each other. We felt bad that the effort, a great effort, by both teams was overshadowed by events.
"I wanted to try and get past that and get to the point where we can play baseball and start moving forward. Obviously, we are not going to agree on everything, but that is the nature of the game and the rivalry. We apologized to each other and I want everyone to know that step was taken so we can move on. It was a very productive discussion."