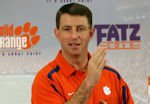 | | |
| --- | --- |
| Dabo Swinney's Clemson vs. Georgia Tech Press Conference | |
---
| | | |
| --- | --- | --- |
| Tuesday, October 19, 2010, 10:11 AM | | |

Watch live video from TigerNet.com Live Stream on Justin.tv
Dabo Swinney Press Conference Audio (WMA format)
Opening Statement

"If there's a team we should know something about, It's Georgia Tech. They've won three in a row against us (against Swinney, four in a row overall) and are starting to play their best football. We have to focus on playing a complete game against these guys. That's something we've yet to do.
"It's come down to the final play in our last couple of matchups with these guys. In the championship game, we played about as well as you can offensively. We just haven't quite put it together with a complete game.
"We're going to need solid contribution in all three phases. Although we didn't play a great game offensively this week against Maryland, we made critical contributions at times to put the game away.
"Georgia Tech has six starters back on offense. Anthony Allen was the A-back last year and now he's the B-back and Nesbitt makes them go at quarterback. He's a tough guy to simulate in practice. They don't throw the ball a lot, but our history with them is that when you think you're doing a good job, they go up top for a big one.
"This game starts with being physical. Everybody has a job to do and you have to be extremely physical in doing your job. We have to win the physical matchup. We have to try to create turnovers. Third down is going to be critical for us because they go for it on fourth down. If they get fourth-and-short, they're going for it. Third down is going to be critical for us and we have to do a good job in the red zone.
"When you get spread out on the option, you have to tackle well because a lot of times it might be a solo tackle. You miss a tackle in this game, it's very noticeable.
"Their defense is the biggest change on this football team. They have eight starters back. Coach (Al) Groh is now the defensive coordinator and it's like getting ready to play Virginia. He's done a really nice job of implementing the 3-4 scheme and you can see them getting better.
"For us it's all about execution on offense, taking care of the ball, and we have to throw and catch better than we have. We have to be a better first down team and we're working hard to do that.
"Special teams continue to make a difference, and that been a consistent area for us this year. Our guys have taken a lot of pride in special teams. It's a big matchup and we look forward to getting back out there.
On plays on first down

"It's execution and maybe doing a few things a little differently. That affects everything. We just have to be better there. We can't have second and nine, or second and eight."
On defense respecting the pass

"Maryland was over committed to stopping the run and they did a very good job. We had six drops in the passing game, including two touchdowns. That's frustrating. We have to open it up a little more. If teams are going to over-commit like that, we have to open it up more."
On DeAndre Hopkins

"I think we will have him back at full speed. Yesterday he looked fine. The only one I'm worried about injury-wise is Brandon Maye. He has something wrong with his calf and I'm not sure about him yet."
On Georgia Tech defense

"It changes your offensive philosophy. You have to be more patient in how you attack them. They don't give up that many big plays and they've shown some aggression at times. They have the capability within their scheme to mix it up. Hopefully we're going to be able to run the football. We have to be able to run the ball to be the type of team we want to be. That may come from throwing the ball this week."
On intensity versus Georgia Tech

"Georgia Tech, to me, is the champion. They've earned it, they won it, and they have the title until something's said differently this year. These guys beat us in two heart breakers last year. There are a lot of guys on this team that have played against them.
"But for us it's a one-game season, nothing else matters. We've come a long way in two years. We've had three gut wrenching games against them. I have a lot of respect for Coach (Paul) Johnson and that program. We're also about building a great program here and that's what we're in the process of doing.
On GT running back Anthony Allen

"He's fast. He's the guy that went 80 yards on us last year. He can run. He's a very good player and then they have good complementary guys on the outside. This just comes down to your eyes and everyone doing their job. There was good intensity for a Monday practice last night so we're off to a good start."
On this week's scout team

"Vic Beasley (freshman tight end who is red-shirting) is the only guy that can give us a true Nesbitt simulation. I'm going to spend a little time with the scout offense because we need a great Tuesday and Wednesday practice to give us a picture of what they'll see Saturday."
On GT quarterback Josh Nesbitt and option offense

"Somebody's got to tackle the quarterback every play. Someone's going to take the dive guy, every play. Somebody's got to take the pitch guy, every play. It's just important that everybody does their job.
"We have to mix things up. If it's always the same against these guys, they'll make you play. Nesbitt is big, strong and tough and he lays it on the line. Stephen Hill has been their main receiver. He's big, 6'5", he's the jump ball guy that they throw the ball to when they throw it down the field."
On close games against GT

"These are always two evenly matched teams that have laid it on the line, played hard and refuse to quit. Both teams have a nice will to win. There always has to be a winner and a loser. There have been a few tough calls in them, but these teams both just have a will to win. "