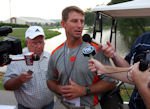 | | |
| --- | --- |
| Swinney: Mistakes mean Tigers "not a good team" | |
---
| | | |
| --- | --- | --- |
| Sunday, October 3, 2010, 7:05 PM | | |
Dabo Swinney teleconference audio (MP3 Format)

CLEMSON – Clemson head coach Dabo Swinney held his weekly Sunday teleconference with the media, and said that after watching the film of the Miami game he feels like the Tigers are just not a good football team because of the mistakes they are making.
"We're doing some good things. We're a talented team right now but we're just not a good team," Swinney said. "We're doing some things to beat ourselves. The biggest thing is that we're not a top 20 team. We lost to Auburn and Miami. Who knows, maybe we'll get another shot against Miami. We had six turnovers and three busted touchdowns and still had a chance to win it."
He did say the mistakes were mental, not physical, and therefore are correctable.
"Had a chance to spend the day reviewing all the tape and meeting with the staff," he said. "We're not where we want to be right now with two losses and an opportunity to win both games. We have to get back to work. The good thing is that the mistakes are correctable. It's not like we're not physically capable.
"Offensively - turnovers, that's the story there. Defense - we played really good at times and other times we made mistakes. The three, uncontested touchdown plays were huge in the first half. We have to get it fixed. It's hard to win that way."
The Tigers go back on the road next Saturday when they travel to Chapel Hill to take on North Carolina, who opened as a four-point favorite, and Swinney said his squad will have to show resiliency if they are to pick up their third win overall and first in conference play.
"We have to stay together and see the opportunity that we have," he said. "We still control our own destiny. We have to be resilient. That's the big thing. Bounce back. We have to keep on keeping on and work on the things we can control. I'm anxious to get with the players tomorrow at 6:30 and watch the film with them and get ready for UNC. I know they're coming off a win. It's 2-2 teams that want to get to three wins. That's our objective."
The Tigers had busted coverages that led to touchdowns for the Hurricanes, and he was asked if they were new plays.
"No. That's what was frustrating. It was about as basic as you could get. The first two touchdowns were basically the same play. We just busted it. We have to get it fixed. We have a safety that's supposed to be over the top, but he's coming down and jumping something else that's someone else's job. It wasn't complicated. It's something we've done a thousand times. We just didn't execute. Obviously we have to coach it better and get it right."
Because of the busted coverages and the multiple turnovers, Swinney was asked if he had a handle on what made his team step "out of character."
"I wish I knew, because I'd stop it and it would never happen again. We were leading the conference in turnover margin. I never in a million years saw six turnovers coming. We had one really bad interception, but two were kind of freaky. We have to take care of the ball."
The wide receivers failed to get separation from the Miami defensive backs, and also had some drops, and Swinney was asked what he thinks about the unit after seeing the game on film.
"We have to get better. We have to coach them better. We have to make the plays that are there to be made. Kyle was off in the first half but came back in the second and put some balls on the money. I think you'll see a little change there this week from a rep standpoint. Hopefully we'll see some improvement, but we have to throw and catch to win. We have to get Jaron more touches.
"Nuke [freshman DeAndre Hopkins] did a good job. We hit Nuke on a 20-yard gain and we have a fumble. And he'll learn from that. Nuke, Jaron [Brown], and Bryce [McNeal] is another guy who deserves some opportunity. Marquan [Jones] has been pretty steady for us. You have to take advantage of your opportunities. We have some guys who need more touches than they've been getting."
Parker had subpar first half, and Swinney was asked if there was any thought about replacing him with backup Tajh Boyd.
"If he continued to play bad we probably would have, but he came back in the third and came out humming. He responded well after halftime. We took the momentum back in the third and had a chance to take the lead in the third but missed some opportunities that were there."