| | |
| --- | --- |
| Mistakes doom Tigers in loss to Hurricanes | |
---
| | |
| --- | --- |
| Saturday, October 2, 2010, 5:38 PM | |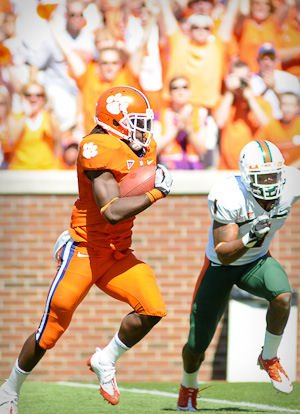 CLEMSON – During the preceding week, many Clemson football players and coaches called Saturday's home contest against 16th-ranked Miami a "statement game."
Saturday turned out to be the kind of statement you don't want to make.
Blown coverages, missed tackles, six turnovers inside their own 50-yard line, wide receivers failing to get separation and a failed fourth down conversion late in the game all fueled the Hurricanes' 30-21 victory over Clemson at Death Valley Saturday afternoon, dropping Clemson to 2-2 overall and 0-1 in Atlantic Coast Conference play.
"For us, it's extremely disappointing," Clemson head coach Dabo Swinney said. "A 30-21 game and against a very good football team, and that is with six turnovers and just three absolute gifts for touchdowns in the first half. It is really miraculous it was that close to be honest with you. With six turnovers, you aren't going to win many games."
The teams traded punts on their first possessions, but Miami gashed the Clemson defense on the second drive. The Canes drove 83 yards in just eight plays, most of that on the ground, and ended the drive with a 22-yard pass from Jacory to Leonard Hankerson. Running back Damien Berry had four carries for 54 yards on the drive.
The Tigers muddled through the first two possessions, failing to pick up a first down, but Andre Ellington got the offense in high gear on the third possession. On the first play of the possession, Ellington took the handoff and ran over the left side, shook off a lunging attempt by Miami defensive back Ray Ray Armstrong just past the line of scrimmage and raced 71 yards for the tying touchdown.
The Tigers' ensuing possession was a little bit longer, 10 plays, but again ended with a touchdown run by Ellington. The Tigers drove 63 yards and took four minutes off of the game clock and Ellington capped the drive with a 14-yard run up the middle for a 14-7 Clemson lead early in the second quarter.
The Hurricanes took exactly three plays to answer, however, when Harris hit a wide-open Hankerson over the middle for a 65-yard touchdown.
Clemson intercepted a Harris pass deep in its own territory, but Miami returned the favor on Parker with a tipped pass, and Harris hit Mike James from 18 yards out on the first play for a touchdown. The extra point was blocked, and Miami led 20-14 with 7:33 remaining in the half.
Clemson's next possession also ended in a turnover deep in its own end, this time a fumble by Ellington, but Marcus Gilchrist picked a good time for his first career interception, picking Harris off in the end zone to end the threat with 4:22 remaining.
Parker threw another interception just before the half, and Miami again took advantage when the Harris to Hankerson connection scored again. Harris hit Hankerson from seven yards away, the fourth touchdown pass of the game for Harris, tying his career high. Miami led 27-14 at the half.
Clemson had just 34 passing yards at the break, and zero completions to a wide receiver.
Clemson's defense gave up 280 yards in the half, but 261 of those were on just 10 of the 41 plays.
"We have to do a better job of communicating," Clemson defensive coordinator Kevin Steele said. "We had those three huge plays that really cost, and it's just because people aren't communicating. On that long touchdown, we just had a guy line up on the wrong side of the field. There are times when we play like I think we are capable of playing, and then we turn around do something, and I'm like 'What was that?' "
The Tiger defense stiffened in the third quarter, and it took the Clemson offense almost the entire quarter to get back into gear, but Ellington capped an eight play drive with a three-yard touchdown plunge, trimming the Cane lead to 27-21 with 2:46 remaining in the third quarter.
The Tigers had a chance to get back on the scoreboard with a drive that lasted until midway through the fourth quarter, and Swinney opted to go for the first down in a fourth-and-one at the Hurricane 20-yard line instead of kicking the field goal. The ball was pitched to Ellington, who was dropped by Miami's Brandon Harris for no gain to end the Clemson drive.
Clemson actually had third-and-one, also, but Ellington was stopped for no gain on third down as well, and he said a championship team converts in that situation.
"I thought we had a good play call, there," Ellington said. "When I took the pitch, it looked open and then he [Harris] came out of nowhere to make the play. I didn't even see him come in motion. You have to tip your hat to him on that play, but good teams convert right there. If we convert, I think it's a different ballgame."
Following that play, the Hurricanes were able to drive down the field in 11 plays, getting a 29-yard field goal from Matt Bosher to give them a 30-21 lead with just 2:40 remaining. The drive took 5:40 off of the game clock.
Clemson got a big return from Marcus Gilchrist on the ensuing kickoff, but he fumbled on the first play, effectively ending the game.
"You have fourth-and-one and the game on the line and chance to take the lead and you don't get it done," Swinney said. "We still had the opportunity to get the stop, but we jump offsides and then we allow Harris to get a big run. They then put a big drive together to get their only points of the half."
Tiger center Dalton Freeman said Swinney put the game on the offensive line and they didn't get the job done.
"Coach Swinney put it in our hands to get a first down on third-and-one and fourth-and-one, and we all said we wanted it," Freeman said. "That's just on us. We have to look at that and try to get better. It was very disappointing but things like that are going to happen. We had been running the ball right up the middle and we should have gotten a first down. That should have worked."
Running back Jamie Harper said he has faith the Tigers will bounce back.
"The leaders on this team are going to carry this team," Harper said. "We're going to take this one and just roll with it. Miami is a great, but I thought we came in and hung with them pretty well. But six turnovers is not how you win a game. We had plenty of scoring opportunities and just couldn't make it happen. We're going to come out next week and move forward."
Ellington was one of the few bright spots for the Clemson offense, gaining 120 yards on 17 carries, and he caught another three passes for 39 yards. His three touchdowns were a career-high.
Clemson returns to ACC action next Saturday when they travel to Chapel Hill, N.C., to take on UNC in a game that will kick off at 3:30 p.m.
Score by Quarters     1  2  3  4   Score


-----------------    -- -- -- --   -----


Miami...............  7 20  0  3  - 30       Record: (3-1,1-0)


Clemson.............  7  7  7  0  - 21       Record: (2-2,0-1)

Scoring Summary:


1st 09:01 UM - Hankerson, L. 22 yd pass from Harris, J. (Bosher, M. kick), 8-83 3:06, UM 7 - CU 0


    05:53 CU - Andre Ellington 71 yd run (Chandler Catanzaro kick), 1-71 0:12, UM 7 - CU 7


2nd 13:28 CU - Andre Ellington 14 yd run (Chandler Catanzaro kick), 10-63 4:00, UM 7 - CU 14


    12:22 UM - Hankerson, L. 65 yd pass from Harris, J. (Bosher, M. kick), 3-70 1:00, UM 14 - CU 14


    07:33 UM - James, M. 18 yd pass from Harris, J. (Bosher, M. kick blockd), 1-18 0:06, UM 20 - CU 14


    00:10 UM - Hankerson, L. 7 yd pass from Harris, J. (Bosher, M. kick), 2-29 0:14, UM 27 - CU 14


3rd 02:46 CU - Andre Ellington 3 yd run (Chandler Catanzaro kick), 8-56 3:57, UM 27 - CU 21


4th 02:40 UM - Bosher, M. 29 yd field goal, 11-68 5:40, UM 30 - CU 21

                                     UM       CU


FIRST DOWNS...................       19       15


RUSHES-YARDS (NET)............   43-171   40-162


PASSING YDS (NET).............      205      149


Passes Att-Comp-Int...........  33-13-2  33-14-3


TOTAL OFFENSE PLAYS-YARDS.....   76-376   73-311


Fumble Returns-Yards..........      0-0      0-0


Punt Returns-Yards............      4-1     3-44


Kickoff Returns-Yards.........     4-76     4-95


Interception Returns-Yards....     3-21      2-0


Punts (Number-Avg)............  10-46.3   7-46.1


Fumbles-Lost..................      2-0      3-3


Penalties-Yards...............   12-105     6-56


Possession Time...............    29:18    30:42


Third-Down Conversions........  6 of 18  7 of 17


Fourth-Down Conversions.......   0 of 0   0 of 1


Red-Zone Scores-Chances.......      4-5      2-3


Sacks By: Number-Yards........      3-8      1-7




RUSHING: Miami-Berry, D. 24-101; Miller, L. 7-53; James, M. 6-31; TEAM


2-minus 2; Harris, J. 4-minus 12. Clemson-Andre Ellington 17-107; Jamie Harper


18-57; TEAM 1-minus 1; Kyle Parker 4-minus 1.

PASSING: Miami-Harris, J. 13-33-2-205. Clemson-Kyle Parker 14-33-3-149.

RECEIVING: Miami-Hankerson, L. 7-147; James, M. 2-29; Berry, D. 1-9;


Johnson, A. 1-8; Benjamin, T. 1-7; Gordon, R. 1-5. Clemson-Jamie Harper 4-26;


Andre Ellington 3-39; DeAndre Hopkins 3-37; Dwayne Allen 3-24; Jaron Brown 1-23.

INTERCEPTIONS: Miami-Armstrong, R. 1-19; Hill, R. 1-2; Forston, M. 1-0.


Clemson-Rashard Hall 1-0; Marcus Gilchrist 1-0.

FUMBLES: Miami-Benjamin, T. 1-0; Harris, J. 1-0. Clemson-Andre Ellington


1-1; DeAndre Hopkins 1-1; Kyle Parker 1-1.

Stadium: Memorial Stadium      Attendance: 81500


Kickoff time: 12:01 PM  End of Game: 3:55 PM   Total elapsed time: 3:54


Officials: Referee: Jack Childress; Umpire: Mark Pellis; Linesman: Tyrone Davis;


Line judge: Richard Misner; Back judge: Barry Hendon; Field judge: Mike Cullin;


Side judge: Darrell Harison;


Temperature: 70        Wind: Calm      Weather: Sunny