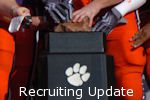 | | |
| --- | --- |
| Orta says he is "All In" with Clemson | |
---
| | | |
| --- | --- | --- |
| Sunday, June 6, 2010, 2:35 PM | | |
CLEMSON – Geraldo Orta, a defensive back out of Valdosta, Ga., pulls no punches when he talks about his favorite football and role model. He will tell you right quick that he loves the way All-Pro safety Brian Dawkins plays the game, and that he wants to play the game the same way.
So it was no surprise when Orta, while sitting down with recruiter Danny Pearman and Clemson head coach Dabo Swinney Saturday evening, decided he wanted to follow in his idol's footsteps and play football at Clemson University, telling Swinney and Pearman that his recruiting process was over.
"My favorite player is Brian Dawkins, and of course he played at Clemson," Orta told TigerNet Sunday afternoon. "He is like my role model. I feel like I play just like him, and I want to play like him. He is a physical guy, and that is the way I want to play."
Orta, who plays for Lowndes High School in Valdosta, was on campus for an official visit on Saturday, and took a tour of all of the facilities, and he said that when he sat down with Pearman and Swinney, his mind was already made up.
"I like the coaches and I like the environment," Orta. "I feel like I can grow as a person and as a player at Clemson, so I went ahead and committed to them. I know that Coach Swinney takes care of his players. Clemson is a place where I can focus on the important stuff, like school. I don't know what my major will be, but I will decide that when the time comes."
Orta racked up six interceptions last season, to go along with 61 tackles, and South Carolina, North Carolina, Maryland, Tennessee and Wake Forest were among the schools that had offered the 6-foot, 180-pounder, but he said he was letting everyone know as of today that all recruiting visits are officially off.
"I really like Coach Harbison, who will be my position coach at Clemson, and I feel like he can be like a father to me," Orta said. "I just like how they treated me when I came up there. They treated me like they really wanted me, more than anybody else. I just wanted to go ahead and seal the deal with them. I am not going to take any other visits and just be "all in" with Clemson."