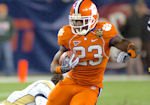 | | |
| --- | --- |
| Clemson one of eight schools to pull off major sport triple | |
---
| | | |
| --- | --- | --- |
| Tuesday, June 1, 2010, 9:07 AM | | |
CLEMSON, SC – With Clemson's selection to the NCAA Baseball Tournament on Monday, the school became one of just eight Division I schools to participate in the NCAA Men's Basketball Tournament, the NCAA Baseball Tournament and a football bowl game during the 2009-10 academic year.
Joining Clemson with the accomplishment in 2009-10 are Texas A&M, Texas, Florida, Florida State, Georgia Tech, California and Minnesota. As you can see by the list, the ACC was the only conference in the nation with three schools to do it.
Clemson also accomplished the "Major Sports Triple," in 2008-09. The only four schools to do it each of the last two years are Clemson, Florida State, Texas and Minnesota.
This is the ninth year Clemson has been to a bowl game, the NCAA Basketball tournament and the NCAA Baseball Tournament in the same academic year. It first occurred in 1979-80 when Clemson played in the Peach Bowl under first-year head coach Danny Ford, reached the Elite Eight of the NCAA Men's Basketball under Bill Foster, and the College World Series under Bill Wilhelm.
This is the third time Clemson has achieved the feat in at least back to back years. Clemson also did it in 1988-89 and 1989-90 and 1995-96, 1996-97 and 1997-98.
Clemson currently has seven teams ranked in the top 25 of their respective sports, six in the top 16. Football finished 24th in the final AP poll. Women's indoor track finished seventh and the outdoor team is currently sixth. Their final ranking will be determined by their finish in the NCAA meet in two weeks.
The Clemson rowing team finished 15th at the NCAA Championships, while the women's tennis team had number-nine seed in the NCAA Tournament. Its final ranking will be announced later this week. The Clemson golf team is ranked 14th in the latest Sagarin computer poll and its final ranking will be determined at the NCAA National Tournament at The Honors Course in Chattanooga, TN this week.
The Clemson baseball team is ranked 16th in this week's Collegiate Baseball Poll and its final ranking will be determined after the College World Series.
Years Clemson Has Been to NCAA Baseball, NCAA Basketball and Bowl Game


Year      Basketball    Baseball                 Bowl

1979-80 Elite 8 College World Series Peach 1986-87 1st Round Regional Gator 1988-89 2nd Round Regional Citrus 1989-90 Sweet 16 Regional Gator 1995-96 1st Round College World Series Gator 1996-97 Sweet 16 Regional Peach 1997-98 1st Round Regional Peach 2008-09 1st Round Super Regional Gator 2009-10 1st Round ?? Music City