| | |
| --- | --- |
| Steele says defense still has a long way to go | |
---
| | | |
| --- | --- | --- |
| Saturday, March 27, 2010, 3:46 PM | | |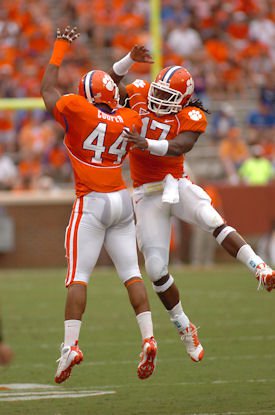 Kevin Steele Audio Part 1 | Kevin Steele Audio Part 2
CLEMSON – Clemson defensive coordinator Kevin Steele ran 10 yards out onto the field, jumped high into the air and pumped his fist following a fumble recovery by his defense during Saturday's scrimmage in Death Valley.
However, Steele was back to his usual, reserved self following the scrimmage, despite his defense's dominant performance, and said the group still has a "long way to go" before they are ready to play against another opponent.
"We're just scratching the surface in terms of things, particularly that first group," Steele said. "They have a real good understanding of what we're doing and the application of it. They're real good about picking up on stances, alignments, splits, all that kind of stuff. They're smart football players and they communicate with each other. That starts with the guys in the back with Gilly [Marcus Gilchrist] and [DeAndre] McDaniel and [Rashard] Hall - they do that very well."
However, Steele said to this point he has been pleased with the toughness the defense has shown, and said he saw glimpses of it on Saturday.
"I thought for the most part we wanted them to be nastier and to play tougher and hard-nosed," Steele said. "We have to consistently do better there. Learn to dominate your opponent every snap. We made some progress there. We tackled well for the most part. As a whole, there was pretty good tackling. We were very efficient in third down. Probably the thing that was a little frustrating to me was red zone. We [the coaches] put the ball down there. They [the offense] didn't earn it. They put it down there at the 20 and I think we were three wins and one loss. That's 75-percent. That sounds good but that's not where we need to be. We need to learn how to dominate in the red zone. That's critical. That's points on the board. "
Steele said that now that the defensive line is starting to play with technique, the talent is starting to shine through.
"I think that goes back to the situation of we're starting to learn to play with our hands, pad-leverage and low," he said. "But on top of that, if you don't have toughness and the mentality to dominate your opponent or you get lazy with it, then you'll have some things happen like we did last year. We played really well at times and at times we didn't play so well. Toughness will eliminate that. It's just play the next play at the same level all the time. I think through maturity and repetition, they're starting to do that. Again though, we've got a long, long way to go. And that's not a coach just saying that, that's a fact."
Steele said the linebackers did as well as could be expected, considering the lack of experience in the unit.
"Daniel [Andrews] and Quandon at SAM - they're young," Steele said. "They don't have a lot of reps. They executed pretty well. They did their job. On occasion, #34[Christian] made some good plays, some really good plays. He can run and tries to be physical. He just has to learn the defense better. He was out there with the ones a couple of times. DeAndre is telling him what to do, Gilly is and Hawkins is and Jarvis is, too, so it's kind of hard to mess it up.
"At MIKE, [Spencer] Shuey and Hawk [Corico Hawkins], Shuey has made a lot of progress considering he was reading cards in the fall on the scout team. At least Hawk was playing some. We've cut down on mental errors in terms of setting the defense and getting us lined up right. Brandon and Tig played well. I'm really encouraged with the progress of Tig. He's made a lot of progress. The light switch came on. It's totally different. He always had the ability. He's just grasped the concept of the defense. Brandon is playing WILL for the first time. It's hard when you play one and then you go to the other, but he does some things just natural, but the adjustment on it was good."
Rennie Moore moved inside, to defensive tackle, for the first time in yesterday's practice, and Steele said the coaches were just trying to take advantage of Moore's athleticism in the absence of Malliciah Goodman, who was back in Florence for a friend's funeral.
"Rennie has so much talent," Steele said. "A lot of talent. And he's got a motor. What he's finally starting to grasp is that it's technique. If you win with technique, then things come to you. You don't have to try to make it and hang somebody out. He's doing a nice job with that. Today, we played him at defensive end. The other day was the first day. And he busted a few things, but he busted them in the right way. He's got a motor.
"It will always have a window open to us. There are so many guys there, and when they're healthy, when Malliciah is back and Da'Quan is full-go and Kourtnei is full-go, then Rennie can't just do one thing because he has to be on the field."
Other quotes from the defense:
Kourtnei Brown: "I think we did a pretty good job for the first scrimmage. There is still a long way to go but we are headed in the right direction. It felt pretty good for me to get out there and compete, and I will continue to work and get better so I can help my team out. But our defensive line, we have got great players from one end to the other end, and we got at least two deep. Everybody is good enough that there should not be a drop-off."
*Andre Branch: "I think we showed that we can be a dominant force this year. We showed this is how we plan on playing all season, and we are going to let everybody know that this is what is expected. We did what we had to do."