| | |
| --- | --- |
| Parker Named Starting Quarterback | |
---
| | | |
| --- | --- | --- |
| Monday, August 17, 2009, 12:56 PM | | |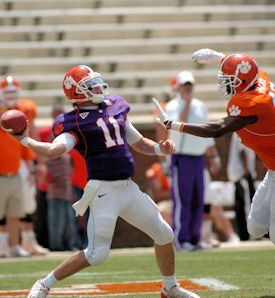 Clemson, SC—Clemson head coach Dabo Swinney named red-shirt freshman Kyle Parker as his starting quarterback after practice on Monday morning. Parker had been in a battle for the top spot with red-shirt sophomore Willy Korn over the spring and the first two weeks of preseason practice.
"Kyle Parker will be our starting quarterback against Middle Tennessee on September five," said Swinney after the morning practice on Monday. "Kyle has separated himself from the other quarterbacks. I have been pleased with his progress and he gives us the best chance to be an explosive offense.
"Willy Korn has shown great improvement since the spring and deserves to play. He will play against Middle Tennessee and it is my intent to get him into every game this year.
"I have the utmost confidence that both quarterbacks can lead us to victory.
"We have three weeks to prepare for an excellent Middle Tennessee team. The team knows who the first-team quarterback will be and it will allow us to become more of a cohesive offense. Kyle and Willy had been splitting time with the number-ones and twos."
Parker is yet to play in a football game for the Tigers. He sat out last year, his first year at Clemson as a red-shirt. He is a two-year starter for the Clemson baseball team as an outfielder. He was a first-team All-ACC DH in 2008 when he hit 14 home runs, and helped the Tigers to the Super Regional in 2009 when he hit 12 home runs.
Parker is in the unusual situation in that he will be considered a junior in baseball and a freshman in football in terms of athletic eligibility during the 2009-10 academic year.
Korn has seen limited action over the last two years due to injury. For his career he has played in eight games with one start, the 2009 Georgia Tech game. He is 34 of 49 passing for 316 yards and two touchdowns in those eight games. He has thrown for two scores and rushed for two in his limited action.
Swinney also said after practice that it is his intention to red-shirt first-year freshman quarterback Tajh Boyd.