| | |
| --- | --- |
| Swinney and staff take trip to Austin to observe Longhorns | |
---
| | | |
| --- | --- | --- |
| Friday, March 6, 2009, 10:56 AM | | |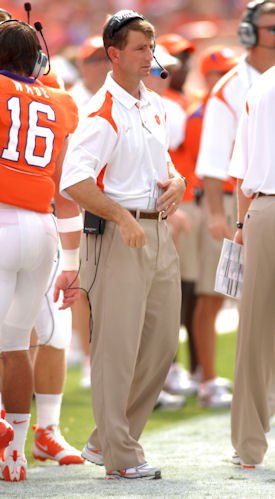 CLEMSON- The University of Texas football program under Mack Brown has had a pretty good run over the last five seasons, winning 56 games and a National Championship along the way.
Duplicating that kind of success is tough in today's college football environment would be a challenge for any head coach and football program, but Clemson head coach Dabo Swinney says he believes Clemson has all the pieces in place to make it happen, except for one – belief.
Swinney met with the media on Thursday, and said that changing the belief of his Tigers will be his first priority when spring practice begins on Monday.
"I've got to get everybody here to believe again,'' Swinney said. "It starts on the inside and works its way out.''
The first step in that process began last week when Swinney took his staff to Austin to observe the Texas coaching staff at the beginning of their spring drills, a trip set up back in January between Swinney and Longhorn defensive coordinator Will Muschamp.
Swinney said he came away from the trip believing even more that his Tigers have the potential to take the next step, and the onus is on him to make it happen.
"There are no excuses, not any excuses, " Swinney said. "If we're not successful, that's on me. I'm going to do it my way; I don't have anyone to blame but myself. I know this. If you don't believe in yourself, that you can do great things, you've got no chance of great things happening."
The Longhorns, like the Tigers, went a long time (35 years) without a national championship before winning Brown's first in 2005, and Swinney said that if the Tigers (in year 28 of their own drought) begin to believe like the Longhorns, anything can happen.
"It's not easy to do," he said. "But I know this, (Texas has) won more games than anybody the last 10 years. The biggest thing (Brown) did, having losing records; he had to get the mentality changed. It's that mentality, believing you can do something great, that your hard work is worth it, it's going to pay off.
"You keep getting up and believing, and you've got to get everybody to believe around here again. Fans, too. There are people who doubt, this and that, and you've got to believe. It starts on the inside and works its way out."
Swinney said the trip also reiterated something he already knows – there is indeed something special in these hills.
"If I didn't get anything else out of that trip, I got one thing, that there is no better place than Clemson," he said. "This is a special place. We have everything we need to be successful at Clemson."
Listen to the entire press conference with Clemson head coach Dabo Swinney, Windows Media, (49:25)