| | |
| --- | --- |
| Tye Hill Ready To Take Next Step | |
---
| | |
| --- | --- |
| Tuesday, April 25, 2006 11:59 PM | |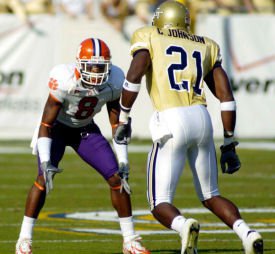 CLEMSON - Tye Hill had to learn to play cornerback on the college level. By all accounts he's ready to continue his on-field education in the NFL.


The former Clemson standout met with the local media on Tuesday, just four days before the annual NFL Draft. It is a draft in which some experts have Hill inside the Top 15 - maybe Top 10, and nearly all of them project him as a first round choice.


Not bad for a guy who began his Clemson career as a running back.


Now, NFL Combine gone and individual workouts complete, all he can do is wait. Anxiously and nervously.


"I don't think I'll really start getting nervous until it comes around to the picks and it's time for me to come off the board," he said. "For me, I think around pick nine, going on up I'll be anxious and nervous."


The last few weeks have been a learning experience for Hill.


After the college football season ended Hill took part in the Senior Bowl, then the NFL Combine. Afterwards, individual workouts were next for Hill. Workouts that came at the whim of whichever NFL team wanted to see him.

"Actually it's like you are on call 24/7," he said. "If a team wants to bring you in, it's what airport and just get there. That's your interview.


"I'm doing everything I can to put myself in the best situation."


The teams he worked out for, as well as some others he visited - St. Louis, New England and Tennessee, among them - all saw a multi-talented defender who, while perhaps still learning the nuances of the position, has displayed both the physical talent and mental capacity to warrant a first round pick.


He's also proven to be wise, already drawing on NFL contacts such as former teammates Justin Miller (Jets) and Airese Currie (Bears) to find out more about life as a professional.


"They main thing they've been saying is that now it's a job," said Hill. "They tell me to approach it as it's still the game of football but now it's a job."