---
| | |
| --- | --- |
| Friday, March 29, 2013, 7:37 PM | |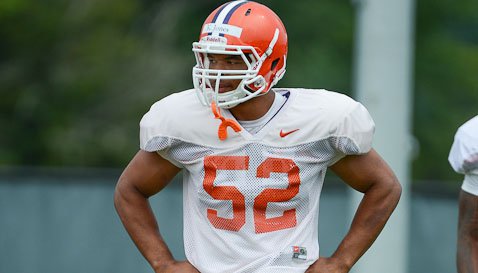 CLEMSON – Former Clemson linbebacker Keith Adams exited the indoor practice facility Friday evening following Clemson's practice, saw current linebacker Kellen Jones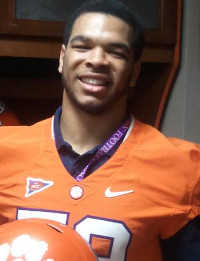 Kellen Jones
So. Linebacker
#52 6-1, 215
Houston, TX
View Full Profile being interviewed by the media, and threw in his two cents for everyone to hear.
"Kellen Jones, the next Keith Adams," Adams shouted out about Jones.
Jones, the transfer from Oklahoma that sat out last season under the NCAA's transfer rule, has been playing at the WILL linebacker spot this spring. He said Friday night that he looked at last year as a positive as he tried to hone his craft.
"I always thought of it as a positive," Jones said. "I didn't redshirt at Oklahoma, and last year I felt like I could really help the team. I felt like I could help the offense (on the scout team) by giving them a good look at linebacker, and I thought I could also make myself a better linebacker. I didn't look at it as a negative – I always just looked at as a positive."
Clemson head coach Dabo Swinney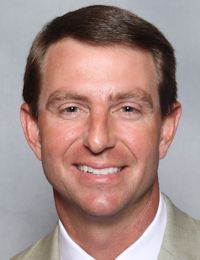 Dabo Swinney
Head Coach
View Full Profile said Wednesday that Jones plays with a "violent edge."
"He is a good football player," Swinney said. "He is explosive. He plays with a violent edge to him, and he has very good instincts for the ball. He can play either the WILL or the MIKE. He gives us some flexibility there and you can play him at both spots. But all of the linebackers have responded – we have a really good group. But Kellen just shows up, somehow. He has a little bit of that Tig Willard in him in that he can slip through some cracks you don't think he can get through. But plays like somebody just stole his last $100 bill. That is how he plays and that is a good thing."
Jones said he was pleased with the compliment.
"Coming from the head coach, that is definitely a compliment," he said. "That is something that is a joy to my ears, coming from Coach Swinney. I am just trying to get better every day. To play linebacker, you have to have a little bit of an edge to you."
He then said that being familiar with defensive coordinator Brent Venables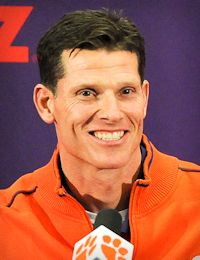 Brent Venables
Defensive Coordinator / Linebackers
View Full Profile ' scheme has also accelerated the learning process, even though he has found himself frustrated at times as he tried to learn the WILL.
"I played for him at Oklahoma, but this has been a big turn for me," he said. "I haven't played there before, and I've just tried to have an open mind. Sometimes I get frustrated, but I just have to stay focused. With Coach Venables here, I just feel better because it's his system."