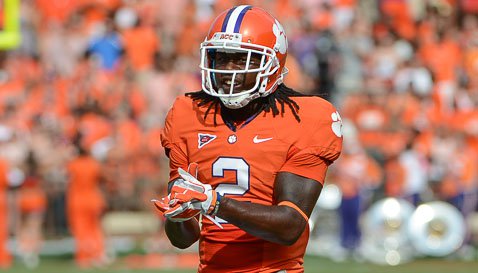 | | |
| --- | --- |
| 2013 football schedule coming into focus but questions remain | |
---
| | | |
| --- | --- | --- |
| Friday, January 11, 2013, 12:04 AM | | |
Clemson's 2013 football schedule is beginning to take shape, with four of Clemson's opponents already set in stone with dates and locations, but there is still a mystery team lurking in the shadows that will cause the rest of the scheduling dominoes to fall.
However, let's start with what we do know, and that begins with Clemson's four out of conference opponents next season and the dates those games are played. Clemson opens the season against SEC foe Georgia in Death Valley on August 31st, and will play at home the next week against South Carolina St.
The end of season schedule is also ready to go, with the Tigers playing host to The Citadel the week before the South Carolina game, probably on November 23rd, with the South Carolina game played in Columbia on November 30th, two days after Thanksgiving.
• August 31st – GEORGIA
• September 7th – S.C. STATE
• November 23rd – THE CITADEL
• November 30th – AT SOUTH CAROLINA
Because the season starts in August, there will be two open dates this season, but those open dates have yet to be determined.
Now, I know a lot of schedules have Clemson playing Kent St. this season, but as I wrote a few months ago, the games against Kent. St. in 2013 and Central Michigan in 2014 were taken off the schedule when the Atlantic Coast Conference announced that it was moving to a nine-game conference schedule next season. The ACC then switched direction in the middle of last season and said it would keep the current eight-game conference model, but both Kent St. and Central Michigan had already found new opponents and Clemson was forced to scramble, adding The Citadel into the 2013 mix. The Clemson administration is currently looking into mid-majors for the 2014 season.
Even as late as last week, Clemson was still looking into adding another mid-major to the 2013 schedule to possibly replace The Citadel, but nothing could be worked out and the Tigers will face two FCS foes next season. 2013 football schedule coming into focus but questions remain
Now, that brings us to the conference portion of the schedule, and this is where it gets interesting. I spoke to a source in the league office, and that source confirmed what we already know – that Syracuse will be in the Atlantic Division next year while Pittsburgh will be in the Coastal – and then confirmed that the current divisional alignment will stay in its current form. There had been talk that Clemson or Florida St. could switch divisions, but that won't be happening. The source told me that the current divisional model "has been proven to work" and will stay as-is.
As for Georgia Tech – they will continue to be Clemson's cross-divisional rival, but there is something interesting to watch with the Jackets. When the nine-game conference schedule was announced, current Clemson AD Dan Radakovich was the AD at Georgia Tech. Clemson was faced with either dropping Georgia in 2013 and 2014 (the Tigers would have only had six home games one of those years) or switching the schedule around to somehow accommodate the nine-game schedule.
As it turns out, Georgia Tech feels like it has two money-making games on its home schedule – Clemson and Georgia. However, Tech plays at Georgia the same year it plays at Clemson, and plays both teams in Atlanta during the same season. From what I understand, Georgia Tech would love to switch that up and play them at home in different seasons, so there were talks that Tech would come back to Clemson [they played at Clemson in 2012] in 2013, then host the Tigers back in Atlanta in 2014. That may still be in play for this season, but I am not sure it can be worked out in time for the 2013 schedule to be released. That will be something we can watch in the future.
Ok, back to the 2013 schedule. We know that Clemson also plays host to Florida St., Wake Forest and Boston College, so that wraps up six of the seven home games. Clemson is also scheduled to play at N.C State and Maryland [that might still be tentative, depending on the courts]. That wraps up the former five conference foes, and we maybe can assume Clemson travels to Georgia Tech, so that gives Clemson four of its five road dates – Georgia Tech, N.C. State, Maryland and South Carolina.
What remains to be seen is where does Clemson play Syracuse? In Death Valley or the Carrier Dome? And which Coastal team will be team number two on Clemson's schedule, the mystery team?
In past seasons, Clemson played five games against Atlantic Division foes, and three against teams from the Coastal Division, with Georgia Tech on the schedule every year. The Tigers would pick up a new Coastal foe each season for a home-and-home series. Last year, Clemson traveled to Duke and played host to Virginia Tech. The game against the Hokies was the end of this go-around with the Hokies, while the game against Duke means that the Blue Devils would need to come to Death Valley this season to complete that mini-series. Clemson was scheduled to pick up Virginia this season and play in Charlottesville. However, the Tigers will only play two Coastal teams each year from here on out, so one of those teams has to drop from the schedule.
It seems like the easiest thing to do would be to let Duke come to Clemson to play and finish out the home-and-home, but my ACC source told me that Clemson's other Coastal opponent hasn't been decided as of yet. Clemson could play Virginia Tech a third straight season, could pick up Miami or even Pitt. That is still the unknown mystery team. For Clemson fans who hate to travel, there is a scenario where Clemson could play [if Georgia Tech switches around and comes here] at Maryland, at Syracuse and possibly a Miami or Pittsburgh next season. That scenario isn't likely, but it's a possibility.
However, as it stands, here are the current home games – Georgia, S.C. State, Florida St., Wake Forest, Boston College and The Citadel.
The current road games would be – Georgia Tech, Maryland, N.C. State and South Carolina.
The two questions remaining? Where does Clemson play Syracuse, and who is the mystery Coastal team? Once we know those two answers, the rest of the schedule will fall into place.
In closing, I know that many of you saw the report that Clemson and Ohio St. are working on a game in Nashville in 2017, but I threw a quick call to Kyle Young – the Assistant AD who has been handling the scheduling – and he said he hasn't spoken with Ohio St. and would be surprised if Radakovich has been speaking to them.
The ACC office says that the new schedule will be released in early February.