| | |
| --- | --- |
| 5-star DB says Clemson is one of his favorites | |
---
| | |
| --- | --- |
| Thursday, August 30, 2012 4:30 PM | |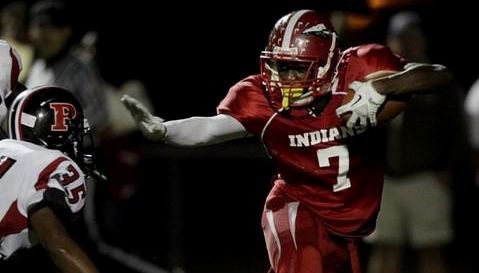 To say that MacKensie Alexander

MacKensie Alexander
Defensive Back
5-11, 175
Immokalee, FL
View Full Profile is mature for his age is an understatement.
Interviewing Alexander is almost like interviewing a player who is 10 or 15 years older, a comment I made him to him during a rare interview with Alexander this week. The good news for Clemson fans is that Alexander wants to make sure Clemson gets one of his official visits this fall.
The 5-star cornerback out of Immokalee HS in Immokalee, Fla., told TigerNet this week that he isn't concerned about his recruiting at this point – that it will take care of itself – and that he is more concerned with what his team accomplishes during his senior season.
"Recruiting is the same ole, same ole. Right now, my high school has some things we have to take care," Alexander told TigerNet. "Our goal is to win each and every game throughout the season. Our goals are there and it is time to show what we are capable of. We have a great group of guys, and we are putting in the work to be successful. You put in what you get out – my focus is not on college but on my team."
Alexander is rated at No. 6 in ESPN's Top 150, and has offers from all of the major players across the nation, but Alexander said he doesn't bother with the recruiting websites or check out his latest stories – he just wants to win football games.
"We have a great group of guys and they are focused," he said. "I try and stay away from all that other stuff. I am not too worried about any of that, and I don't need a camera in my face to tell me who I am. I just want to stay focused on my team, and they will do what I do and they will follow me as a leader. That is all that matters right now."
Alexander said he hopes the stellar play of his team might even draw the attention of college scouts to some of his teammates.
"My teammates have been great to me, and I have to be great for them," he said. "I don't want to take credit when we have a lot of guys that should get some attention. As long as we can keep everybody dialed in, we have some guys that colleges should see. I am just really dialed in on what we need to accomplish, and that is win the state title. I am just blessed to have a lot of abilities, and I realize it isn't me, that it all goes to the glory of God."
However, recruiting still has to be in the forefront of some of this thinking now that players can make a campus visit for games, and Clemson is almost certain to get one of those visits.
"I have a glimpse right now of a couple of schools that I haven't seen," he said. "Right now, I have been so focused on homework and having fun that I haven't really taken the time to make a decision. But it is getting time to take those visits, and I have five schools I want to go see. And Clemson is one of those schools that I definitely want to go see."
Alexander said the Tigers have a shot for his services.
"It's going to be a tough decision," he said. "Clemson could possibly be that school, but I won't promise you anything. Right now, I am doing a lot of evaluation, and there are some schools that can catch my eye. Clemson is one of my favorite schools, but there are some other schools I want to see as well. I want to go visit these schools and make sure everything is right on right."
Earlier in the day, he told Derek Tyson of ESPN that "I'm the best cornerback in the country, period. Hands down."