| | |
| --- | --- |
| Townsend tries to combine passion with technique | |
---
| | |
| --- | --- |
| Thursday, March 15, 2012 9:33 PM | |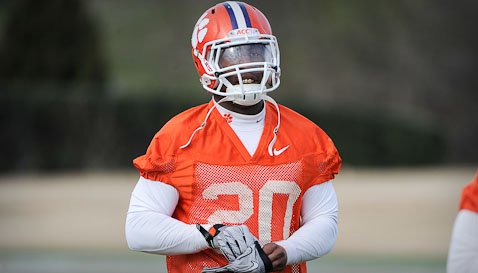 CLEMSON – Lateek Townsend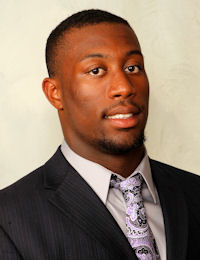 Lateek Townsend
Fr. Linebacker
#20 6-2, 215
Bennettsville, SC
View Full Profile doesn't do anything halfway, whether its playing special teams, trying to deliver a knockout blow on defense or even giving interviews.
It just isn't in his nature.
So it was no surprise that Townsend, the rising sophomore out of Marlboro County High School, was upfront and forthcoming during his session with the media following Wednesday's practice. It was his first time meeting with the Clemson media since arriving on the Clemson campus last fall.
He arrived at Clemson rated as one of the top outside linebacker prospects in the nation, and admitted that the change from being able to fly all over the field to a more structured scheme was difficult.
"In high school, you could kind of flow around," Townsend said. "But in college, everything is more complex. So you have to really be into it. You can't just go out there and freelance and go all over the field. You have to do your job."
Townsend said he wanted to be able to come in and make an impact early, but it appeared he would redshirt after not playing during the Tigers' first four games.
However, as Clemson Sports Information Director Tim Bourret revealed Wednesday, the NCAA handed down a four-game suspension for a violation committed when he was in high school. The incident involved one of the assistant coaches at Marlboro County and a cell phone, but the NCAA wouldn't allow the suspension to be served during a redshirt year, so Clemson's staff decided to put him in for Clemson's game at Virginia Tech.
His impact was felt immediately on special teams, and he earned a reputation as a ferocious tackler on his way to 16 special teams tackles.
He admitted Wednesday that thinking he was going to redshirt made him angry, but it wasn't long before he saw the benefit.
Then the coaches surprised him with the decision that – once they understood the appeals process had failed on the suspension – they were going to play him. And he found an outlet for his need to hit somebody.
"It really surprised me to play," Townsend said. "Because they'd told me I was going to redshirt. I was kind of upset with it at first. But I got a lot of counseling, and as I began to redshirt, I saw that I was getting bigger in the weight room. It kind of gave me some extra weeks before I came out of that redshirt. I like to hit, so I was able to hit guys coming up the field, and I was able to use my athleticism."
Under new defensive coordinator Brent Venables, Townsend is playing the SAM linebacker spot, and he admitted that his main focus is trying to keep that headhunter mentality while playing within the structure of the defense.
"I'm trying to still be that headhunter, but at the same time I'm trying to critique the way I'm playing on defense and be coachable at the same time," he said. "If I can critique the way I play and stay coachable, I'll be able to be that headhunter that I am."
He said that one difference between former defensive coordinator Kevin Steele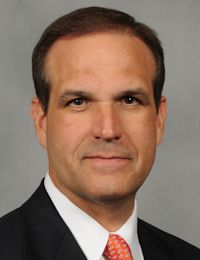 Kevin Steele
Defensive Coordinator/Linebackers
View Full Profile 's defense and the defense of Venables is how the SAM is used against spread offenses. Venables employs more of a zone look than Steele, who preferred man-to-man.
"In Coach Venables' defense, the SAM is out more on the No. 2 receiver, covering the hooks and curls out in the flat," he said. "Under Coach Steele, the SAM was lined up more over the tight end. Now, we get used more in space. In the past, the nickel back was a defensive back, but under Coach Venables the nickel back is a linebacker."
And yes, he feels like he has the athleticism to hang with anyone.
"I am athletic enough to play any position on the field," he said.
And he has fun doing it, as he said after Wednesday's practice.
"I had real fun," Townsend said. "Every time I step on the field, I try to make it fun. That's what I play the game for. The day it stops being fun, that's the day you don't need to play anymore."