| | |
| --- | --- |
| Conversation with Terry Don Phillips - Part II - Conference Realignment | |
---
| | |
| --- | --- |
| Thursday, February 9, 2012 11:36 AM | |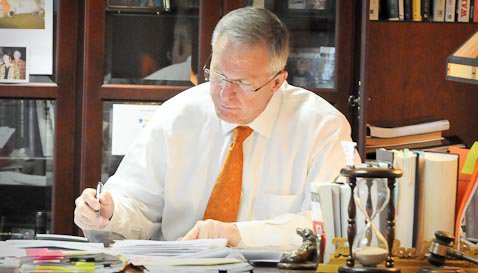 CLEMSON – The rumors of conference realignment and expansion and actual realignment have been swirling over the collegiate landscape, and Clemson University hasn't been immune to those rumors.
Last year, it was a potential move to the SEC that was blocked by in-state rival South Carolina, and the most recent rumors have the Big 12 reaching out to schools like Clemson and Florida St. in an effort to bolster its numbers after losing Colorado, Texas A&M, Nebraska and Missouri over the past few seasons.
In part two of TigerNet's conversation with Clemson Athletic Director Terry Don Phillips, we addressed those rumors as well as other issues concerning the Atlantic Coast Conference and the recent announcement of the ACC moving to a nine-game conference football schedule.
TigerNet: There are a lot of rumors concerning a Clemson move to the Big 12…
TDP: There is no substance to that. None. The Big 12 has a committee formed – I guess you would call it an expansion committee – to look at the future of the Big 12 Conference. I would suspect without knowing that part of the charge of that particular committee would be to look at continual expansion because they are no longer the Big 12. They have lost their championship game and so I would suspect they are looking at it. But in regard to Clemson or Florida St. – of course I can't speak for Florida St. but I do have a pretty good feel for that part of the country – but I don't feel like they have talked with anyone or visited with anyone and I can say for sure with Clemson there is no substance to that.
TigerNet: So no one from the Big 12 has contacted Clemson?
TDP: No.
TigerNet: What would go into the decision to switch conferences?
TDP: That is an interesting question. First of all let me say this – over the years if Clemson wanted to switch conferences and it was such a burning issue, they've had over 50-something years to do that. Clemson could have done this a long time ago if they felt like this is something they wanted to do. South Carolina is a great example of that. They dropped out of the ACC and they wandered in the wilderness for a long time. They were independent and they were Metro [Conference] and of course now they have a great home in the SEC. So if there had been such disenchantment over the years – again, there is 50 years of history here that you could make that change. The Atlantic Coast Conference has been good for Clemson over the years. I understand that everybody says this is a basketball league, and I will be the first to say that outside of this area the ACC is perceived as more of a basketball league. That doesn't mean that we can't have great football because there has been great football that has occurred in the Atlantic Coast Conference. The fact of the matter is, if you do your job in the Atlantic Coast Conference and perform with your football program you can achieve the ultimate. You can win a National Championship coming out of the ACC. There are no ifs, ands or buts about it. But…everyone gets enamored with something else. But again, if it hadn't been a good fit for Clemson you've had over 50 years to change it and it hasn't been changed. There is not a perfect conference out there and we've seen that with the Big 12. I am from that part of the country, and I know that there are breakups that you hate to see occur. At Arkansas we lamented the fact that we were losing the opportunity to play Texas A&M and Texas when we moved to the SEC, simply because we had recruited Texas so hard. So there are dynamics that do happen over a course of time that create some stress and strain there in the immediate transformation and they work out over a period of time. At Arkansas and South Carolina it has worked out well. We are living in an ever-changing world, but the Atlantic Coast Conference has been good to Clemson. Yes, there have been some traumas. Yes, there have been some hard feelings. But again, the benefits and pluses far outweigh the minuses. The ACC is very good across all sports, quite frankly. Football has had its peaks and valleys but there is no reason that football can't be a solid performer and have the kind of football that our fans desire. At the end of the day, if you perform in the ACC you have a chance to achieve the ultimate. Just like this year, we started off hot and shot up to 5th in the BCS, the highest we've ever been. If we had continued to perform at that same level and didn't hit the valleys that we hit toward the end of the season we would have been up there in the mix. This past year will show you that you have the opportunity to go for the brass ring. I understand what people are saying but there has been a lot of water go over that dam since this conference was formed.
TigerNet: People are also questioning the timing of the announcement of the formation of the Athletic Advisory Committee. What was the thought process behind that?
TDP: We are very blessed to have some very successful people who are tremendous supporters of this university, financial and otherwise. They give their time and talent to this university, and they want the best for the university. We thought it would be good to have another set of eyes and ears for counsel. What are we doing good, and what are we doing that's bad? What are things we need to improve on to continue to ratchet our program up? That is the purpose of that committee. It's a great set of eyes and ears of people that love this university and want to do what's best for the school they love. And I will tell you they are very candid in their opinion. If you are concerned about getting your feelings hurt, you probably need another configuration because they don't pull any punches.
TigerNet: Has there been a push from the large donors, Board of Trustees or alumni in favor of expansion or realignment?
TDP: I think everybody has their own opinion on it. Certainly the Board of Trustees is involved, because when you change your athletic conference affiliation you change the schools that your board wants to be affiliated with. I don't think you can really have it both ways. I don't think you can say, 'Okay, we are going to go over here' and still expect to have the same kind of relationship with some of the more outstanding universities in the nation. That is something the Board of Trustees would have to be involved in because it has far-reaching ramifications beyond athletics. And that has not happened within that group.
TigerNet: With the ACC moving to a nine-game conference schedule, how is that going to affect Clemson's non-conference schedule, specifically future games with Georgia, Ole Miss and Oklahoma St?
TDP: It is going to have an impact. I have to sit down with Dabo [Swinney] and his staff regarding our scheduling with lots of people going forward. In the old configuration what we wanted to do is play two strong teams – South Carolina being one of them – and you know we pick Auburn back up this fall and have a two game series scheduled with Georgia and then Ole Miss and Oklahoma St. Again, it comes back to scheduling philosophy and whether or not you try to retain some of those schools, which I think won't be practical at all. Because we need seven home games. Obviously with all the reports on compensation and costs going up, we can't afford to give up a seventh home game and there will probably be an adjustment there. And we are probably looking at a couple of mid-majors that will be on the home schedule.
TigerNet: Speaking of all these changes, do you think the current BCS system needs to be changed to a playoff?
TDP: I think we are going to move to some form of a playoff. I think it is a little bit alarming that the numbers were down for the National Championship game, and it certainly has impacted the bowls. Like us having to play in the Orange Bowl on the fourth [of January]. It impacts the support of those bowls with the elongated schedule. I do believe that you will see some movement where you will have a playoff and a national championship at some neutral site.
TigerNet: Considering all of the big television money that is being thrown around, do you feel like the ACC is being left behind monetarily?
TDP: That is a great question. When the renewal came up and the league accepted the contract it was in the top three. Then when the PAC-10 got involved, the timing was pretty good for them because NBC became a player at that time. They became a suitor in the party. And then ESPN and Fox, they joined forces. They had never done that before and they did that to keep NBC out of the market. The dynamics were such that it really upped the ante significantly. The other thing that is my understanding - unless you have the contract in front of you and spend a lot of time carving it up – but my understanding is that all of the individual universities gave up their rights to the conference. So it became a multi-million dollar package where the universities gave up their rights to certain things and to their venues and to their own revenue production and with media on their own campus. That is all done through the conference office, which is not a bad way to go. But it takes away some control from the universities if in fact that is true. Having Fox and ESPN come together was huge.
Read part one of a Conversation with Terry Don Phillips