---
| | | |
| --- | --- | --- |
| Sunday, December 4, 2011, 1:20 AM | | |
AUDIO: Dabo Swinney, Tajh Boyd, and Andre Branch postgame comments (MP3 format)
CHARLOTTE, N.C. – The Orange Bowl can expect an orange-clad invasion in early January.
Sophomore quarterback Tajh Boyd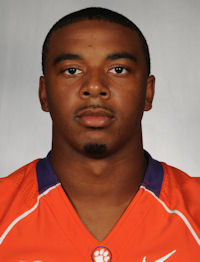 Tajh Boyd
RS So. Quarterback
#10 6-1, 225
Hampton, VA
View Full Profile ended a late-season slide by throwing three touchdown passes and ran for another as No. 21 Clemson routed No. 5 Virginia Tech 38-10 Saturday night to win its first Atlantic Coast Conference championship in 20 years.
The Tigers will play in the Discover Orange Bowl on January 4th. It is the first-ever BCS bowl berth for the Tigers, and it's the first time Clemson will play in the Orange Bowl since the National Championship season of 1981. This is the first time Clemson has won 10 games in a season since 1990.
Clemson (10-3) became the only team to beat Virginia Tech (11-2) twice in the same season. The Tigers beat the Hokies 23-3 in Blacksburg, Va., on Oct. 1.
Boyd had thrown seven interceptions and only four touchdowns passes in his previous four games as the Tigers lost three of those games, but came out firing against the Hokies. He completed 20-of-29 passes for 240 yards, ran for 34 yards and was the game's most valuable player.
Boyd said it was possible that the Tigers grew complacent after their 8-0 start.
"You get a sense of complacency if you let the outside world affect you," Boyd said. "That is one of the life lessons you learn. That's what happened. But it happened for a reason."
Clemson head coach Dabo Swinney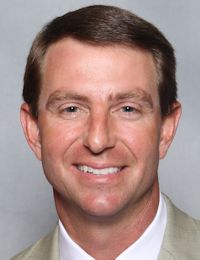 Dabo Swinney
Head Coach
View Full Profile started his postgame press conference by saying, "Ladies and gentlemen, I would like to announce that I'm taking my Clemson talents to South Beach, baby."
The Tigers got one first down before punting on the game's first possession, but freshman linebacker Stephone Anthony
Stephone Anthony
Fr. Linebacker
#12 6-3, 235
Polkton, NC
View Full Profile made his mark on the Hokies' first play from scrimmage. Anthony, starting at middle linebacker in the regular package, forced a fumble on Tech quarterback Logan Thomas and the Tigers recovered.
Three plays later, Boyd hit tight end Dwayne Allen
Dwayne Allen
RS Jr. Tight End
#83 6-3, 255
Fayetteville, NC
View Full Profile down the left sideline, and Allen deftly maneuvered around the defenders and walked into the end zone for a 7-0 Clemson lead.
The teams were tied at 10 at the half, but the second half was all Clemson.
The Tigers scored three touchdowns on five plays in a span of 4:24 in the third quarter to break the tie and essentially put the game on ice.
After Virginia Tech went three-and-out on its first second half possession, Boyd capped a 10-play, 87-yard touchdown drive with his second touchdown pass of the game to tight end Allen for a 17-10 lead.
On Clemson's next play from scrimmage, freshman wide receiver Sammy Watkins
Sammy Watkins
Fr. Wide Receiver
#2 6-1, 200
Fort Myers, FL
View Full Profile got behind the defense on a double move and hauled in a 53-yard touchdown pass from Boyd. That scoring toss was Boyd's 31st of the season, extending his own school record.
Andre Ellington
Andre Ellington
RS Jr. Running Back
#23 5-10, 190
Moncks Corner, SC
View Full Profile , who carried 20 times for 125 yards, then broke loose on a 29-yard scamper that put Clemson up 31-10 with just 34 seconds left in the third quarter.
Boyd then capped off his superlative night on Clemson's next possession, capping a nine-play drive with a quarterback plunge that started an early celebration for Clemson fans and an early exodus for Hokie fans.
Swinney said the Tigers were finally able to put a complete game together.
"There have been a lot of walls built up around this program over the last 20 years and we knocked them down tonight," Swinney said. "We've been down in the valley and the players locked arms and they charged up that hill. Our team, I could sense the confidence growing. I told them if you just put it together on offense, defense and special teams, it won't be close, I don't care who we play."
Virginia Tech tailback David Wilson, the ACC's player of the year, was a non-factor, held to 32 yards on 11 carries.
Virginia Tech quarterback Logan Thomas had a rough night, adding two late interceptions to his early fumble. Late in the game and with Tech tailing 38-10, Thomas threw into the end zone and was picked off by freshman defensive back Bashaud Breeland
Bashaud Breeland
RS Fr. Defensive Back
#17 6-0, 185
Allendale, SC
View Full Profile , who returned it 64 yards to set off a wild celebration. Clemson fans, sitting behind the team's bench, began bombarding the field with oranges.
Swinney said he was proud of the way his team bounced back after the late-season slide.
"We were a team with the flu and we got some penicillin tonight," Swinney said.
Tech head coach Frank Beamer said all of the credit should go to Clemson.
"I think you've got to congratulate Clemson," Beamer said. "They came in here and played great, didn't turn the ball over, played great. I think for us, it was just it was one of those things that things just didn't happen right. It seemed like when we'd get something going, we'd get a penalty. It just didn't happen right."
Wilson said he knew early on he might have a tough night.
"I had, like, two carries and they were already keying on me," Wilson said. "I mean, I never got into a rhythm. They were blitzing a lot of combos to cover the run. A lot of times were calling a run straight into their blitzes."


Score by Quarters     1  2  3  4   Score


-----------------    -- -- -- --   -----


Virginia Tech.......  7  3  0  0  - 10       Record: (11-2,7-1)


Clemson.............  7  3 21  7  - 38       Record: (10-3,6-2)



Scoring Summary:


1st 11:17 CU - ALLEN 24 yd pass from BOYD (CATANZARO kick), 3-24 0:38, VT 0 - CU 7


    00:44 VT - Coles, DJ 45 yd pass from Thomas, L (Journell, C kick), 5-77 2:46, VT 7 - CU 7


2nd 07:54 CU - CATANZARO 20 yd field goal, 11-71 4:07, VT 7 - CU 10


    00:01 VT - Journell, C 42 yd field goal, 11-59 3:45, VT 10 - CU 10


3rd 10:45 CU - ALLEN 8 yd pass from BOYD (CATANZARO kick), 10-87 3:21, VT 10 - CU 17


    08:02 CU - WATKINS 53 yd pass from BOYD (CATANZARO kick), 1-53 0:09, VT 10 - CU 24


    06:21 CU - ELLINGTON 29 yd run (CATANZARO kick), 3-41 0:34, VT 10 - CU 31


4th 13:04 CU - BOYD 1 yd run (CATANZARO kick), 9-69 3:28, VT 10 - CU 38



                                     VT       CU


FIRST DOWNS...................       19       25


RUSHES-YARDS (NET)............    29-56   45-217


PASSING YDS (NET).............      274      240


Passes Att-Comp-Int...........  44-22-2  30-20-0


TOTAL OFFENSE PLAYS-YARDS.....   73-330   75-457


Fumble Returns-Yards..........      0-0      0-0


Punt Returns-Yards............      0-0      1-3


Kickoff Returns-Yards.........    6-135     2-39


Interception Returns-Yards....      0-0    2-105


Punts (Number-Avg)............   6-46.2   5-41.6


Fumbles-Lost..................      2-1      1-0


Penalties-Yards...............     9-91     5-35


Possession Time...............    29:50    30:10


Third-Down Conversions........  7 of 16  6 of 14


Fourth-Down Conversions.......   1 of 3   0 of 1


Red-Zone Scores-Chances.......      1-2      3-3


Sacks By: Number-Yards........      1-6     2-22




RUSHING: Virginia Tech-Wilson, D 11-32; Oglesby, J 6-22; Thomas, L 12-2.


Clemson-ELLINGTON 20-125; WATKINS 5-55; BOYD 11-28; HOWARD 3-11; STOUDT 1-1;


McDOWELL 3-0; TEAM 2-minus 3.

PASSING: Virginia Tech-Thomas, L 22-44-2-274. Clemson-BOYD 20-29-0-240;


HOPKINS 0-1-0-0.

RECEIVING: Virginia Tech-Coles, DJ 7-116; Davis, M 4-50; Boykin, J 3-58;


Wilson, D 3-14; Drager, C 2-23; Coale, D 2-11; Oglesby, J 1-2. Clemson-HOPKINS


7-92; WATKINS 5-80; ALLEN 2-32; ELLINGTON 2-minus 5; PEAKE 1-17; JA. BROWN 1-17;


FORD 1-5; BRYANT 1-2.

INTERCEPTIONS: Virginia Tech-None. Clemson-BREELAND 1-64; MEEKS 1-41.

FUMBLES: Virginia Tech-Thomas, L 2-1. Clemson-WATKINS 1-0.

Stadium: Bank of America Stdm  Attendance: 73675


Kickoff time: 8:03 pm   End of Game: 11:25 pm  Total elapsed time: 3:22


Officials: Referee: J. Magallanes; Umpire: D. Worrell; Linesman: T. Davis;


Line judge: J. Griesser; Back judge: R. Boyd; Field judge: B. Dolbow;


Side judge: M. Safrit; Scorer: G. Campbell;


Temperature: 43 deg    Wind: NE 1 mph  Weather: Partly Cloudy