| | |
| --- | --- |
| WATCH: Stephen A. Smith goes on a Watson-Trubisky rant | |
---
| | |
| --- | --- |
| Thursday, April 27, 2017 2:23 PM | |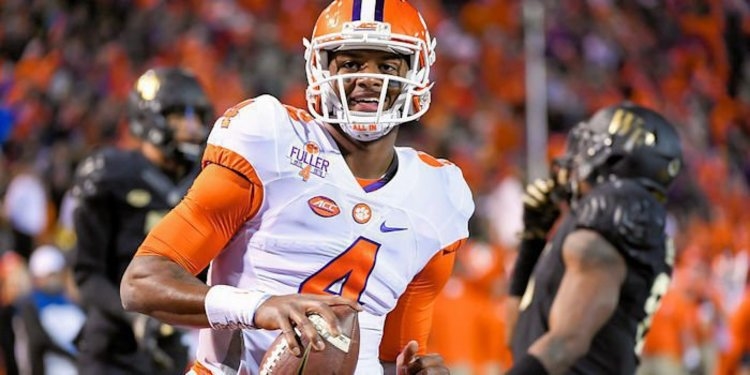 ESPN's Stephen A. Smith is known for not holding back, and Thursday he made it clear that former Clemson quarterback Deshaun Watson should be angry when analysts, scouts and general managers talk about former UNC quarterback Mitch Trubisky being taken ahead of Watson.
"Here's what disgusts me about this subject," Stephen A. Smith said. "If I were Deshaun Watson, or if I were a quarterback on the collegiate level and I had the ability to sit up there and tell NFL scouts, NFL teams, y'all could kiss where you know what, I would do it, and here's why.
"Because if you are Deshaun Watson, who in two national championship games passed for over 850 yards, won a national championship, was 33-3 as a starting quarterback in big-time college football and has proven himself to be a winner — you have a coach in Dabo Swinney calling this dude the (Michael) Jordan of the draft in terms of not just his ability, but his class, where his head is at, his intelligence, his leadership ability and all of these intangibles. And I'm going to drop in the draft because of some dude in the Tar Heels. This isn't basketball we're talking about her. A Tar Heel? Where have the hell they been in the national championship picture? And, this dude starts 13 games. We didn't even hear much about him until the draft was approaching, and I'm going to lose out. With all that I've accomplished, if I'm Deshaun Watson, with all I've accomplished in college football, I get relegated for him, then why am I talking to you (NFL teams)? Why am I even wasting my time? Why am I getting half naked, having you measure my vertical leaps, how much I run, my eating habits, who I date? Why am I even talking to you if I have to sit up here and be relegated for some dude who was a damn no-name until the draft was approaching because he had 13 starts? I wouldn't even show up. Just draft me, or not. If I'm Deshaun Watson (or all of the Deshaun Watsons), I should not have to be subjected to the personal elements of screening. Dammit, watch the tape. You saw what I did, make your call because you've got plenty of video."
Smith's comments start at about the 4:30 mark.