| | |
| --- | --- |
| Swinney receives Clemson Flag flown in Afghanistan | |
---
| | |
| --- | --- |
| Thursday, March 9, 2017 3:15 PM | |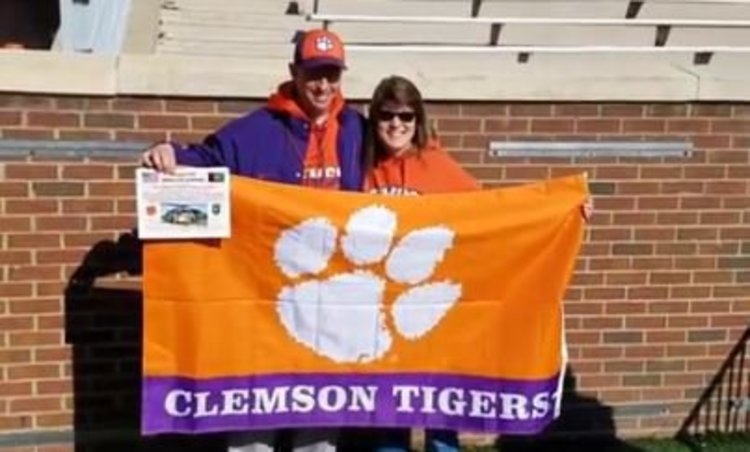 The brave men and women of the United States military take on countless vital missions around the globe. Occasionally, there is a sporting event that gives great happiness to members of the military like when Clemson won the 2016 National Championship in thrilling fashion against Alabama. Communications officer and Clemson fan Michael Cuddy is part of the Task Force Fighting Eagles, and they are responsible for carrying out aviation operations in Afghanistan. On the day of the National Championship, Cuddy flew a Clemson flag during a combat mission to show his support for the Tigers.
"The Flag was flown aboard a UH-60M Blackhawk in support of Operation Resolute Support," Cuddy said. "The Operation is the sole operation to set up Afghanistan for success by allowing them to secure their country themselves. We train and assist the Afghan military and police to secure their own country. We are Task Force Fighting Eagles and are responsible for carrying out all aviation operations in and around certain parts of Afghanistan. We provide MEDEVAC support for wounded Soldiers from the battlefield, provide heavy lift operations to transport Soldiers and cargo around the battlefield, provide attack Helicopter support in order to kill the enemy, and VIP movement of high-level individuals in and around Afghanistan. I am a communication officer responsible for making sure that every aircraft ad Soldier can communicate anywhere and anytime on the battlefield."
Cuddy should be home in April after his current tour in Afghanistan.
"We have been here since July of last year," Cuddy said. "Should be home in April. Over 700 of us in our unit. We have about 10 or so homegrown Clemson fans. More than half of the whole unit was pulling for Clemson."
Clemson fan Michelle Fitzgerald helped with getting the one-of-a-kind flag to Dabo Swinney.
"Back in August, I had Dabo to sign a picture for me to send to Cuddy," Fitzgerald said. "On the day that the team returned from the championship, I was at the university to welcome them back. While I was waiting, I received the message from Cuddy asking if I would be willing to get the flag to Dabo. I considered it to be a HUGE honor to be able to do so. In the box with the flag was a certificate of authenticity, as well as a personal letter from Cuddy. I feel that Dabo was very appreciative and described it as AWESOME to me."