| | |
| --- | --- |
| Swinney on the firing of Mark Richt | |
---
| | | |
| --- | --- | --- |
| Sunday, November 29, 2015, 4:52 PM | | |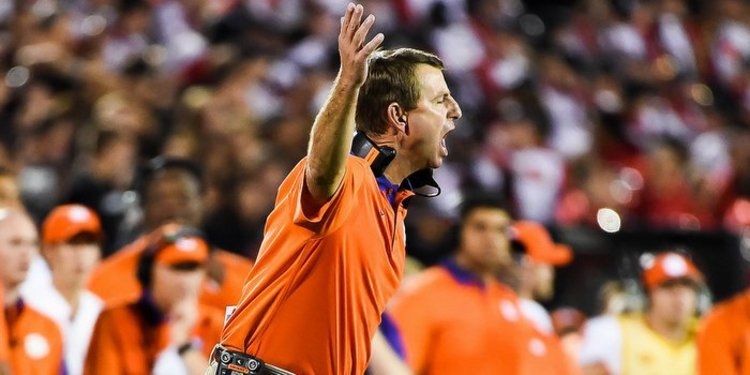 Clemson coach Dabo Swinney was on the ACC teleconference on Sunday and answered a question about the recent head coach firings around college football including Georgia head coach Mark Richt.
"It's a great job but a bad business," Swinney said. "The world we live in now with the social media and pressure it is just crazy. First of all, you better have a good contract. Winning nine or ten doesn't seem to be enough anymore. When they are firing a guy like Mark Richt, that gives every coach out there a lot of perspective. A lot of the people cheering for you and rooting for you are the same ones that will run you out the door if you have a few bad few games or a couple so-called bad seasons. They are 9-3 over there are Georgia. I don't know. It is crazy. Nobody is going to feel sorry for the coaches, but I know this, this is also a profession. There are real people involved, real feelings, and real families. I hate it. I hate to see it."
Swinney thinks that Richt won and lost with class while coaching for the Bulldogs.
"There's not a better football coach in America than Mark Richt," Swinney said. "He's won with dignity and class and consistency."
Richt had 145 wins with 51 losses and two SEC championships (2002, 2005) in fifteen seasons with Georgia.
However, his coaching seat became hot as he was unable to win the mediocre SEC East division in the last three seasons.