| | |
| --- | --- |
| Swinney discusses season-ending injury to Chad Kelly | |
---
| | | |
| --- | --- | --- |
| Tuesday, November 8, 2016, 1:01 PM | | |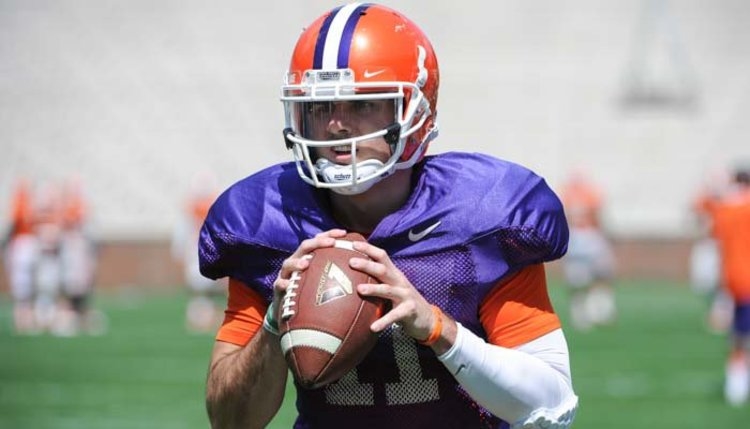 Clemson coach Dabo Swinney held his weekly press conference and shared his thoughts on the season-ending injury news to former Clemson quarterback Chad Kelly.
"Well really disappointed for him," Swinney said. "That's a tough break but just wish him well. He has proven he can come back from that strong. Heck, I never saw a guy work like him. It was unbelievable what he did was here when he got hurt the first time. I never saw anything like it and how he recovered and how hard he worked to get back for the start of that season. He played in that second game, and he was ready to play. I know he will put a great deal of effort to get back stronger and again it's not like it used to be with these guys now, the technology, and the doctors."
Swinney thought he had a great career at Ole Miss and will get a chance to play in the NFL.
"I thought he had a great career. Obviously, it is unfortunate, and maybe it didn't go according to the script, but it's how you respond, and he went to do what he needed to do and did a great job in leading his team and had some huge games and huge moments. Certainly, he did enough to show he is one of the best quarterbacks in the country. We knew that, and that's why we recruited him. He's definitely going to get that opportunity at the next level. I think he will be a great player. There is no doubt about it."
Kelly had an MRI on his right knee that showed a torn ACL after his team's 37-27 win over Georgia Southern on Saturday. He completed 16 of 23 for 226 yards and a touchdown before leaving the game when a defender rolled into him. For the season, he had 2758 passing yards with 19 passing touchdowns and only eight interceptions. For his collegiate career, he has thrown for 6858 yards with 50 touchdowns and 21 interceptions. The latest NFL.com draft projection has him sliding from a mid-round selection to a 7th round pick because of the injury.
Kelly was dismissed from the Clemson football team for "conduct detrimental" to the football program in 2014. During the 2014 spring game, he was 10-18 passing for 113 yards but threw two interceptions.
He red-shirted the 2012 season, then suffered a torn ACL in the 2013 Spring Game. But, he came back to play the September 7th S.C. State game. He played in five games overall in 2013 and was 10-17 passing for 58 yards. He added 16 rushes for 117 yards and a touchdown, including 56 yards on seven rushes at Virginia.