| | |
| --- | --- |
| Deshaun Watson: Clemson's 30-30 player | |
---
| | |
| --- | --- |
| Monday, May 9, 2016, 4:24 PM | |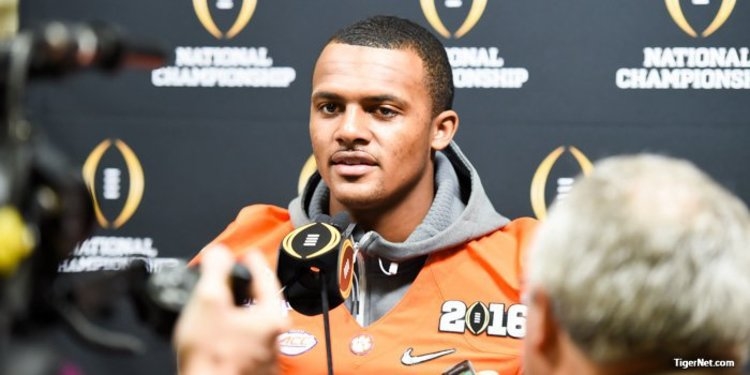 We all know Deshaun Watson excels on the football field, but he also excels in the classroom. According to a tweet from Clemson football Sports Information Director Tim Bourret Monday, Watson completed 37 semester hours over the past academic year. Combine that with his 35 touchdown passes last season and it's an impressive accomplishment.
Watson took 19 hours during the spring semester, and he told TigerNet earlier in the spring that he hopes to take 17 more hours over the summer as he inches closer to a degree in communications. If all goes as planned, he will have just eight hours left to take in the fall and could graduate in December.
"There are a lot of late nights and early mornings, but it's something that I wanted to do," Watson said. "I thought, 'I have the opportunity, so why not take it?' So far, it's been good for me. I have seven classes and really the hardest part is just making sure everything is turned in on time."
Watson also said he doesn't want to think someone is working harder than he works.
"Whatever it takes to be the best, that's what I'm doing," he said. "If you're not working, someone else is out working you."
The academic year is over. Deshaun Watson passed 37 hours and threw 35 TD passes. Anyone else ever have at least 35 of each in same acad yr?

— Tim Bourret (@TimBourret) May 9, 2016