| | |
| --- | --- |
| Clemson-ND is a finalist for ESPN College GameDay | |
---
| | |
| --- | --- |
| Friday, September 25, 2015 10:11 AM | |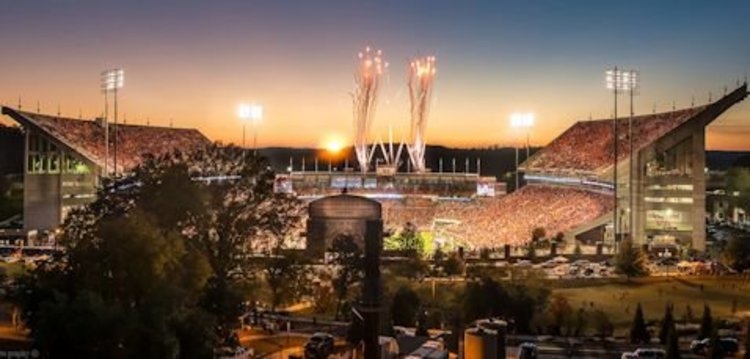 The Clemson-Notre Dame game is being heavily considered for ESPN's College GameDay on Thursday according to GameDay producer Lee Fitting.
Fitting was interviewed on Thursday by Dan Dakick's radio show on 1070 AM and the senior producer had the following ideas on possible ESPN GameDay locations.
"Dan, the way we look at it every week is, we want to be at the biggest story every week, and I like to use the word 'story,' instead of 'game,' because there may be weeks when we aren't at the biggest game," Fitting said via indystar.com. "My message to the Hoosier (Indiana-Ohio State) faithful is, you better be the biggest fans of UMass, who plays Notre Dame, and Southern, who plays against Georgia."
So it appears the GameDay favorites are Alabama-Georgia and Clemson-Notre Dame with Indiana-Ohio State matchup hoping for losses by Georgia and Notre Dame. It will be a monumental upset for both to happen because Notre Dame is currently a 28.5 point favorite against Southern.
Alabama played last week on ESPN GameDay and would not make very much sense or excitement to showcase the Crimson Tide yet again.
Clemson will play Notre Dame at 8 p.m in Memorial Stadium on Oct. 3. It will be the first appearance for the Fighting Irish in Death Valley since 1977.
Clemson's official Twitter account made a Match.com profile earlier in the week to try to persuade ESPN to come to Clemson next weekend.
According to the dating profile, Clemson is "seeking a date for Oct.3 when @ClemsonFB plays Notre Dame." Some of Clemson's best features listed include "our fans, our town, tailgating, hospitality, noise and the hill."
Hi @CollegeGameDay — we know you're busy this Saturday but maybe we could get together next week? DM if interested... pic.twitter.com/f6N5xoULJi

— Clemson Athletics (@ClemsonTigers) September 23, 2015