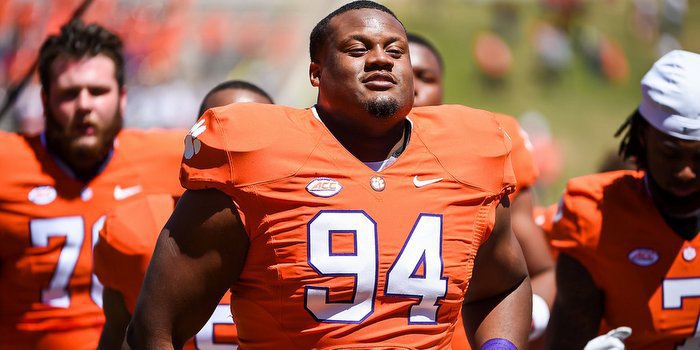 | | |
| --- | --- |
| Carlos Watkins injury update | |
---
| | | |
| --- | --- | --- |
| Tuesday, August 30, 2016, 2:47 PM | | |
Clemson senior defensive tackle Carlos Watkins talked to the media on Tuesday afternoon and had an update on his hand injury.
"I'm ready to go," Watkins said. I'll be playing in the game [Auburn]."
Watkins said that the injury happened in practice recently.
"It was a certain play we were going against the offense and my hand just got weak," Watkins said. "I didn't quite know what happened. I fractured a little bone in my hand, but I'll be ready to go."
Watkins is getting comfortable with the soft cast on his hand that he will be wearing against Auburn.
"I actually tested it out yesterday, practicing in a soft cast," Watkins said. "For the rest of the week, I will be in a full padded cast, but for the game, I will play in a soft case."
Watkins thinks that the soft cast is much better performance-wise than the full padded cast.
"No, with the soft cast. I can tell the difference," Watkins said. "I got a lot more use of my hand. With the big cast I had to get adjusted to it, but it is just a part of the game. That's the most important part. I need my fingers, and I told Danny Poole I am going to have to play well, so that is why he gave me the soft cast."
Watkins had 67 tackles, 3.5 sacks and 8 tackles for loss and was the 8th leading tackler for Clemson at his nose guard position last season. He was named First-team All-ACC by the media after the season.