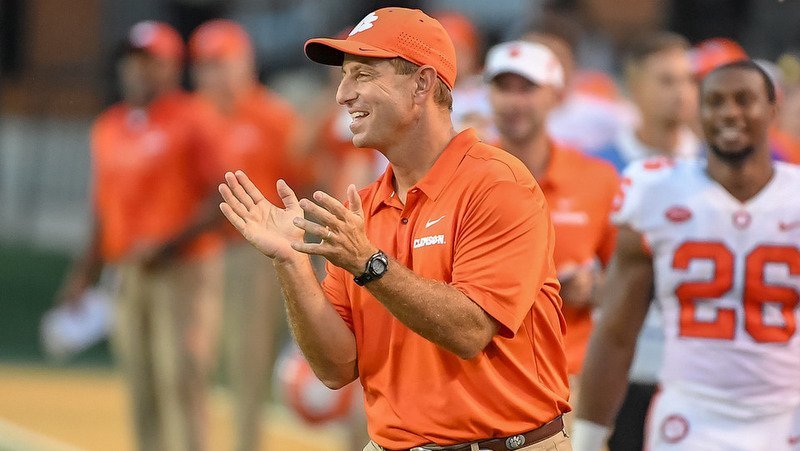 | | |
| --- | --- |
| What Swinney said about all the noon games at Clemson | |
---
| | | |
| --- | --- | --- |
| Tuesday, October 23, 2018, 6:11 PM | | |
Clemson fans cherish college football and treat their seven home games yearly as a chance to spend quality time with family and friends cheering on their Tigers.
However, to the dismay of many fans, Clemson has had several noon games this season and it hasn't allowed supporters to tailgate leisurely for hours before games. It's just not the same tailgating with eggs and biscuits at eight a.m. for some fans.
Clemson coach Dabo Swinney was asked about all the noon game times at Clemson during his weekly press conference Tuesday.
"Clemson fans don't want to hear me say it but I always say I don't care," he said. Tell me when to show up. I just don't care. I just want to play."
Swinney understands that some people travel a long way to watch their Tigers play.
"I know from a fan's standpoint it's probably very difficult because it is hard to get into Clemson," he said. "A lot of people travel a long way and I get all that. But why am I going to worry about something I have zero control over. That is such a waste of my time. I'm trying to get ready for Florida State. I could care less because I have zero control. None. Just like we played 16 straight night road games. 16 in a row. Night road games. Several of them were Game Days. Well, it is what it is. That means we are home at 6 AM. It is what it is. You just go play the game. Get ready to play. Don't worry about it. There is nothing I can do about it."
Swinney believes that good teams don't worry about where or when they play.
"All I know is we get seven home games," he said. "Now if they call you can say you are only going to get six well I would be mad about that. We get seven homes games. That's it. We will play at 6 AM. Noon. Midnight. I don't care. Just tell me when we are going to play. My job is to get the team ready to play and I don't want my team worried about that stuff. It don't matter. That was one of the first things when I got this job. On my God, we don't play good at this time. We only play good when we wear this uniform. Oh, it's going to rain today. Whatever who cares? Let's play. It's the same for everybody. As a program, we don't worry about it. It just don't matter."
Swinney knows that the noon spot is widely viewed on television nationally.
"Tell us when we are going to play and we are going to get ready to play because we love to play," he said. "We love to play so we are not going to complain. I'm thankful that we are on TV. There are a lot of teams out there that ain't on TV. I'm thankful that we are one of those teams that they want to put on a primetime (slot). I know people don't like noon but that is a primetime spot. The whole country is going to see Clemson. It's like the second highest rated spot outside the night deal. I don't care. Let's go play the game."