| | |
| --- | --- |
| Swinney: I played with gay players at Alabama | |
---
| | |
| --- | --- |
| Thursday, February 13, 2014 7:19 PM | |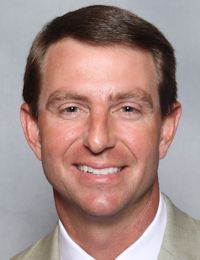 Clemson head coach Dabo Swinney
Dabo Swinney
Head Coach
View Full Profile was asked his thoughts on Michael Sam's announcement that he is gay in an interview on The Morning Show with Jason Bailey and Randy Cross on 92.9 The Game in Atlanta.
Swinney said that as a football coach all he is looking for is the best football players regardless of sexual orientation.
"To be honest with you I don't get in all that stuff, " Swinney said in the interview. " I don't think it is anyone's business what their sexual orientation is. This is football. I have a lot of personal beliefs that I believe in, but I can't transfer those to the football field. On 3rd and 2 or 3rd and 15 you need the best football player."
Swinney said that he did play with players he believed were gay at Alabama, where he was a wide receiver from 1990-92.
"When I was at Alabama there were a couple of guys, as a player, that we felt like that was their sexual orientation," Swinney said. "But it was never an issue, never a problem. It's not something that you run out to tell people.
"Again, you have respect for each individual and their personal beliefs. It's just like they're different religions. I'm a Christian, but I've coached and played with Muslims and all kind of different religions. It's not about any of that. Those are personal decisions that people have to make. I mean everyone is going to be judged one day, but it's not up to me to judge somebody."
Swinney believes that he has probably coached a few gay players at Clemson.
"It's the same thing since I've been here at Clemson," Swinney said. "I've been here 11 seasons now and I'd be foolish to think there hasn't been a few guys that have come through here. That would be foolish. A football team is really just a reflection of society. It really is. You've got 118, 120 guys on the team, you got a little bit of everything. That's your job as a teammate, your job as a coach to bring all that together. It's not just sexual orientation. It's religious beliefs, it's background, culture. You are just talking about one thing. There are lots of things that dividing or potentially dividing factors among people. That's what makes football great. Football is the ultimate team sport. There is nothing that brings race, religion, and all that stuff together like the game of the football."