| | |
| --- | --- |
| Vegas Odds on Clemson-FSU | |
---
| | |
| --- | --- |
| Wednesday, March 11, 2015 9:35 AM | |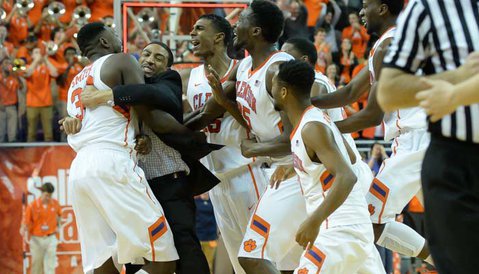 The ACC tournament is about to start up again in a few hours for the the second round at the Greensboro Coliseum.
Clemson (#8 seed) will play Florida State (#9) at noon EST and the game will be televised simultaneously on ESPN and the ACC Network (Raycom).
The Tigers (16-14, 8-10 ACC) are a one-point favorite for the neutral site contest. Florida State (16-15, 8-10 ACC) leads the all-time series 36-30 (5-2 in the ACC tournament). Clemson and Florida State split their two-game series during the regular season with both teams winning on the road.
Look for another defensive battle as both teams will try to impose their will on the defensive end.
The winner of this matchup will face #1 seed Virginia (28-2 record) and their highly-rated defense on Thursday afternoon.
Brownell wants his team to be excited for the opportunity on Wednesday. "This time of year you should be excited. You have a chance to go do something special in one of the great tournaments in all of college basketball," Brownell said. "If you can build some positive momentum there you never know what could happen. We are excited to be a part of it. We are excited we don't have to play the first day. We will have a big game against a team we know very well. It should be very competitive and very physical. It might be the one who has the ball last wins."
PROJECTED CLEMSON STARTERS
G 12 Rod Hall

Rod Hall
Sr. Guard
#12 6-1, 205
Augusta, GA
View Full Profile 6-1, 205 Sr. 8.6 ppg 3.4 apg
G 21 Damarcus Harrison

Damarcus Harrison
Sr. Guard
#21 6-4, 205
Greenwood, SC
View Full Profile 6-4, 205 Sr. 8.0 ppg 3.0 rpg
F 15 Donte Grantham

Donte Grantham
Fr. Forward
#15 6-8, 205
Martinsburg, WV
View Full Profile 6-8, 205 Fr. 8.9 ppg 4.6 rpg
F 5 Jaron Blossomgame

Jaron Blossomgame
RS So. Forward
#5 6-7, 215
Alpharetta, GA
View Full Profile 6-7, 215 RSo. 13.1 ppg 8.2 rpg
C 35 Landry Nnoko

Landry Nnoko
Jr. Center
#35 6-10, 255
Montverde, FL
View Full Profile 6-10, 255 Jr. 7.6 ppg 5.3 rpg
PROJECTED FLORIDA STATE STARTERS
G 22 Xavier Rathan-Mayes 6-4, 180 Fr. 14.8 ppg 4.4 apg
G 1 Devon Bookert 6-3, 185 Jr. 10.3 ppg 3.6 rpg
G 32 Montay Brandon 6-7, 216 Jr. 11.9 ppg 5.6 rpg
F 0 Phil Cofer 6-8, 205 Fr. 6.8 ppg 4.5 rpg
C 11 Kiel Turpin 7-0, 240 RGr. 5.1 ppg 2.3 rpg
GAME SETUP
8-Clemson (16-14, 8-10 ACC) vs. 9-Florida State (16-15, 8-10 ACC)
Date: Wednesday, March 11
Tipoff: 12 p.m. ET
Arena: Greensboro Coliseum (23,500)
Radio: CTSN (Tony Castricone-pbp; Tim Bourret-color)
TV1: ESPN (Sean McDonough-pbp; Shane Battier-color; Allison Williams-sideline)
TV2: ACC Network (Tim Brant-pbp; Mike Gminski-color)