| | |
| --- | --- |
| Two elderly Clemson fans taunted Jake Bentley on Twitter | |
---
| | |
| --- | --- |
| Monday, July 31, 2017 10:21 AM | |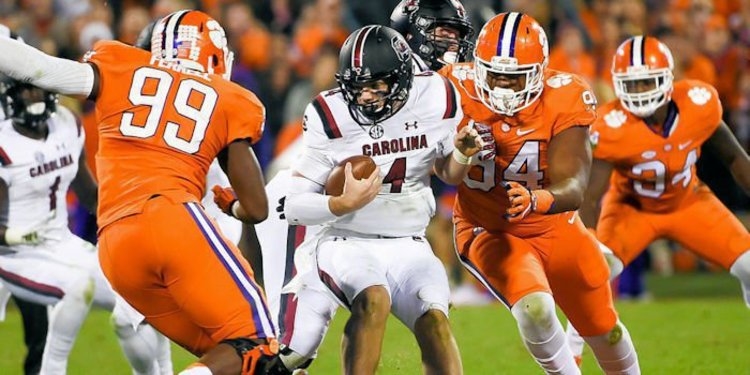 The Clemson Football team won their second National Championship in their school's history and demolished the Gamecocks 56-7 in its in-state rivalry game last season.
However, roughly two months ago, South Carolina quarterback Jake Bentley told reporters that Clemson isn't that much better than South Carolina if at all.
"We just didn't play well that week," Bentley said. "That's our big quote going into this year. We felt we got outworked, so never again. So our big thing is never again will we be outworked. Never again will we be outcompeted in a game like that. It all stems from that game because at the end of the game everyone knew that they were not that much better than us, or better than us at all. It really just lit a fire in everybody since that week. Everyone has worked harder and wanted it more."
Obviously, this incited the rivalry between the two schools and led many Clemson fans to chuckle out loud of Bentley's opinion of the two schools considering one team had just won the National Championship and the other finished with a mediocre 6-7 record with two of those wins coming from UMass and Western Carolina.
It was learned on Sunday that two elderly female Clemson fans have been taunting Bentley on Twitter about his Clemson comments according to the State.
"It was crazy," Bentley said. "These two elderly ladies always killing me on it. That's part of the reason you stay off Twitter."
Bentley has shut off Twitter to prepare for the upcoming season but didn't say if the old ladies were the main culprits.
"You don't have to deal with that," Bentley said. "I try not to see that during the season. Stay focused."
Twitter is a crazy place on the Internet where I guess even old ladies get their shots in. Good for Bentley not to take it personally and know it's one of the things that come with a heated in-state rivalry.
SC QB Jake Bentley said he has two elderly female Clemson fans who taunt him mercilessly on Twitter. There's no comeback to that. pic.twitter.com/FdE6Ox06qn

— David Hale (@DavidHaleESPN) July 30, 2017