| | |
| --- | --- |
| Tigers bats power opener win at Pitt | |
---
| | |
| --- | --- |
| Thursday, May 17, 2018 9:36 PM | |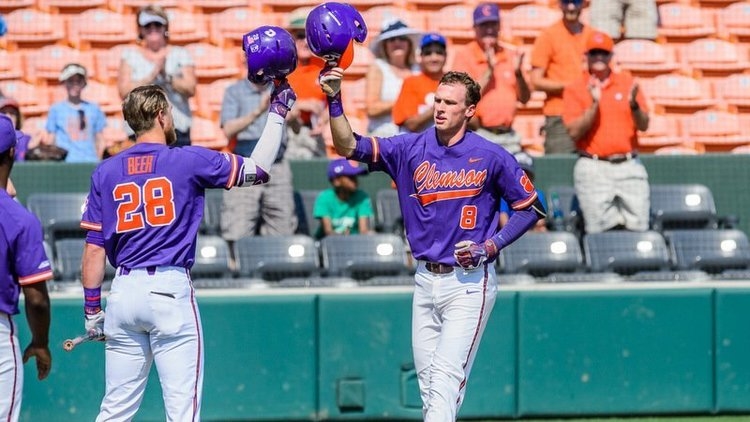 PITTSBURGH - Logan Davidson became the first Tiger in history to hit a home run from both sides of the plate and Patrick Cromwell added two home runs in No. 4 Clemson's 16-6 victory over Pittsburgh at Charles L. Cost Field on Thursday night. The Tigers, who took a 1-0 lead in the series, improved to 41-13 overall and 20-8 in the ACC, while the Panthers fell to 27-23 overall and 11-17 in ACC play.
Pittsburgh grabbed the lead with a run in the first inning, then Clemson erupted for six runs in the third inning. A one-out walk by Jordan Greene followed by four singles in a row and Cromwell's two-run homer highlighted the uprising. Kyle Wilkie, who extended his hitting streak to 20 games, Seth Beer and Chris Williams all had run-scoring singles in the frame. Beer lined a run-scoring double in the fourth inning, then Davidson, who earlier extended his hitting streak to 15 games, blasted a long solo homer as a righthanded batter in the top of the sixth inning.
Pittsburgh answered with four runs in the bottom of the sixth inning, then Davidson crushed a two-run home run as a lefthanded batter in the seventh inning, his second of the game and 13th of the season. Cromwell added his second homer, a solo shot and his seventh of the year, in the eighth inning. Sam Hall led off the ninth inning with his second homer of the year, then Beer hit a two-run homer, his 17th of the season and Clemson's season-high sixth of the game, and Cromwell lined a run-scoring double.
In his first career ACC start, freshman righthander Spencer Strider (5-1) earned the win. He allowed only three hits, two runs and two walks with a career-high-tying seven strikeouts in 5.0 innings pitched. Panther starter Matt Pidich (5-2) suffered the loss, as he gave up five hits, five runs and two walks with three strikeouts in 2.1 innings pitched.
The series continues Friday at 3 p.m., on ACC Network Extra.
With UNC's 9-1 win over Virginia Tech Thursday, the Tigers and Tar Heels are still tied at the top in the ACC standings with two conference games to go. North Carolina would have the tiebreaker for the No. 1-seed in the ACC Baseball Championship next week if the standings hold.
Yep, no need to move (ball hit 2/3 of the way up the light pole in right center). #BeerBomb

Watch the game now live via ACC Network Extra (https://t.co/EPc41UK7SY) pic.twitter.com/0JjEqR2gaW

— Clemson Baseball (@ClemsonBaseball) May 18, 2018
#LeaveNoDoubt

Watch the game now live via ACC Network Extra (https://t.co/EPc41UK7SY) pic.twitter.com/T79UwXCuz0

— Clemson Baseball (@ClemsonBaseball) May 18, 2018
430-foot ?? by Logan!

Watch the game now live via ACC Network Extra (https://t.co/EPc41UK7SY) pic.twitter.com/oEhHiSi6Ig

— Clemson Baseball (@ClemsonBaseball) May 18, 2018
With Davidson's home run in the 7th inning, he became the first Tiger in history to hit a home run from both sides of the plate in one game! #Clemson pic.twitter.com/weUQiN3q0F

— Clemson Baseball (@ClemsonBaseball) May 18, 2018