| | |
| --- | --- |
| Tiger Band will be benched during halftime of ACC Championship | |
---
| | |
| --- | --- |
| 2017-11-21 08:47:41.0 | |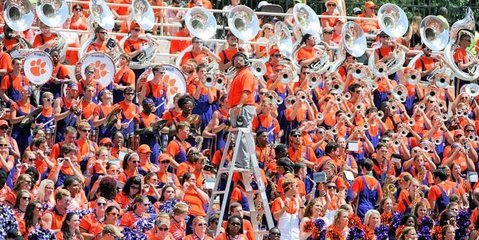 Clemson's Tiger Band has had an interesting football season making the headlines a few times this year.
During a celebration of last year's National Championship, the Tiger band hilariously trolled the Ohio State fanbase with a '31-0' score during halftime of the Kent State game.
In one of the more bizarre reports of the year, The Tiger band was placed by Virginia Tech officials in the very upper corner of Lane Stadium during Clemson's 31-17 win. It wasn't a good look for Hokie officials.
31-0 Win over Ohio State pic.twitter.com/Z3Sx9hHlHr

— TigerNet.com (@ClemsonTigerNet) September 2, 2017
So is this the end of the Tiger band news for the year? No.
According to an information packet sent to the bands of Clemson and Miami for the ACC Championship on December 2, Clemson will march a six-minute pregame show and won't be allowed to play at halftime while Miami will be benched for the pregame and only be allowed to play for six minutes at halftime.
Collegemarching.com spoke with Mark Spede, Director of the Clemson Tiger Band about not playing at halftime of the ACC Championship.
"I think it's inherently unfair to both bands," said Spede. "Pre-game and halftime serve two very different roles; pre-game has more pageantry and functions as a sort of "pep-rally' to fire up the crowd. Halftime is more oriented towards entertaining the crowd; both are very important. To exclude one band from either portion of the game minimizes the role of both."
Dr. Jay Rees, Director of Miami's Band, thinks that this could be unfair to his school since it isn't allowed to play during pregame.
"I am surprised that the ACC Athletic Directors are not concerned about the "home field advantage" that decision creates for the team that has a band performing at pregame," Reese said. "Fans from both schools deserve an opportunity at pre-game to get "hyped" up for the start of the game."
"I doubt that the football coaches would be happy with this plan that creates an "uneven playing field" prior to kick-off."
One of the reasons that there will be less band time during halftime this year is that different sponsors need to be introduced and Dr. Pepper alongside ESPN require a 7-minute block of time as students will compete for scholarship money.