| | |
| --- | --- |
| Three Clemson players, three signees drafted Wednesday | |
---
| | |
| --- | --- |
| Wednesday, June 6, 2018 7:32 PM | |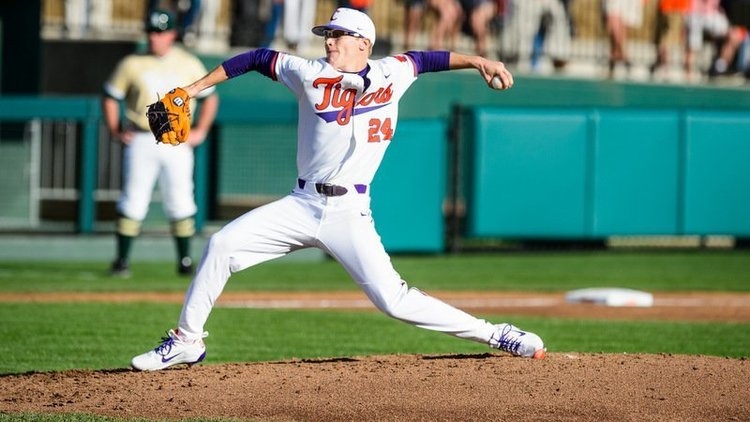 Three 2018 Tigers and three Clemson signees were selected on the third and final day of the MLB draft on Wednesday.
Sophomore lefthander Jake Higginbotham was selected in the 11th round (No. 322 overall) by the Braves, senior outfielder Drew Wharton was picked in the 30th round (No. 908 overall) by the Cubs and sophomore lefthander Mitchell Miller was chosen in the 31st round (No. 931 overall) by the Angels.
Higginbootham (Hoschton, Ga.) had a 6-1 record, 3.47 ERA, .236 opponents' batting average and 63 strikeouts in 80.1 innings pitched over 16 starts in 2018. In two active seasons at Clemson, he is 9-1 with a 3.80 ERA, .255 opponents' batting average and 91 strikeouts in 113.2 innngs pitched over 24 appearances (23 starts). Higginbotham was the first Tiger selected by the Braves since 2017 (Ryan Miller).
Wharton (Suwanee, Ga.) went from a backup his first three seasons to an everyday starter in 2018. He hit .255 with seven homers, 12 doubles, a triple, 41 RBIs, 31 runs and seven steals in 63 games. In his career, he batted .245 with seven home runs, 15 doubles, a triple, 61 RBIs, 38 runs and nine steals in 137 games. Wharton was the first Tiger chosen by the Cubs since 2011 (Scott Weismann).
Mitchell Miller (Covington, Ga.) appeared in four games in relief in 2018 and allowed two hits and no runs in 2.0 innings pitched. He has pitched 5.2 innings over 10 reief appearances in two seasons at Clemson. Miller was the first Tiger drafted by the Angels since 2017 (Jeremy Beasley). Before the draft, Miller announced on social media last month that he would transfer to Division II West Texas A&M.
Three Tiger signees were drafted on Wednesday, joining outfielder Parker Meadows, who was drafted in the second round by the Tigers on Monday, and infielder Charles Mack, who chosen in the sixth round by the Twins on Tuesday, as the five Tiger signees selected in the 2018 draft. On Wednesday, righthander Davis Sharpe was selected in the 34th round by the Pirates, lefthander Justin Wrobleski was drafted in the 36th round by the Mariners and catcher Adam Hackenberg was chosen in the 39th round by the Royals.
The three 2018 Tiger draftees joined first-round pick Seth Beer (Astros), fifth-round pick Ryley Gilliam (Mets), sixth-round pick Ryan Miller (Diamondbacks) and eighth-round pick Chris Williams (Twins) as the seven 2018 Tigers chosen in the MLB draft. Clemson's seven draft picks tied for 14th most in the nation and tied for third most in the ACC.
Notable draft-eligible Tigers who were not selected over the three-day draft include RHP Brooks Crawford, 2B Jordan Greene and INF Grayson Byrd.
Justin Wrobleski was one of the top in-state names for GA and he goes in the 36th. Projectable LHP 88-92, good slider. Will likely be at Clemson this fall. #mlbdraft

VIDEO: https://t.co/ejuvzjKbAe

REPORT: https://t.co/HpBDoGwt7T

— Vinnie Cervino (@vcervinoPG) June 6, 2018
Davis Sharpe will likely be at Clemson, but it's an ideal pitcher's frame with projection, real feel for a slider. #mlbdraft

— Vinnie Cervino (@vcervinoPG) June 6, 2018
Adam Hackenberg was heavily tied to the Yankees, goes to the Royals here. He had a seven-figure asking price, did not make my top 101

— jeff ellis (@jeffMLBdraft) June 6, 2018
2018 @MLB draft picks by DI school:

Kentucky 13
Arkansas 11
Texas Tech 11
Wichita St. 11
N. Carolina 10
S. Carolina 10
Okla. 9
Arizona 8
Louisville 8
Ole Miss 8
San Diego 8
Tenn. Tech 8
Vandy 8
Auburn 7
Cal St. Fullerton 7
Clemson 7
DBU 7
Duke 7
Florida 7
FSU 7
LSU 7
Miss. St. 7

— Brian Hennessy (@Brian_ClemsonAC) June 6, 2018

Tags:
Scott Weismann
,
Drew Wharton
,
Jordan Greene
,
Seth Beer
,
Brooks Crawford
,
Ryley Gilliam
,
Jake Higginbotham
,
Chris Williams
,
Grayson Byrd
,
Jeremy Beasley
,
Mitchell Miller
,
Ryan Miller
,
Adam Hackenberg