| | |
| --- | --- |
| Swinney told ACC to look in mirror after poor BCS showings | |
---
| | |
| --- | --- |
| Thursday, July 13, 2017 11:17 AM | |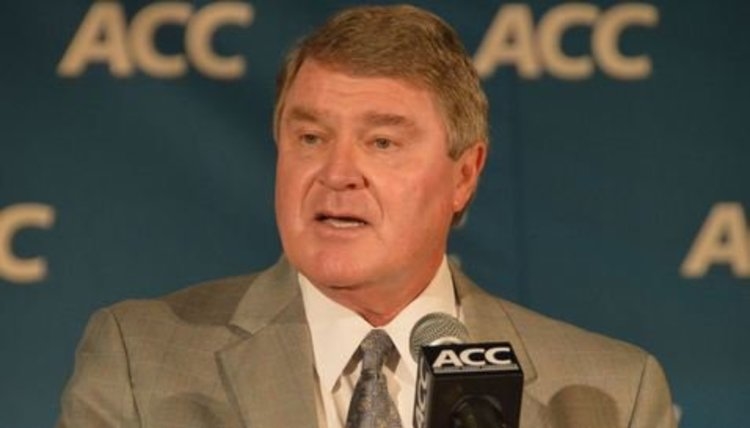 The ACC started their 2017 ACC Football Kickoff on Thursday and commissioner John Swofford held his annual press conference in which he discussed various subjects pertaining to the conference.
Swofford shared for a few minutes that Clemson coach Dabo Swinney helped turn around the conference by telling ACC athletic directors that they needed to step up their game after poor BCS showings.
"In talking to our coaches at Amelia Island at our spring meeting about the importance of us stepping up program-wise and talking with our athletic directors about the importance of that, that we had to make a better showing going forward, to have our place in the playoff, because you know and I know that in some years of the BCS we
didn't perform very well in those BCS games, and it was there for the world to see," Swofford said.
Swofford said that Swinney stepped up during the meeting and should get some of the credit for the recent turnaround of the league.
"They stepped up, and by they, I'm talking about everybody in our league," he said. "I told them the story about Dabo Swinney in that particular meeting, and Dabo said, "Listen, we've got to do what the Commissioner is talking about, and any of you that don't think this league is going to be a prominent part of the playoff, you need to take a look in the mirror. We need to take a look in the mirror." Because if you play the right people and you develop your program enough to win enough of the right games, there's no reason we shouldn't be in the playoff every year. And I thank Dabo, for following up as he did with his comments at that particular meeting, because it obviously resonated, and certainly it resonated at Clemson with Clemson's National Championship this year. But my point is, league-wise, I think this league, strategically, in positioning itself and on our campuses, with our coaching hires, our recruiting, our willingness to play tough games, and now our ability to win enough of those tough games -- you're not going to win all of them, that's why we are where we are today."