| | |
| --- | --- |
| Six Tigers make All-ACC team | |
---
| | |
| --- | --- |
| Monday, May 21, 2018 2:04 PM | |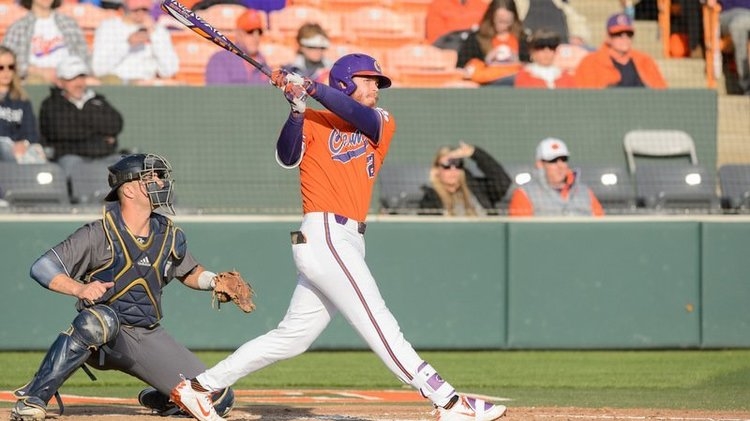 CLEMSON, S.C. - Six Tigers earned First, Second or Third-Team All-ACC honors, announced Monday by the ACC. Junior outfielder Seth Beer and junior relief pitcher Ryley Gilliam were First-Team All-ACC selections, while sophomore shortstop Logan Davidson was a Second-Team All-ACC pick.
Junior utility player Grayson Byrd, sophomore catcher Kyle Wilkie and senior first baseman Chris Williams earned Third-Team All-ACC honors. Clemson's six selections tied for third most in the ACC. Righthander Spencer Strider was named to the All-ACC Freshman team as well.
Beer (Suwanee, Ga.) was named to an All-ACC team for the third time in his career. He is hitting .308 with an ACC-high 19 homers, eight doubles, 48 RBIs, 55 runs, a .464 on-base percentage and a steal in 56 games. Gilliam (Kennesaw, Ga.), Clemson's first relief pitcher to earn First-Team All-ACC honors since 1998 (Scott Clackum), has a 2-2 record, an ACC-tying-high 11 saves, an 0.79 ERA, a .147 opponents' batting average and 50 strikeouts in 34.1 innings pitched over 23 relief appearances.
Davidson (Charlotte, N.C.) is hitting .300 with 16 doubles, 13 homers, 38 RBIs, 54 runs, a .417 on-base percentage, 10 steals and a .970 fielding percentage in 56 games. He became the first Tiger in history to hit a home run from both sides of the plate in one game at Pittsburgh on Thursday.
Byrd (Milton, Ga.) is hitting .248 with nine homers, 26 RBIs and three steals in 41 games. Wilkie (Cumming, Ga.) is riding a 22-game hitting streak and is hitting .306 with four homers, 33 RBIs and a .411 on-base percentage in 55 games. Williams (Garden Grove, Calif.) is batting .255 with 14 homers, a team-high 56 RBIs and 45 runs in 56 games.
Strider (Knoxville, Tenn.) has a 5-1 record, one save, a 3.66 ERA and a team-high 67 strikeouts in 46.2 innings pitched over 20 appearances (four starts).
2018 All-ACC Baseball Teams
Player of the Year – Joey Bart, Georgia Tech
Pitcher of the Year – Brian Brown, NC State
Defensive Player of the Year – Joey Bart, Georgia Tech
Freshman of the Year – Patrick Bailey, NC State
Coach of the Year – Mike Fox, North Carolina
First Team
C - Cal Raleigh, Florida State
C - Joey Bart, Georgia Tech
1B - Logan Wyatt, Louisville
2B - Wade Bailey, Georgia Tech
2B - Andy Weber, Virginia
3B - Kyle Datres, North Carolina
SS - Will Wilson, NC State
OF - Seth Beer, Clemson
OF - Josh Stowers, Louisville
OF - Josh McLain, NC State
OF - Brett Kinneman, NC State
DH/UT - Tristin English, Georgia Tech
SP - Connor Thomas, Georgia Tech
SP - Drew Parrish, Florida State
SP - Brian Brown, NC State
RP - Ryley Gilliam, Clemson
Second Team
C - Patrick Bailey, NC State
1B - Michael Busch, North Carolina
2B - Nick Podkul, Notre Dame
3B - Matt Vierling, Notre Dame
3B - Liam Sabino, Pitt
SS - Logan Davidson, Clemson
OF - Griffin Conine, Duke
OF - Jimmy Herron, Duke
OF - Chase Murray, Georgia Tech
OF - Brandon Riley, North Carolina
OF - Brock Deatherage, NC State
DH/UT - Jack Labosky, Duke
SP - Nick Bennett, Louisville
SP - Adam Wolf, Louisville
SP - Griffin Roberts, Wake Forest
RP - Ethan DeCaster, Duke
Third Team
C - Kyle Wilkie, Clemson
1B - Chris Williams, Clemson
1B - Kyle McCann, Georgia Tech
2B - Devin Mann, Louisville
3B - Drew Mendoza, Florida State
SS - Ike Freeman, North Carolina
OF - Chris Galland, Boston College
OF - Jackson Lueck, Florida State
OF - Eric Gilgenbach, Notre Dame
DH/UT - Grayson Byrd, Clemson
DH/UT - Danny Oriente, Louisville
DH/UT - Ron Washington Jr., Pitt
SP - Bobby Miller, Louisville
SP - Derek Casey, Virginia
SP - Evan McKendry, Miami
RP - Joe O'Donnell, NC State
All-Freshman Team
OF - Chris Galland, Boston College
RP - Spencer Strider, Clemson
1B - Joey Loperfido, Duke
P - CJ Van Eyk, Florida State
SP - Bobby Miller, Louisville
SS - Freddy Zamora, Miami
C - Patrick Bailey, NC State
SP - Reid Johnston, NC State
DH/UT - Ron Washington Jr., Pitt
RP - Andrew Abbott, Virginia
SS - Tanner Morris, Virginia
P - Ian Seymour, Virginia Tech
ACC release
Georgia Tech junior catcher Joey Bart has been voted the ACC Baseball Player of the Year by the league's head coaches, while NC State senior lefthander Brian Brown earned the nod as ACC Pitcher of the Year.
NC State catcher Patrick Bailey was voted the ACC Freshman of the Year, while North Carolina's Mike Fox earned ACC Coach of the Year honors. The Yellow Jackets' Bart was also tabbed as the ACC Defensive Player of the Year.
Bart and Brown head up the 2018 All-ACC Baseball Team, which was also announced on Monday.
Bart, a native of Buford, Georgia, leads Georgia Tech into this week's ACC Baseball Championship as the conference leader in batting (.368), on-base percentage (.481), slugging percentage (.651) and total bases (138 in 55 games). He is tied for third among ACC players with 16 home runs and has driven in 38 runs. Twenty-eight of his 78 hits have gone for extra bases.
A solid presence behind the plate in addition to posting standout offensive numbers, Bart boasts a .991 fielding percentage and has thrown out 12 of 33 baserunners on attempted steals. He has been named a semifinalist for the Johnny Bench Award, which is presented to college baseball's top catcher. He also earned a spot on the midseason watch list for USA Baseball's Golden Spikes Award and is a semifinalist for the Dick Howser Trophy, presented to college baseball's top overall player.
Bart is ranked as the No. 1 catcher in all of Division I baseball by Baseball America and No. 2 by D1Baseball.com.
NC State's Brown has compiled a 6-1 record and 2.37 ERA while helping the Wolfpack to a 40-14 overall record and a top-10 national ranking. The Glenmoore, Pennsylvania, native has struck out 85 batters in 87.1 innings while limiting opponents to a .219 batting average.
Brown turned in arguably the strongest outing of his career on April 14, when he tossed his first career complete game while striking out eight batters and allowing just one earned run in an ACC win over Notre Dame. He was tabbed a Midseason All-American by Perfect Game and earned a spot on the Golden Spikes Award midseason watch list.
Bailey, a 6-2, 192-pound native of Greensboro, North Carolina, has been a presence both at and behind the plate for NC State while appearing in 48 games – 44 in a starting role– during his freshman season.
Sporting a batting average of .319 that ranks second among Wolfpack regulars and is tied for 12th in the ACC, Bailey is fifth on his team in home runs with 10 and sixth in RBI with 32.
North Carolina's Fox was voted the ACC Coach of the Year for the first time after leading the Tar Heels to their second consecutive Coastal Division title and the No. 1 overall seed in the upcoming ACC Baseball Championship. This is the seventh division title overall for the Tar Heels under Fox, who is 877-372 in 20 seasons at UNC and surpassed the 1,400 mark in total wins as a college head coach during the 2018 season.
UNC, 37-17 overall, posted a 22-8 record in ACC regular-season play and owns five wins over fellow top-10 ranked teams. The Tar Heels are at No. 7 in the latest NCAA RPI, leading a group of five ACC teams among the top 17.
Bart and Brown are joined on this year's All-ACC First Team by catcher Cal Raleigh of Florida State, first baseman Logan Wyatt of Louisville, second basemen Wade Bailey of Georgia Tech and Andy Weber of Virginia, third baseman Kyle Datres of North Carolina, shortstop Will Wilson of NC State, outfielders Seth Beer of Clemson, Josh Stowers of Louisville, and Josh McLain and Brett Kinneman of NC State, designated hitter/utility player Tristin English, and starting pitchers Connor Thomas of Georgia Tech and Drew Parrish of Florida State, and reliever Ryley Gilliam of Clemson.
Datres (.345), Bailey (.345), Weber (.342), Stowers (.335), McLain (.335), Wyatt (.332) and Raleigh (.330) all rank among the ACC's top 10 hitters. McLain's 83 total hits leads the conference. Clemson's Beer leads the ACC in home runs with 19, followed by NC State's Kinneman with 17. Kinneman leads in RBI with 60, one ahead of Georgia Tech's English. Lousville's Stowers leads in stolen bases with 33.
Florida State's Parrish (4-0) owns a 2.52 ERA and has stuck out 107 batters in 89.1 innings while limiting opposing hitters to a collective .194 batting average. Georgia Tech's Thomas (7-3) has fanned 104 batters while walking just nine in 94 innings. Thomas leads the ACC in complete games with three.
Gilliam has appeared in 23 games for the Atlantic Division champion Tigers and has posted 11 saves in addition to a stellar 0.79 ERA. He has struck out 50 batters in 34.1 innings while allowing just 17 hits.
NC State and Georgia Tech led with four players each voted to the 16-member All-ACC First Team. Clemson, Florida State and Louisville each had two players selected.
NC State and Louisville tied with a league-high seven selections each to the All-ACC First, Second and Third teams. Clemson and Georgia Tech each placed six total players. Duke, North Carolina and Florida State each had four All-ACC players.
NC State's Bailey heads up this year's ACC All-Freshman Team. The Wolfpack and Virginia each placed two freshmen on that 12-member squad.