| | |
| --- | --- |
| Sapp leads White Team to Sons Bowl Victory | |
---
| | |
| --- | --- |
| Wednesday, April 12, 2017 7:30 PM | |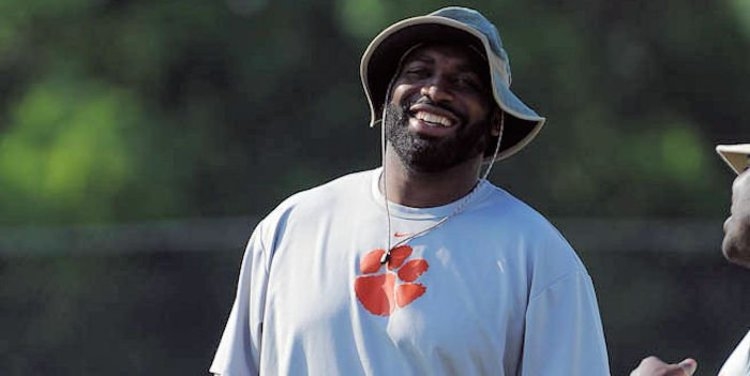 Clemson, S.C.—Patrick Sapp threw for 442 yards and six touchdowns to lead the White Team to a 38-12 victory in the 11th annual Sons Bowl on Saturday, April 8. The flag football game between former Clemson gridders was held prior to the Clemson Spring Football Game at Memorial Stadium.
Sapp completed touchdown passes to five different players. The former Clemson quarterback and defensive end threw a pair of scoring passes to Joe Don Reames, who had just two catches all game, but they went for 130 yards. George Rabon 4-117) and Trey Howell (3-105), also had 100-yard receiving games for the White Team.
Rush Lowther quarterbacked the Orange team for most of the game and threw for 334 yards and a pair of scores, one to Michael Allen and the other to Jeff Taylor. Joel Gardner did not have a touchdown, but led Orange team receivers with nine catches for 129 yards.
Scoring Summary
White 38, Orange 12
(4 10-minute quarters running time)
White—Rabon 25 pass from Sapp (pass failed), 6-0
Orange—Allen 2 pass from Lowther (Pass failed), 6-6
White—Maase 25 pass from Sapp (Pass failed), 12-6
White—Reames 50 pass from Sapp (Boozer pass from Sapp), 20-6
White—Reames 80 pass from Sapp (Pass failed) 26-6
Orange—Taylor 27 pass from Lowther (Pass failed), 26-12
White—Howell 78 pass from Sapp (Pass failed), 32-12
White—Coleman 9 pass from Sapp (Pass failed), 38-12
Passing
White: Sapp 18-27-442-6-0
Orange: Lowther 24-35-334-2-3; Gardner 1-3-6-0-1
Receiving
White: Rabon 4-117-1; Reames 2-130-2; Howell 3-105-1; Maase 1-25; Coleman 2-17-1; Boozer 2-21; Higgins 2-17; Price 1-6; McKissic 1-4
Orange: Gardner 9-129; Allen 5-57-1; Taylor 4-56-1; Rigsby 3-45; Fitzsimmons 1-11; Butler 3-32
Rushing
White: Sapp 1-7
Orange: Allen 1-15; Gardner 1-13; Lowther 2-11; Butler 1-10
Interceptions
White: Reames 1-22; Maase 2-0; Rabon 1-4
Tackles for Loss;
White_ Coleman 1- (-1)