| | |
| --- | --- |
| SC band apologizes for playing during Clemson medal for heroism ceremony | |
---
| | |
| --- | --- |
| Saturday, December 17, 2016 1:21 PM | |
Marine captain and Clemson graduate Trey Kennedy had plenty of friends and family on hand when he received a medal for heroism during the Clemson home game against South Carolina last month, but most of them couldn't hear the announcement or ceremony because of the University of South Carolina band.
Captain Kennedy received a Medal for Heroism during the game for rescuing people from a NATO helicopter crash in Afghanistan last year. He was honored with the Navy and Marine Corps Medal for heroism, an award for bravery performed outside of combat.
The citation describes how Kennedy removed people from the wreckage of a helicopter crash on Oct. 11, 2015, while standing in several inches of jet fuel, despite imminent risk or fire or explosion. The crash killed five of the helicopter's nine passengers.
Kennedy, a graduate of Wren High School and a 2008 graduate of Clemson, was honored during the first quarter of the football game but the ceremony went unheard by most of the fans in attendance because the South Carolina band played music over the ceremony.
South Carolina Director of Bands Cormac Cannon sent a heartfelt apology letter dated November 30 to Capt. Kennedy.
Dear Capt. Kennedy,
I am writing to express my deepest and most sincere apology on behalf of the University of South Carolina Marching Band for our playing during your recognition ceremony at Clemson-South Carolina football game on Nov. 26th.
I wish to congratulate you on your receipt of the Navy and Marine Corps Medal. On behalf of my students and the University of South Carolina, thank you for your bravery, heroism, and service. We, and every American who values our freedom, owe you a debt of gratitude than can never be full repaid.
Our organization is one fundamentally built on respect and I am very sorry that our playing during your ceremony displayed a lack of respect for you or your incredible service to our country. I certainly did not intend to play over your ceremony, and was unaware that it was occurring at that point in the game. Once we were made aware of it, we stopped playing. However, I know by that time we had already interrupted part of your ceremony.
I hope you will accept my apology and know that I will continue to work as hard as I can on behalf of my students and our university to demonstrate the utmost gratitude and respect for every individual we encounter.
Most Sincerely,
Cormac Cannon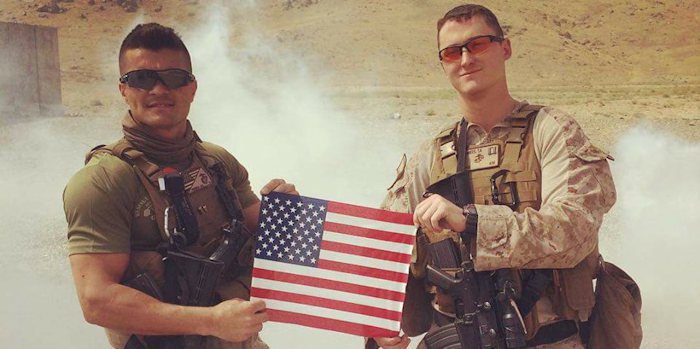 Trey Kennedy (right)