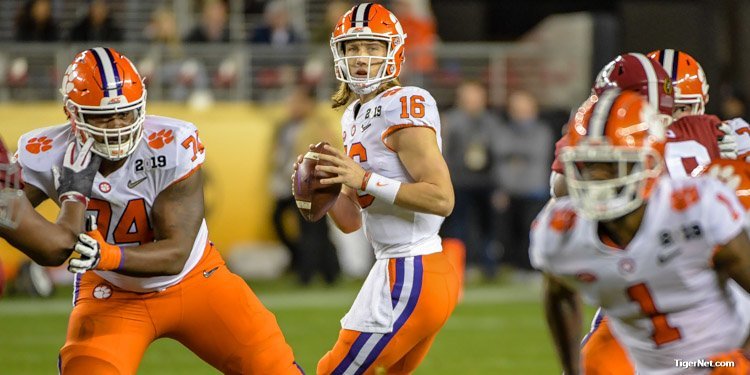 | | |
| --- | --- |
| SB Nation projection ranks Clemson No. 3 in 2019 | |
---
| | | |
| --- | --- | --- |
| Monday, June 3, 2019, 12:46 PM | | |
SB Nation released its preview for the defending champs on Monday and Dabo Swinney's Tigers are projected to dominate the regular season. Where they fall in the national rankings may come as a surprise, however.
Clemson is given an 89 percent or higher win probability and a three-touchdown advantage-plus in 10 of the 12 regular season games. The two closer calls are still two-possession games with the trip to South Carolina (12.6 projected margin) and hosting Texas A&M (13.7) in week two.
Clemson is projected to improve on its ranking offensively, moving up from No. 5 in 2018 to No. 3 this season. The defense, losing eight with regular starting experience, is picked to take a step back but still maintain a top-10 unit (8). In the overall efficiency ranking, Clemson (98.2) finished narrowly behind Alabama (99.5) and Georgia (99) last year and the Tigers are preseason No. 3 in 2019 as well.
"Clemson wasn't really 28 points better than Alabama last year," SB Nation's Bill Connelly wrote. "S&P+ (stat definitions below) still graded the Tide better for the season as a whole (and does so heading into 2019 as well), and the title game's strange 'Alabama wins every first down, and Clemson wins every third down and red zone snap formula wasn't particularly replicable.
"The Tigers still got the ring, though, their second in three seasons. And with maybe the most manageable schedule among any title contender, they'll have the surest shot at reaching the CFP this year, too…(Alabama coach Nick) Saban can best Swinney in recruiting (at least, for now), but Swinney fills in the gaps with culture and continuity and maybe the only QB in the country who can rival Saban's. And 2019's payoff will likely be a fifth straight shot at Bama."
The 2018 champs ranked in the top-5 last year also in SB Nation/Football Outsiders metrics with standard downs S&P+ defense (1), defense adjusted line yards (1), passing downs yards per carry allowed (1), standard down yards per carry allowed (2), rushing defense S&P+ (2), passing downs S&P+ (3), passing downs defense S&P+ (4), defensive success rate (4), offensive (5) and defensive points per scoring opportunity (1) and passing downs sack rate on defense (5).
Miami holds the next-best efficiency ratings in the ACC from SB Nation as a projected favorite in each of its ACC games (their matchup at FSU being a virtual toss-up with a 51 percent projection) and all but one contest on the season (projected -10.7 margin versus Florida to open the year).
(S&P+ is a SB Nation/Football Outsiders metric that combines ratings for the five factors of efficiency, explosiveness, field position, finishing drives and turnovers...Success rate is determined by gaining 50 percent of the necessary yardage on first down, 70 percent on second down and 100 percent on third and fourth down...Passing downs are defined as second down with eight or more yards to go or third or fourth down with five or more yards to go. All other situations are "standard" downs.)