| | |
| --- | --- |
| Projecting salaries, signing bonuses for Watson and Williams | |
---
| | |
| --- | --- |
| Friday, April 28, 2017 7:50 AM | |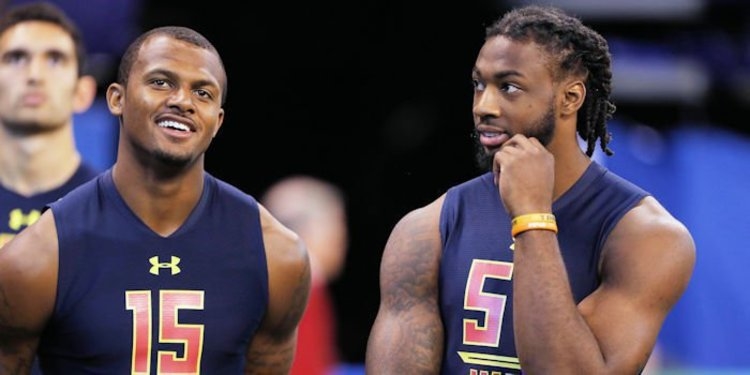 According to Spotrac.com, former Clemson players Deshaun Watson and Mike Williams will receive 4-year NFL contracts projected to be worth approximately $13 million and $20 million, respectively. Also, top 20 NFL draft picks usually have their contracts fully guaranteed.
However, the top QB drafted Mitchell Trubisky is projected to sign a $29 million contract at the number two spot while the top WR Corey Davis will sign a $25 million contract for being the fifth pick.
The NFL draft continues Friday night at 7 PM EST.

Pick	Team					Total $		Signing Bonus $	2017 Cap $

1	CLE	Myles Garrett		DE	30,275,992	20,158,903	5,504,726

2	CHI	Mitchell Trubisky	QB	28,902,911	19,160,299	5,255,075

3	SF	Solomon Thomas		DE	28,029,149	18,524,835	5,096,209

4	JAC	Leonard Fournette	RB	27,030,534	17,798,570	4,914,643

5	TEN	Corey Davis		WR	25,282,971	16,527,615	4,596,904

6	NYJ	Jamal Adams		S	22,162,335	14,258,062	4,029,515

7	LAC	Mike Williams		WR	19,665,824	12,442,418	3,575,604

8	CAR	Christian McCaffrey	RB	17,169,314	10,626,774	3,121,693

9	CIN	John Ross		WR	17,044,347	10,535,888	3,098,972

10	KC	Patrick Mahomes		QB	16,357,943	10,036,686	2,974,172

11	NO	Marshon Lattimore	CB	15,296,937	9,265,045	2,781,261

12	HOU	Deshaun Watson		QB	13,799,018	8,175,649	2,508,912

13	ARI	Haason Reddick		LB	13,424,544	7,903,305	2,440,826

14	PHI	Derek Barnett		DE	12,800,418	7,449,395	2,327,349

15	IND	Malik Hooker		S	12,550,782	7,267,841	2,281,960

16	BAL	Marlon Humphrey		CB	11,801,811	6,723,135	2,145,784

17	WAS	Jonathan Allen		DL	11,552,159	6,541,570	2,100,393

18	TEN	Adoree' Jackson		CB	11,240,100	6,314,618	2,043,655

19	TB	O.J. Howard		TE	11,052,856	6,178,440	2,009,610

20	DEN	Garett Bolles		OT	10,990,448	6,133,053	1,998,263

21	DET	Jarrad Davis		LB	10,928,034	6,087,661	1,986,915

22	MIA	Charles Harris		DE/OLB	10,803,204	5,996,875	1,964,219

23	NYG	Evan Engram		TE	10,678,382	5,906,096	1,941,524

24	OAK	Gareon Conley		CB	10,428,730	5,724,531	1,896,133

25	CLE	Jabrill Peppers		S	10,303,908	5,633,751	1,873,438

26	ATL	Takkarist McKinley	OLB	10,179,063	5,542,955	1,850,739

27	BUF	Tre'Davious White	CB	10,054,256	5,452,186	1,828,047

28	DAL	Taco Charlton		DE	9,991,841	5,406,794	1,816,698

29	CLE	David Njoku		TE	9,491,010	5,042,553	1,725,638

30	PIT	T.J. Watt		OLB	9,225,787	4,849,663	1,677,416

31	SF	Reuben Foster		MLB	9,003,620	4,688,087	1,637,022

32	NO	Ryan Ramczyk		OT	8,860,569	4,584,050	1,611,013