| | |
| --- | --- |
| Notes and Quotes from Clemson's win over Syracuse | |
---
| | |
| --- | --- |
| Saturday, September 29, 2018 5:33 PM | |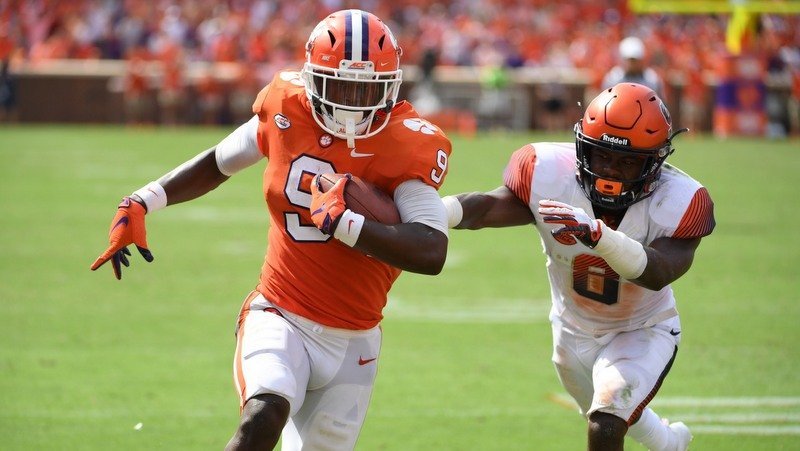 Clemson engineered a 13-play, 94-yard drive that culminated in a game-winning touchdown with 41 seconds remaining. It represents the longest game-winning scoring drive by Clemson to take the lead in the final minute of a game since at least 1959.
Clemson rushed for at least 200 yards in a third consecutive game for the first time since games 8-10 of the 2017 season against Georgia Tech, NC State and Florida State.
Clemson has now rushed for 200 yards a total of 50 times under Head Coach Dabo Swinney. Clemson is 49-1 in those contests, including victories in each of their last 45 such games.
Running back Travis Etienne recorded career highs in rushing attempts (27), rushing yards (203) and rushing touchdowns (three).
Etienne's 200-yard rushing performance was only the 16th 200-yard rushing game in Clemson history and the first since Andre Ellington's 228-yard effort against Auburn in the 2012 season opener.
Etienne's previous career high for rushing yards was 162, set against Georgia Southern earlier this season. His 27 attempts represented the first 20-carry game of his career.
Etienne became the first Clemson player to rush for three touchdowns in a game since Wayne Gallman on Nov. 12, 2016 against Pittsburgh.
With his second touchdown on Saturday, Etienne reached 20 career rushing touchdowns in his 18th career game.
Etienne became the first Clemson player to rush for 100 yards in three straight games since both Wayne Gallman and Deshaun Watson accomplished the feat against South Carolina, North Carolina and Oklahoma in 2015.
Etienne rushed for a touchdown in a fifth consecutive game to break his career-long streak for consecutive games with a rushing touchdown (four, once in 2017 and currently in 2018).
Etienne became the first Clemson player to rush for a touchdown in five straight games since Wayne Gallman's seven-game streak in games 8-14 in 2016.
Etienne recorded his second game of the season with multiple rushing touchdowns. He has two rushing touchdowns in the team's win against Georgia Southern. He has scored at least two rushing touchdowns in five games in his career.
Wide receiver Hunter Renfrow extended his streak of consecutive games played with a reception to 33.
On a 12-yard reception in the first quarter, Renfrow recorded his 150th career catch to become only the 10th player in school history to record 150 career receptions.
With his second reception of the game, Renfrow passed Perry Tuttle (150 from 1978-81) for the ninth-most career receptions in school history.
Defensive back A.J. Terrell recorded Clemson's first interception of the season, picking off Syracuse quarterback Eric Dungey in the third quarter.
The interception was the second of Terrell's career and his first since Sept. 23, 2017 against Boston College.
With the interception, Clemson forced a takeaway in a 13th consecutive contest, the program's longest streak since a 15-game stretch across the 2012-13 seasons.
Syracuse rushed for a one-yard touchdown with 7:31 remaining in the second quarter, marking the first first-half touchdown allowed by Clemson at Memorial Stadium since Nov. 12, 2016 vs. Pittsburgh. Clemson went 686 days between first-half touchdowns allowed at Death Valley, covering 309:52 of game play.
Tackle Mitch Hyatt made his 47th career start to tie OG Eric Harmon, OT Jim Bundren, OG Glenn Rountree and PK Aaron Hunt (47) for fourth-most career starts in Clemson history.
During the contest, Hyatt passed No. 3 Kyle Young (3,097) and No. 2 Landon Walker (3,131) on the school's all-time leaderboard for career snaps from scrimmage.
Quarterback Trevor Lawrence started and became only the sixth true freshman to start at quarterback for Clemson all-time, joining Steve Fuller (1975), Willie Jordan (1975), Patrick Sapp (1992), Nealon Greene (1994) and Deshaun Watson (2014).
On a 43-yard field goal in the third quarter, kicker Greg Huegel moved past Nelson Welch (301) for fourth on the program's all-time career scoring list.
With his second field goal of the game, a 37-yarder in the third quarter, Huegel passed David Treadwell (47) for seventh-most made field goals in a career in school history.
Linebacker Kendall Joseph matched a career high with 12 total tackles.
The game marked only the fourth time in Memorial Stadium history that two undefeated teams had met four or more games into a season. Clemson is now 3-1 in such contests, including wins against previously undefeated NC State in 2000 and Louisville in 2016.
Clemson's captains for the contest were defensive end Clelin Ferrell, tackle Mitch Hyatt, wide receiver Trevion Thompson and defensive tackle Christian Wilkins.
WITH THE WIN
Clemson has now opened 5-0 for a fourth straight season and for the sixth time in the last eight years.
Clemson won its first five games of a season for the sixth time under head coach Dabo Swinney (2011, 2013, 2015, 2016, 2017). Clemson's five previous 5-0 starts under Swinney were already the most under any head coach in school history (Josh Cody, 3; Frank Howard, 2; Danny Ford, 2; Tommy Bowden, 1; John Heisman, 1).
The four consecutive 5-0 starts represent the most consecutive 5-0 starts in team history, surpassing a three-year streak from 1928-30.
Clemson won its first ACC home game of the season for an eighth consecutive year. Clemson has won every ACC home opener dating back to 2011. The eighth straight victory by Clemson in its ACC home opener matched the longest streak in program history, set across the 1964-71 seasons under head coaches Frank Howard and Cecil Ingram.
Clemson won the 23rd of its last 24 games against ACC Atlantic Division opponents. Clemson has won 27 of its last 29 games against all ACC foes.
Clemson defeated an ACC foe for the 29th time in its last 31 opportunities, including conference championship games, dating back to 2015.
Clemson improved to 5-2 all-time against Syracuse, including a 3-0 record in games played at Clemson.
Clemson won its 11th consecutive game at Memorial Stadium, dating back to a 56-7 win against South Carolina on Nov. 25, 2016. The current 11-game streak is Clemson's third-longest home winning streak in Dabo Swinney's tenure as head coach (21 from 2013-16, 13 from 2011-12).
Clemson has now won 32 of its last 33 home games.
Clemson improved to 35-4 in ACC contests at Memorial Stadium under Head Coach Dabo Swinney. He is now 62-7 against all opponents in Death Valley as a head coach.
Clemson won its fifth game in the month of September, marking the seventh time in program history that the Tigers have won five games in a single month (October 1977, October 1981, November 1991, September 2000, October 2015 and September 2017).
Clemson extended its winning streak in Saturday games to 21 to tie the longest Saturday winning streak in school history from the 2014-16 campaigns. The current streak is the longest of any school in the country.
Clemson won its 18th consecutive game in the month of September, dating back to 2014. The current streak is already the longest in school history.
With the 106th victory of his head coaching career, head coach Dabo Swinney surpassed the number of total victories earned by Notre Dame's Knute Rockne, the winningest coach by percentage in Division I history. Rockne compiled a 105-12-5 career record from 1918-30 at Notre Dame for a record .881 winning percentage.
The game was Clemson's second of the season in which its opponent has scored first. Clemson is now 2-0 in those contests with victories against Syracuse and Texas A&M.
Clemson trailed, 16-7, at halftime. The victory was Clemson's first win after trailing at halftime since overcoming a 27-17 halftime deficit in a 38-31 win against NC State on Nov. 4, 2017.
Clemson trailed, 16-13, after three quarters. The win marks Clemson's first after trailing entering the fourth quarter since the National Championship game against Alabama during the 2016 season, in which Clemson overcame a 24-14 fourth-quarter deficit in a 35-31 win.
Clemson has now won 48 of its last 52 games overall, dating to 2014.
QUOTES
CLEMSON HEAD COACH DABO SWINNEY
On the game:
"What a game. It's one that I'll probably never forgot. I'm super proud of our team and staff. They faced a lot of challenges this week, obviously, but you saw our football team grow up today. You saw the heart of our football team today. We kept battling. Trevor [Lawrence] got knocked out of the game, and we put Chase [Brice] in there, who hasn't played in critical situations before. I was impressed with the moxie of our team. Somewhere, Danny Ford is smiling because that was an old-school win. I really appreciate our crowd. We needed some energy, and they gave it to us."
On the offensive performance:
"We needed to settle down in the fourth quarter and give Chase legs, so our ability to run the football gave us a chance to win game. [Travis] Etienne had over 200 yards rushing. The offensive line took over, and Syracuse had no answer for our ground game. We had several big play-action plays. I hate that Trevor had to miss the second half, but we grew up as team. Chase had to go out and prove that he could do it, and I can't say enough good things about the way that he played today."
On the defensive and special teams performances:
"Holding Syracuse to field goals in red zone gave us a chance to win. A.J. Terrell got his first interception of the year. How about that sack by Xavier Thomas at the end of the game? That was unbelievable. Clelin (Ferrell), Dexter (Lawrence) and Christian (Wilkins) were dangerous today. Kendall Joseph led the team with 12 tackles, and Will Spiers punted really well."
On the significance of the victory:
"Again, I'm really proud of our team. It was inspiring to see how they responded to the challenges of this week and this game. At the end of the day, the win gave us good momentum in the ACC. We need to find a way to get to 6-0 this week, but I can't say enough about how much I love this team and how proud I am of them. Everything in life is about how you respond, and it was inspiring to see our team come together and display the heart of a champion and the eye of the tiger. I've been a part of a bunch of big wins as a player and a coach. I'll never forget this one, though, because it was not easy or pretty. But the guys had resolve and imposed their will on the opponent. That's heart. That's culture. That's belief. It was a special win."
CLEMSON CO-OFFENSIVE COORDINATOR Tony Elliott
On what he told the offense at half time:
"I said, 'do you want to win a football game?' Every man in there said, 'yes.' I told them it was not going to take a heroic performance...just go out and do your job. We knew we were going to have to settle in with the run and lead with the run. Chase [Brice] knew that he was going to have to make plays when the opportunities presented themselves. I talked to the whole offense and said, 'If we want to win this game, let's just get out of our own way.' That was what happened in the first half...we kept stubbing our toe, and we weren't able to put points up. Then, we found a way in the second half to get a couple field goals and two touchdowns in the fourth quarter."
On Travis Etienne:
"He just continues to be himself. He runs hard and refuses to go down...he takes some chances, but more often than not, when he takes those chances, they pay off big. I'm really, really proud of him and the way he ran the football and really, really proud of [Adam] Choice and Tavien [Feaster] as well. I probably would have liked to get Feaster and Choice a couple more carries, but Travis had the hot hand, and we were in a situation where we needed our best guys in the game, and that's why he got those carries."
CLEMSON CO-OFFENSIVE COORDINATOR Jeff Scott
On the game:
"There were a lot of things going on this week...it was obviously a very emotional week for our team. As coaches, we knew that today was going to say a lot about our team and really challenge our guys. I felt like they responded this week in practice. Obviously, things didn't go our way in the first half, [but they responded well]. That's what we told them at halftime…'Hey we're gonna find out about this team, about this year's offense, in the second half.' We've been a team...we've been in those situations, and we just kept fighting and kept believing.
"I think this is going to be one of those learning times. I think in the past, we've had to lose a game to have that learning moment, and hopefully, that was what today was about. I'm just very proud of the offensive line allowing us to be able to run the ball for close to 300 yards. That last drive, with everything that was on us and with the way the game had gone...it really hadn't gone our way...to be able to go 94 yards with the game on the line. They knew we were running it. Everybody knew we were running it. I felt like we just imposed our will. All of those backs got in there and ran hard. It was a great response.
On Chase Brice's performance:
"Chase Brice...what can you say about him? He was given a very difficult circumstance, not only to come in but to come in when we're down and not really on our game. I'll always remember, as long as Chase is here, fourth and 6 with the game on the line. To be able to stand in there with a window that was about three feet wide, and just thread the needle right there to Tee Higgins...or we don't win the game.
"Obviously, there's a lot we'll learn, but I think the biggest thing that we learned is that our guys have a will to win. To have a special year, when you have adversity, you have to respond, and I felt like our guys did that tonight. It's been a tough week. It's been an emotional week. I think being able to win a game like that is going to help us down the road."
CLEMSON DEFENSIVE COORDINATOR Brent Venables
On the play of the defense:
"In the second half, our guys really zeroed in on little things and got into a good rhythm. I'm so proud of them...that was inspiring to watch those guys play the way they played. Some guys stepped up and showed some depth. We played some young freshmen, and they really came through in a big way, particularly Kyler McMichael and Xavier Thomas."
On Xavier Thomas' sack at the goal line and the last drive overall:
"That sack set the tempo for that last drive. I felt like our defensive line really imposed themselves right there at the end of the game. Those situations aren't easy at the end of the game when it's all on the line, but that's what it's all about."
CLEMSON QB CHASE BRICE
On emotions of the game:
"I was thrown into a situation where we needed to produce, and I was prepared for it. Trevor and I have been preparing, watching a lot of film and just talking with each other. I just wanted to step up and be there for the team. It was fun being out there. Getting out there with the guys and getting into a rhythm was awesome. I'm really just going to enjoy this moment and then get ready for next week."
On the last drive of the game:
"We just had to keep doing what we were doing in the second half. We were running the ball and they couldn't stop it. That's a credit to the offensive line for their grit and determination to get yards. We didn't know how the time would work out as there were a little under four minutes to go. After the false start, I told them we were going to get it, right here. I had a perfect pocket and just had to deliver the ball to Tee [Higgins]."
On thoughts coming out of the locker room:
"I knew that in every game there is a possibility of getting hurt. I was prepared and ready to do my job. When I went in, everyone just rallied around me. It's amazing what you can do when people come up to you and say they believe in you. I had to believe in myself that I could lead the team and score enough to win. They kept encouraging me and the confidence continued with the fans and with us making plays."
CLEMSON CORNERBACK A.J. TERRELL
On mindset of the team:
"The game wasn't over. We all knew that we had a chance, especially as the home team. We really came together as a team."
On keeping focus on the game:
At the end of the day, every week, we just have an opponent in front of us. We just have to keep focused on the opponent. Stuff will come up, but we just have to stay focused on the important things."
On Syracuse offense:
"They have a fast tempo offense but that gives us a lot of opportunities to come up with some big plays and interceptions. [Syracuse quarterback Eric] Dungey had a good game."
CLEMSON OFFENSIVE LINEMAN SEAN POLLARD
On changing from guard to tackle:
"I have done both, so it is a bit of muscle memory. Tackle is a lot different than guard with quicker steps. It's a learning curve, but when you do it for two years, you are not a stranger to the position."
On the running back corps:
"If we do our jobs, they are going to run, and they are going to run hard. All of our running backs are great, and our offense is great. When we do our job, we know those running backs are going to go."
On the run game:
"We ask to [run the ball] all the time. It's awesome. It puts the weight on our shoulders as offensive linemen, and that's something that we enjoy."
CLEMSON RUNNING BACK TRAVIS ETIENNE
On the game:
"The offensive line created tremendous holes for us to just get out there and run free. Our job is to make the safety miss, and the offensive line helped us take that to the next level. Also, the receivers being who they are, they got some great blocks down the field and that just really helped us.
"I feel like it was a great win. We faced adversity throughout the game. We just couldn't get it right. We just had to keep fighting and keep pushing through. It just really builds character, and I think the team needed it."
On the last drive:
"I felt like that was a defining moment for this team. Just having that drive with Chase [Brice] coming out there and making that big throw and then coming right back. Then having Tavien [Feaster] just go and impose his will on the defense. He got out there and gave us that spark, and credit goes to him and the offensive line for doing their job."
On the quarterback situation:
"Having that 'next man up' mentality, Chase prepared like a starter throughout the week, not knowing what was going to happen throughout the course of the game. When he got his opportunity, he was ready for it and didn't flinch at all."
On the dependency on the running game:
"It was a great opportunity to have the coaches leaning on the running game. Tavien and Adam [Choice]...them coming in and making their plays, getting that spark from me...it just really helps me. The line and the receivers…I can't reiterate it enough...they just did a great job blocking for me. That last touchdown, I think I walked in untouched. It was just wide open. That's credit to my offensive line and my tight ends."
CLEMSON DEFENSIVE END XAVIER THOMAS
On getting more involved:
"It means a lot to me. I started at the bottom of the depth chart. It's been tough learning the play book and playing behind such great guys...ones that are going to the NFL, potentially. It's been tough, but I learn from those guys. I knew [the coaches] didn't know much about me, because I just don't have that much film out there. They don't know what I can bring to the table. I just used my speed to get the run."
On team effort against Syracuse:
"It was very much a team effort...having Trevor Lawrence come out, and then Chase come in there and do his role and just do his job. Dabo [Swinney] always appreciates that."
SYRACUSE HEAD COACH DINO BABERS
On the game as a whole:
"It was a big contest, it was a big game. They came back with a backup quarterback and found a way to win that football game at home. That's a good football team over there, and good coaches over there."
On deserving to win:
"I don't know if we would have deserved to win if we'd won. We didn't. It's a loss in the loss column, and we have to move on."
On not using two timeouts:
"It had nothing to do with the use. We had to see what was going on, whether they were trying to score a field goal or whether they would try and score a touchdown. If I had used those timeouts, and they had gone on down to the end and scored with one second left and I used the timeouts, you'd be asking me the other questions."
On his defense's energy:
"I feel like everybody was tired out there, their defense and our defense. There weren't a lot of plays, but it was a lot of effort. If you watched their shoulder pads in between the series, they were rising. Both teams were extremely tired. Both teams put in a lot of effort."

Tags:
Travis Etienne
,
Andre Ellington
,
Wayne Gallman
,
Deshaun Watson
,
Hunter Renfrow
,
AJ Terrell
,
Mitch Hyatt
,
Landon Walker
,
Trevor Lawrence
,
Greg Huegel
,
Kendall Joseph
,
Clelin Ferrell
,
Trevion Thompson
,
Christian Wilkins
,
Xavier Thomas
,
Will Spiers
,
Chase Brice
,
Tee Higgins
,
Kyler McMichael
,
Brent Venables
,
Tony Elliott
,
Jeff Scott
,
Danny Ford
,
Tommy Bowden