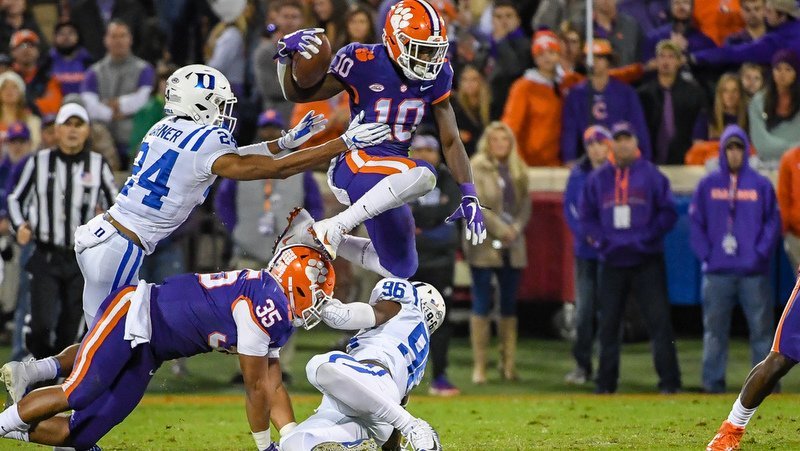 | | |
| --- | --- |
| Notes & Quotes on Clemson's 35-6 win over Duke | |
---
| | | |
| --- | --- | --- |
| Sunday, November 18, 2018, 12:03 AM | | |
Clemson scored 27 or more points in an 11th straight game for the first time in school history, surpassing a 10-game stretch with 27 or more points during the 2012 season.
Including the 459 yards gained against Duke, Clemson has now produced only the seventh 5,500-yard season in school history; all seven 5,500-yard campaigns have been produced under Dabo Swinney.
Clemson has now held opponents to 20 or fewer points in six straight games for the first time since games 6-11 of the 2010 season.
Clemson held Duke without a touchdown and has now held opponents without an offensive touchdown in eight consecutive quarters. The last touchdown allowed by Clemson's defense came in the fourth quarter against Louisville on Nov. 3.
WIth five touchdowns against Duke, Clemson how has 66 touchdowns this season, moving past the 2017 Tigers (62) for fifth-most in a season in school history.
Clemson has now won six consecutive games by 20 or more points for the first time since the final five games of the 1989 season and the 1990 season opener. The two six-game streaks are tied for the longest in school history.
Clemson outrushed Duke, 208-104, and has now outrushed opponents 10 times this season. The Tigers have now outrushed opponents in 21 of their 25 games since 2017 and are 21-0 when outrushing opponents in that time frame.
Clemson is now 52-1 when rushing for at least 200 yards under Swinney.
Clemson exceeded 200 yards both passing and rushing. Clemson is a perfect 39-0 when both passing and rushing for at least 200 yards under Swinney.
Clemson did not allow a sack and has allowed only one sack in the last four games.
Quarterback Trevor Lawrence completed 21-38 passes for 251 yards with two passing touchdowns and no interceptions.
Lawrence also added a career-long 19-yard rush in the third quarter.
On his second touchdown pass of the game, Lawrence broke Kyle Parker's school record for touchdown passes by a freshman (20). Lawrence already held the school record for touchdown passes by a true freshman.
Lawrence is now tied with Woodrow Dantzler (21 in 2001) and Charlie Whitehurst (21 in 2003) for seventh on the school's leaderboard for touchdown passes in a single season.
On a seven-yard reception from Lawrence on the game's first drive, wide receiver Hunter Renfrow caught a pass in his 39th consecutive game, breaking Artavis Scott's team record of 38 consecutive games with a reception from 2014-16.
Renfrow made his 43rd career start to break Terry Smith's school record for career starts by a wide receiver (42 from 1990-93).
Running back Tavien Feaster recorded his fifth rushing touchdown of the season on a two-yard run in the second quarter. The rushing touchdown was the 14th of his career.
Wide receiver Justyn Ross recorded his sixth receiving touchdown of the season in the second quarter on a 19-yard pass from Lawrence.
Wide receiver T.J. Chase caught Lawrence's second touchdown pass of the game, a 10-yard reception in the third quarter. It was Chase's second touchdown reception of the season and of his career.
The touchdown pass to Ross was Lawrence's 20th touchdown pass of the season. Lawrence's 2018 campaign marks only the 10th season with 20 or more passing touchdowns in school history.
Running back Travis Etienne gained 81 yards on nine carries with two rushing touchdowns.
With his second touchdown of the game, Etienne notched his 17th rushing touchdown of the year, tying Clemson's record for rushing touchdowns in a single season, held jointly by Lester Brown (1978), James Davis (2006) and Wayne Gallman (2016).
Etienne's second touchdown tied him with Fred Cone (31) for seventh on the school's leaderboard for total touchdowns in a career.
The second touchdown was Etienne's 18th total touchdown of the season, tying him with Travis Zachery (18 in 2000) and DeAndre Hopkins (18 in 2012) for second-most in a season in school history, trailing only C.J. Spiller's 21-touchdown season in 2009.
With the performance, Etienne moved into the Top 10 in rushing yards in a single season in school history. His 1,157 rushing yards this season rank 10th in a year program history.
Tackle Mitch Hyatt made his 53rd career start to break kicker Chandler Catanzaro's school record for career starts.
Defensive tackle Christian Wilkins made his 41st career start to break Jim Stuckey's school record for starts by a defensive tackle, set from 1976-79. (Note: Wilkins has also started at defensive end in his career but is currently listed at tackle).
Hyatt and Wilkins both played their 54th career game to tie for fifth-most in program history.
Clemson recorded four sacks as a team, marking the fourth consecutive game Clemson has registered at least four sacks, the team's first such stretch since 2014 against Louisville, Boston College, Syracuse and Wake Forest.
Defensive end Clelin Ferrell recorded 2.0 sacks.
Ferrell's second sack of the game gave him a new career-high 10.5 sacks and made him the first Clemson player with double-digit sacks in a single season since Carlos Watkins (10.5) in 2016.
Ferrell recorded at least 2.0 sacks for the third time this season and for the fifth time in his career.
Safety Tanner Muse recorded his second sack of the season, the second of his career.
Wilkins pushed his career sack total to 14.0 with his fourth sack of the season in the third quarter.
On his second PAT attempt, kicker Greg Huegel joined Chandler Catanzaro (207) as the only players in school history to attempt 200 career PATs.
Defensive tackle Dexter Lawrence recorded a career-high two passes broken up.
Captains for the contest were defensive end Austin Bryant, center Justin Falcinelli, defensive end Clelin Ferrell and kicker Greg Huegel.
Clemson hosted Duke for the first time since 2008. In that game, then-interim head coach Dabo Swinney's Tigers outgained the Blue Devils, 466-168, and earned a 31-7 victory.
Clemson held Duke without a first-quarter touchdown on offense. Clemson is the only FBS team in the country to not allow an offensive touchdown in the first quarter this season.
WITH THE WIN
Clemson opened a season 11-0 for the fourth time in program history, joining 11-0 starts in 1948, 1981 and 2015.
Clemson has now now the first 11 games of a season for the second time under head coach Dabo Swinney (2015). Swinney became the first coach in Clemson history to coach the school to multiple 11-0 starts, as legendary coaches Frank Howard and Danny Ford only accomplished the feat once each, in 1948 and 1981, respectively.
The 2018 Tigers won their 11th game of the season to tie the 1948, 1978, 2012 and 2013 squads for the fifth-most wins in a season in school history.
Clemson's active 11-game winning streak is now tied for the fifth-longest winning streak in school history and is the program's seventh winning streak of 11 games or more all-time.
Clemson won its 51st game in the last four years give the 2018 senior class the most wins in school and ACC history, surpassing the mark set by Clemson's 2017 senior class.
The victory was Clemson's 99th win of the decade. Next week, Clemson will attempt to join Alabama and Ohio State as the only FBS programs to win 100 games this decade.
Clemson finished ACC regular season play with a perfect 8-0 record. It represents Clemson's seventh time winning every ACC regular season game, joining perfect conference records in 1967 (6-0), 1978 (6-0), 1981 (6-0), 1982 (6-0), 1983 (7-0) and 2015 (8-0). The school posted additional unbeaten conference regular season records including ties in 1956 (4-0-1) and 1991 (6-0-1).
Including 2015, Clemson joined Florida State (1992-94, 96-97, 99-00, 2013-14) as the only ACC schools to post multiple 8-0 regular season records in conference play since the league adopted the eight-game conference schedule in 1992. Clemson, Florida State (nine times, listed above), North Carolina (2015) and Virginia Tech (2000) are the only ACC schools with perfect eight-game conference regular seasons to their credit.
Clemson's senior class finished regular season conference play 30-2 in the last four years, becoming the first class in league history to win 30 regular season conference games.
Clemson's senior class also improved to 26-1 at Death Valley with one more home game to play next week.
Clemson defeated an ACC foe for the 33rd time in its last 35 opportunities, including conference championship games, dating back to 2015.
Clemson won its regular season ACC finale for a fourth consecutive season. It marks Clemson's first four-game winning streak in regular season ACC finales since the 1993-96 seasons.
Clemson won its 14th consecutive game at Memorial Stadium, dating back to a 56-7 win against South Carolina on Nov. 25, 2016. The current 14-game streak is Clemson's second-longest home winning streak in Dabo Swinney's tenure as head coach (21 from 2013-16).
Clemson improved to 6-0 at home this season to give the Tigers at least six home wins in each of the last eight years.
Clemson improved to 38-4 in ACC contests at Memorial Stadium under head coach Dabo Swinney.
Clemson improved to 37-16-1 all-time against Duke, including a 20-4-1 mark in Death Valley.
Clemson played its third night game of the season -- its first at Memorial Stadium --
and improved to 23-3 in night games since 2015.
Swinney earned his 112th career victory to pull within one win of Frank Beamer (113) for third-most career wins as head coach of an ACC program. (Note: Beamer's figure reflects his 113 wins after Virginia Tech joined the ACC as a member institution, excluding his victories as an independent or as a member of other conferences).
Swinney remained undefeated against Duke all-time. He is currently undefeated against five ACC programs, including Duke (3-0), Louisville (5-0), Virginia (3-0), Virginia Tech (5-0) and Wake Forest (10-0).
The victory improved Swinney to 25-2 all-time against ACC teams from North Carolina, including a 3-0 mark this season. Clemson has won its last 18 games against ACC teams hailing from North Carolina, a streak inclusive of the 2012-18 seasons.
Clemson extended its streak of consecutive home victories against Duke to 15 games, dating back to 1982. The streak ties for Clemson's second-longest active home winning streak against a single opponent, matching a 15-game home winning streak against Presbyterian and trailing a 21-game home winning streak against Furman.
Clemson trailed, 6-0, after the first quarter. The game was Clemson's first trailing after one quarter this season and represented Clemson's first win when trailing after the opening period since overcoming a 14-7 first-quarter deficit in a 38-31 win at NC State last season.
Clemson took a 14-6 lead into halftime and has now won 62 of its last 64 games when leading at halftime.
WIth a 28-6 lead entering the fourth quarter, Clemson improved to 82-2 since 2011 when leading after three quarters.
QUOTES
CLEMSON HEAD COACH DABO SWINNEY
Opening statement:
"I'm really proud of our team for how they responded in the second half. Obviously, we did not get off to a great start. We missed a couple third-and-twos and dropped more balls in the game tonight than we have all year. I was really disappointed in how we started, but it's a four-quarter game. I challenged them at halftime to see how they could respond. To win 35-6 against a good football team...I'm really proud of our guys and how they responded. We had no turnovers and no sacks [allowed], so that is a positive to take away from the game."
On the senior class:
"Our seniors have won 51 games, and I am so proud of them. They are an enjoyable group of young men that I get to be around every day. Every week, they lead our team in a tremendous way. It's pretty impressive when you look on paper at what this group of seniors has been able to accomplish in their careers."
On Military Appreciation Day:
"I thought Military Appreciation Day was an awesome night. Clemson does such a fantastic job at honoring our military. It was really cool for our guys to be able to see that."
CLEMSON CO-OFFENSIVE COORDINATOR Tony Elliott
On the game:
"That was a very interesting first half. We got to a third and short, had an RPO called. The quarterback chose to throw, and he's got every right to throw it there...we just missed the throw. We come back on another short yardage, and we don't convert. We try to get some stuff going in the running game, and obviously, they were dead-set on stopping the inside run, so it's going to take us a little bit of time, but we needed to get the game under control. They were giving us a lot of soft coverage, so we're going to take the easy throws. Then you saw in the second half...they decided to take those throws away and forced us to run the ball. We challenged our guys at halftime. I think we only had about 17 yards rushing, obviously because of the situation in the first half, and they came out there and responded."
On halftime message to team:
"Settle in and be who we are and respond. You have an opportunity to respond. You got the second half. It's zero-zero. The biggest thing for us, offensively, was to challenge them and make sure we could establish the running game, and we were able to do that the first drive coming out and spark the second half for us. The biggest thing was to challenge them to have the heart of a champion. We say we're a championship-caliber team. We have to respond that way in the second half."
On establishing the running game:
"[Duke] has a lot of seven-man boxes, so they were dead-set on getting those safeties down there, and they were playing soft coverage. They were rotating their safeties, so the biggest thing there was we didn't get into a rhythm running the ball, because we weren't have success. We weren't staying ahead of the chains, so we had to throw the ball, and they were jumping back into cover two, doing a lot of line twists. It took us a little bit of time to get settled in, and once we were able to commit to establishing the run we found some success."
CLEMSON CO-OFFENSIVE COORDINATOR Jeff Scott
On the game:
"I'm proud to get the win. Big congrats to our seniors...51 wins in four years. That's a Clemson record and ACC record. I'm really happy for those guys. Obviously, we had a slow start in the first half and some issues on third down. We couldn't stay on the field, but we turned it around and were 4-for-7 in the second half...it's good for us to have an opportunity to refocus. Our guys will continue to work hard and improve on that, but we're really happy with the win and how we responded."
On the first half:
"The biggest thing in the first half was all of those third-and-long situations. We didn't have as many opportunities to get in rhythm. They played some coverage of some different things, so we really needed everyone on the same page. Guys got frustrated that we weren't getting it done like we needed to in the first half, but everyone was running hard, and we did a better job up front. Getting the first downs in the second half helped us get a better tempo and wear [Duke] down."
On halftime message to team:
"We challenged our guys at halftime. We've had a lot of games where we have the upper hand going into the half, but that's not going to be the case as the competition continues to get better. We just told them 'Hey, let's find out what we're made of today.' There's no reason to be worried about what we didn't do in the first half...let's go focus on the second half."
CLEMSON DEFENSIVE COORDINATOR Brent Venables
On design of the pass rush:
"I think our guys played pretty well up front...nothing special. Sometimes the coverage was decent, and [Daniel Jones] held the ball. We felt going in that if we could get lined up and be in the right position, we could make him hold the ball a little bit."
On the Duke's play designs in the first quarter:
"They ran some new stuff [in the first quarter], and it's not our guys' fault. That's on me in terms of making adjustments and getting them to understand what they're doing, and I thought our guys responded well."
CLEMSON DEFENSIVE END CLELIN FERRELL
On the game:
"I just wanted to go out there and play well. Obviously, my family is watching, and everybody's family is watching, so I wanted to go out there and play well for my mom...and my dad is looking down on me right now, so I definitely wanted to put on a good performance for him."
On senior day:
"I didn't want to take this moment for granted. It was just a great experience."
On team's recent performance:
"I feel like we're hitting our stride right when we need to. Obviously, you want to be playing well when you're about to go into the state championship game, so it's good to be hitting our stride right when this game happens."
CLEMSON DEFENSIVE LINEMAN ALBERT HUGGINS
On the game:
"We came together as one and put all our power into it. It was fun to see...it was fun to be there. I had a great time. It was good to actually buckle down as a defense and hold them to six points."
On the upcoming game against South Carolina:
"I really don't have much to say about South Carolina. It's another game. At the end of the day, we play Clemson. As long as we don't lose to Clemson, we'll be fine. It's just business. I grew up thirty minutes from Columbia. I visited USC a lot. It's just another game for me. It's another opportunity to go out there and play for my brothers and show my talent off."
CLEMSON QUARTERBACK TREVOR LAWRENCE
On the game:
"We didn't start how we wanted to, obviously, but we knew what we had to do. We wanted to leave no doubts. We wanted to come out, play well and execute and do the things that we were doing the first half."
On personal performance...
"I feel like I played decently. I definitely missed some throws, and there were some third downs that I wish I would have thrown a better ball. Overall, we won the game by a good bit. A win is a win, and that is what we came here to do."
On the upcoming game against South Carolina...
"Even watching it on TV last year, you could see the rivalry between the two teams. It's a big game, so we are just going to have a good week of preparation."
CLEMSON WIDE RECEIVER JUSTYN ROSS
On stepping up:
"We started off slow, and someone needed to make a play, so I felt like I had to step up, make a big play and help us win for the seniors. I've definitely grown a lot since the first game."
On the second half:
"We tried to put the first half behind us and keep pushing. We made plays throughout the game, and we left some out there, but we just need to keep better every week."
On his first night game:
"It's a totally different environment...the best one I've been in. The fans flashing their lights...it's the best environment I've played in."
On his mom, a veteran:
"I was thinking about my mom while I played. After I scored, I looked to point to her, but I couldn't see her. It meant the world to me to play this game and have her watching me. She's sacrificed so much for me. I knew Military Appreciation Day was a big deal, but it's even more than I thought it was. People came in and told us their stories...it means a lot and I'm thankful for their sacrifices."
DUKE HEAD COACH DAVID CUTCLIFFE
On the game:
"Well, we have a lot to change. I didn't like a few things. Obviously, we need to talk to them some more. The best version of themselves to try all game. And that means everybody."
On the message going forward:
"It's just a game. Moving forward, we have to have everybody on key. Obviously, we can do better. I thought the staff did a great job.But the thing is we have to stay in it and get all of our bearings in order to compete."

Upgrade Your Account
Unlock premium boards and exclusive features (e.g. ad-free) by upgrading your account today.
Upgrade Now

Tags: Clemson Football
,
Trevor Lawrence
,
Kyle Parker
,
Charlie Whitehurst
,
Hunter Renfrow
,
Artavis Scott
,
Tavien Feaster
,
Justyn Ross
,
TJ Chase
,
Travis Etienne
,
James Davis
,
Wayne Gallman
,
DeAndre Hopkins
,
C.J. Spiller
,
Mitch Hyatt
,
Chandler Catanzaro
,
Christian Wilkins
,
Clelin Ferrell
,
Carlos Watkins
,
Tanner Muse
,
Greg Huegel
,
Dexter Lawrence
,
Austin Bryant
,
Justin Falcinelli
,
Brent Venables
,
Tony Elliott
,
Jeff Scott
,
Danny Ford