| | |
| --- | --- |
| No. 24 Tigers open ACC play at Virginia Tech | |
---
| | |
| --- | --- |
| Monday, December 14, 2020, 3:27 PM | |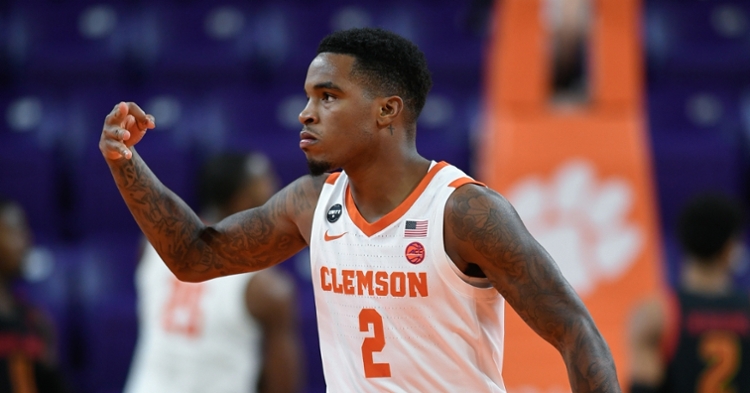 The No. 24-ranked Clemson Tigers (5-0) head to Virginia Tech (4-1) for their ACC opener.
Tipoff at Cassell Coliseum is set for 6:30 p.m. ET Tuesday. Dave O'Brien and Chris Spatola will call the broadcast for ACCN. Don Munson and Tim Bourret will broadcast the game on the Clemson Tigers Network.
Game notes
• Clemson (KenPom: No. 19 overall, No. 2 adjusted defensive efficiency) is ranked fifth nationally in scoring defense (51.4 points per game), which is also tops in the ACC. Field goal percentage defense is ranked 12th nationally (34.9 percent) and ranks first in the ACC. Three-point field goal defense is 36th nationally and first in the ACC (26.1).
• Clemson stopped Alabama on 10-of-its-last-11 possessions and won the Holiday Hoopsgiving tilt with its defense on Saturday. The Tigers finished on a 10-1 run in the 64-56 victory.
• "We Too Deep": The Tigers' bench has produced 25+ points in all five games (146 overall and 93 over last three).
• With the 64-56 win over Alabama, it marked the 24th time in Clemson history that the Tigers have started a season 5-0.
• However, it is the first time ever that four-of-those-first-five have come against Power 5 opponents. The Tigers posted three Power 5 victories in their first five wins in 1934-35 and 1996-97.
Clemson rotation and VT starting 5
(24/RV) Clemson Ht. Wt. Yr. Hometown GP/GS PPG RPG APG MPG
G 0 Clyde Trapp 6-4 203 Sr. Eastover, S.C. 5/5 5.0 5.0 2.2 22.9
F 1 Jonathan Baehre 6-10 214 Sr. Wiesbaden, Germany 5/2 4.6 2.6 1.4 16.9
G 2 Al-Amir Dawes 6-2 180 So. Newark, N.J. 5/4 9.4 2.4 2.4 25.9
G 3 Chase Hunter 6-3.5 204 So. Atlanta, Ga. 5/2 2.4 2.0 0.8 13.7
G 4 Nick Honor 5-10 205 RSo. Orlando, Fla. 5/1 9.8 0.8 2.0 22.8
F 5 Hunter Tyson 6-8 215 Jr. Monroe, N.C. 5/2 6.6 4.6 0.2 15.1
F 10 Olivier-Maxence Prosper 6-8 218 Fr. Montreal, Quebec, Canada 5/1 3.6 2.8 0.4 10.5
G 11 Parker Fox 6-7 212 Jr. Reno, Nev. 2/0 2.0 0.5 0.0 1.6
G 12 Alex Hemenway 6-3.5 185 So. Newburgh, Ind. 5/0 3.4 1.6 0.2 12.0
G 15 John Newman III 6-5 207 Jr. Greensboro, N.C. 5/3 5.4 2.6 1.2 21.7
F 20 O'Neil McBride 6-7 207 So. Myrtle Beach, S.C. 2/0 1.0 0.5 0.0 1.6
G 21 Wells Hoag 6-3 199 Jr. Greenville, S.C. 2/0 0.0 0.0 0.0 1.6
C 22 Lynn Kidd 6-10.5 235 Fr. Gainesville, Fla. 4/0 1.0 1.0 0.3 5.3
F 24 PJ Hall 6-10 235 Fr. Spartanburg, S.C. 4/0 5.3 3.3 0.0 12.9
F 25 Aamir Simms 6-8.5 245 Sr. Palmyra, Va. 5/5 11.6 4.0 2.4 21.9
(RV/RV) Virginia Tech Ht. Wt. Yr. Hometown GP/GS PPG RPG APG MPG
G 3 Wabissa Bede 6-1 195 Gr. North Andover, Mass. 5/5 7.0 2.2 2.4 25.5
G 4 Nahiem Alleyne 6-4 195 So. Buford, Ga. 5/4 11.0 1.2 0.8 26.8
G 23 Tyrece Radford 6-2 200 RSo. Baton Rouge, La. 5/5 11.0 6.0 2.8 33.6
F 22 Keve Aluma 6-9 235 RJr. Berlin, Md. 5/5 15.8 7.8 0.8 28.0
F 25 Justyn Mutts 6-7 230 RJr. Millville, N.J. 5/4 5.4 6.2 2.6 25.6

Tags:
Clyde Trapp
,
Jonathan Baehre
,
Al-Amir Dawes
,
Chase Hunter
,
Nick Honor
,
Hunter Tyson
,
Olivier-Maxence Prosper
,
Parker Fox
,
Alex Hemenway
,
John Newman
,
Wells Hoag
,
Lynn Kidd
,
PJ Hall
,
Aamir Simms