| | |
| --- | --- |
| McShay compares Deshaun Watson to Marcus Mariota | |
---
| | |
| --- | --- |
| Friday, April 21, 2017 4:32 PM | |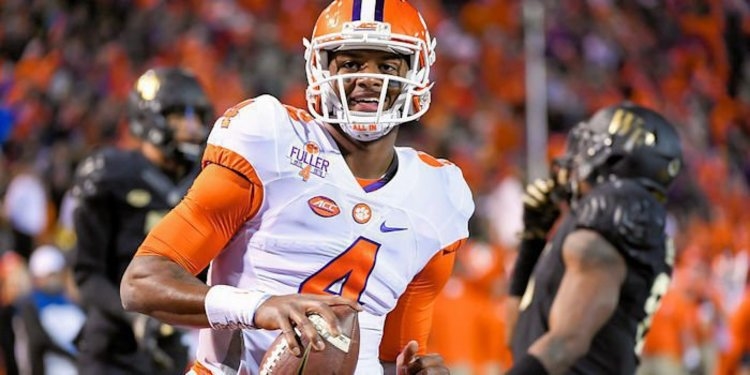 ESPN analysts Todd McShay and Mel Kiper Jr. are constantly discussing the upcoming NFL draft and McShay's latest take is that former Clemson quarterback Deshaun Watson compares favorably to NFL standout Marcus Mariota.
"Watson is my 28th-ranked player now," McShay said. "Mariota ranked fifth overall in 2015, so they're not similar in that sense. While Mariota displayed better accuracy coming out of Oregon than Watson's tape at Clemson, they both struggled to marry their eyes with their feet when going through progressions. That's a product of the schemes they played in, which were very focused on playing as fast as possible. Just as Mariota faced a transition from a spread system, Watson will undergo an adjustment period in the NFL. From a leadership standpoint, neither Watson nor Mariota are super vocal behind the scenes, but they both are well-respected by their teammates. They've earned it through their humility, consistency and delivering when matters."
Speak your dream into existence & go get it! Never settle yourself short. I believe every1 in this world can/should be successful. It's on U pic.twitter.com/eSjoJpzIFv

— Deshaun Watson (@DeshaunWatson4) April 21, 2017
Kiper disagreed with McShay's take on Watson and still thinks Watson is a second-round type player.
"This is a stretch, Todd, for the reason you mentioned at the beginning," Kiper said. "Mariota was a much better prospect in 2015. Watson's completion percentage went up a couple of points by having Mike Williams catch the throws that were in his top wideout's vicinity. Mariota is on a different level than Watson, who should go in the second round but probably won't."
In 2016, Watson completed 388 passes out of 579 attempts for 4593 yards and 41 passing touchdowns with 17 interceptions (and his degree) for an adjusted QBR of 84.9. For his career, he passed for 9,201 yards with 83 touchdowns and 29 interceptions. On the ground, Watson had 1,744 yards and 21 touchdowns during his time at Clemson.