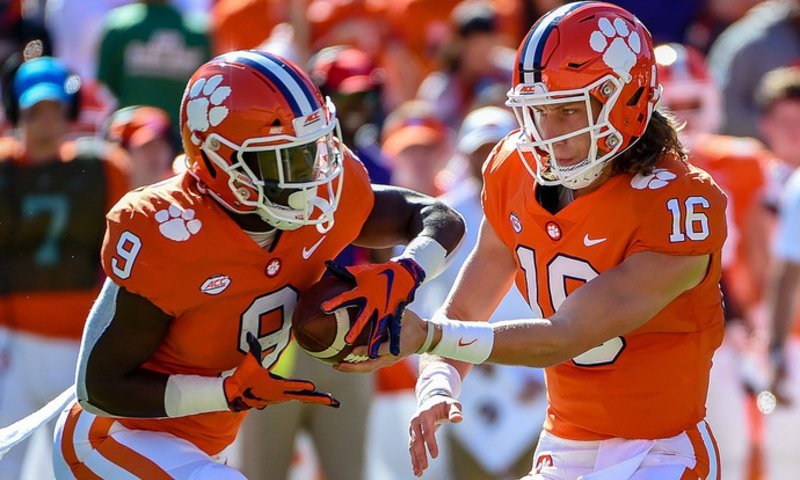 | | |
| --- | --- |
| Latest College Football Playoff rankings released | |
---
| | | |
| --- | --- | --- |
| Tuesday, November 6, 2018, 10:42 PM | | |
There's a new member of the projected College Football Playoff and a new top-three in the Top-25 rankings this week.
Alabama and Clemson once again lead the committee's rankings with fellow-undefeated Notre Dame moving into the No. 3 spot, and 8-1 Michigan, whose one loss came at Notre Dame, filling out the top-four. On the doorstep are No. 5 Georgia (8-1) and No. 6 Oklahoma (8-1).
Saturday night opponent Boston College moved up five spots to No. 17. Other ACC representatives check in at No. 13 with Syracuse and No. 14 with NC State.
Previous No. 3-ranked LSU was systematically-dominated by Alabama at home last week, 29-0, but just fell to No. 7. Another home SEC team in Kentucky dropped out of the top-10 as well to No. 11 with the Wildcats' 34-17 loss to Georgia.
The CFP ranking mirrors the top-6 from the new AP Top 25 and holds the same top-two as the ESPN Football Power Index. With three games left before conference championships, Alabama is ranked No. 2 and Clemson No. 3 in ESPN's strength of record metric and they are No. 1 and 2 respectively in game control
ESPN's Playoff Predictor gives Clemson an FBS-leading 92 percent chance of making the CFP, ahead of Alabama (86), Notre Dame (73), Michigan (50), Georgia (40) and Oklahoma (34).
Per ESPN, Michigan leads the top-four group with a strength of schedule rated 13th, while Alabama (41), Clemson (50) and Notre Dame (42) are all outside the top-40 - and Georgia (22) and Oklahoma (31) are closer to the Wolverines. TeamRankings.com has a differently-weighted SOS metric that has all six in the top-30: Georgia (4), Alabama (5), Michigan (6), Oklahoma (13), Clemson (16), Notre Dame (29).
This year's CFP committee is Oregon AD Rob Mullens (Committee chair), Oklahoma AD Joe Castiglione, former Virginia Tech coach Frank Beamer, former sportswriter Paola Boivin, former Southern Miss coach Jeff Bower, former Central Michigan coach Herb Deromedi, former coach Ken Hatfield, Robert Morris president Chris Howard, former Vanderbilt coach Bobby Johnson, former All-American DB Ronnie Lott, Ohio State AD Gene Smith, Georgia Tech AD Todd Stansbury and Florida AD Scott Stricklin.
This year's CFP semifinals will be played on Dec. 29 with times TBA in the Orange (Miami Gardens, Fla.) and Cotton (Arlington, Tx.) bowls. The National Championship will be held in Santa Clara on Jan. 7.
This is Clemson's 20th-straight week in the CFP top-4. Only Alabama has made more CFP top-4 appearances (23).
CFP Top 25 - 11/6
1. Alabama
2. Clemson
3. Notre Dame
4. Michigan
5. Georgia
6. Oklahoma
7. LSU
8. Washington State
9. West Virginia
10. Ohio State
11. Kentucky
12. UCF
13. Syracuse
14. NC State
15. Florida
16. Mississippi State
17. Boston College
18. Michigan State
19. Texas
20. Penn State
21. Iowa
22. Iowa State
23. Fresno State
24. Auburn
25. Washington
November 6?? #CFBPlayoff Rankings:

2??. Clemson // @ClemsonFB pic.twitter.com/jtyW9cJUWx

— College Football Playoff (@CFBPlayoff) November 7, 2018
Holding strong ?? #CFBPlayoff #ALLIN ?? pic.twitter.com/TsbV2lG6BC

— Clemson Football (@ClemsonFB) November 7, 2018
Top 25...
1. Bama
2. Clemson
3. Not Bama or Clemson
4. Thinks they're better than 3
5. Dang that Week 1 loss
6. Have you seen our defense?
7. ??
8. ??
9. ?????
10. ????
11-25. ?????

— Hi, I'm David?? (@ADavidHaleJoint) November 7, 2018
If chalk holds:

1) Alabama 35
4) Michigan 14

2) Clemson 40
3) Notre Dame 10

1) Alabama
2) Clemson

NO IDEA BUT BRING IT ON.

— Barrett Sallee (@BarrettSallee) November 7, 2018
For the record, this would be a hell of a @CFBPlayoff final.

Prediction:

Alabama 27
Michigan 10

Clemson 45
Notre Dame 13 https://t.co/0nHeN0BxfE

— Peter Burns (@PeterBurnsESPN) November 7, 2018
Playoff pecking order (actually) is basically cut-and-paste from last week:

1. Bama/Georgia
2. Clemson
3. ND
4. Michigan/Ohio State
---
5. Oklahoma/West Virginia
6. Clemson (1-loss+ACC champ)
7. Bama (1-loss, not SEC champ)
8. Washington State
9. ND (1 loss)
10. UCF

— Matt Hinton (@MattRHinton) November 7, 2018
Top 25 games left:
Alabama: 3
Clemson: 1
Notre Dame: 1
Michigan: 1
UGA: 2
OU: 1
LSU: 0
Wazzu: 1
WVU: 1
Ohio State: 2

— Bryan Fischer (@BryanDFischer) November 7, 2018