| | |
| --- | --- |
| LSU copies Swinney's "Bring Your Own Guts" ? | |
---
| | |
| --- | --- |
| Sunday, July 30, 2017 10:45 AM | |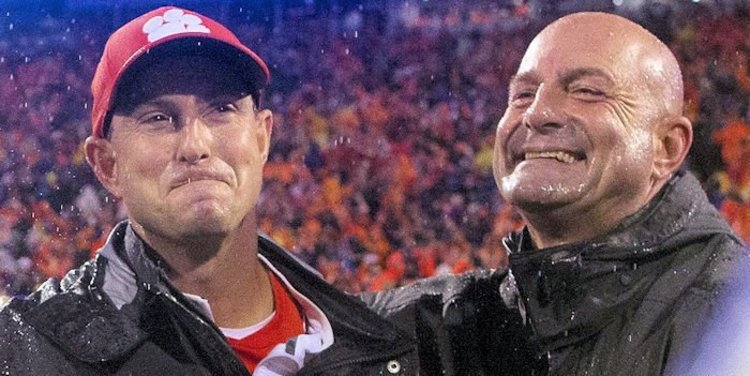 Clemson coach Dabo Swinney's B.Y.OG. post-game interview after Clemson's thrilling 24-22 win over Notre Dame was one of the memorable moments of the last few years as the Tigers have ascended to the top of college football.
"It ain't always perfect, but I what told them tonight was, 'Listen, we give you scholarships, we give you stipends and meals and a place to live," Swinney said to the ESPN interviewer. "We give you nice uniforms. I can't give you guts, and I can't give you heart.' Tonight, it was B.Y.O.G. -- bring your own guts. And they brought some guts and some heart, and they never quit until the last play."
Since then, the quote has been played over and over on the Internet and the phrase 'B.Y.O.G.' has been trademarked and now being sold on Clemson apparel and merchandise.
However, the LSU football team is reporting today for camp, and they have a similar mantra to the defending National Champions.
"Players report for training camp today," LSU's Football Equip Twitter posted. "There's only one thing you need to bring [GUTS], we've got the rest covered."
Players report for training camp today. There's only one thing you need to bring, we've got the rest covered. pic.twitter.com/UHzwpobFHa

— LSU Football Equip (@LSUFBEquipment) July 30, 2017
The LSU Football Twitter account tweeted a photo on Sunday afternoon to clarify things from their former equipment manager Jeff Boss' slogan where he coined the phrase "We issue everything except guts" before he passed away in 2003.
So both schools can have some credit for using the Guts in a slogan but only the popular phrase B.Y.O.G. is trademarked by either school. In the battle of gut phrases, I would have to say that Clemson's B.Y.O.G is much more catchy and known throughout the sports world.
All this talk about football slogans, who's ready for college football to start up this season? Which Tigers -- LSU or Clemson will have a better season in 2017?
Equipment manager Jeff Boss started this saying at #LSU. Boss was here for 24 years before passing away in 2003 after a battle with cancer. pic.twitter.com/wcggydeCmV

— LSU Football (@LSUfootball) July 30, 2017