| | |
| --- | --- |
| Join the Tiger Roadtrip to the ACC Championship | |
---
| | |
| --- | --- |
| Sunday, October 30, 2016 1:37 PM | |
Greenville, South Carolina - GOOD NEWS TRAVELS, a Greenville based custom group travel company, announced today that their ACC CHAMPIONSHIP TIGER ROADTRIP is a go and open to the public! The Clemson Tigers remain undefeated with a goal to be in the ACC Championship game on Saturday December 3, 2016. GOOD NEWS TRAVELS is offering complete weekend travel packages that include motorcoach transportation, 2 nights hotel accommodations, lower level game day tickets and a tailgate event prior to the game. Travel packages start at $749/pp double occupancy and are available now at www.GOODNEWSTRAVELS.COM/roadtrip on a first come first serve basis.
View ACC Championship Tiger Roadtrip Travel Package Details and reserve your spot!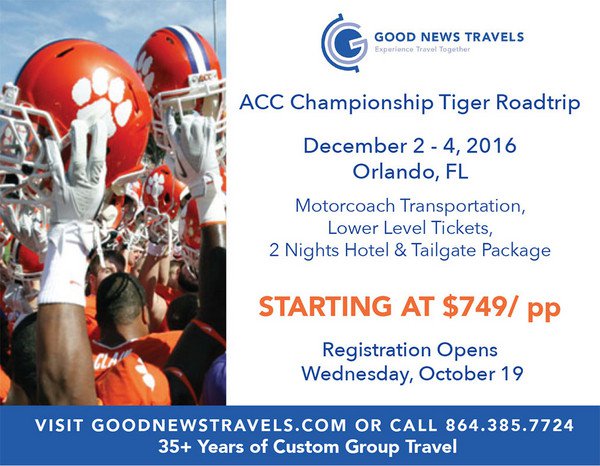 Clemson fans will depart early morning December 2, 2016 and return on December 4, 2016 with pick up locations in Greenville and Columbia, SC. The ACC Championship Tiger Roadtrip group will travel by luxury motorcoach to and from Orlando, Florida, receive 2 nights hotel accommodations at the Hyatt Regency Orlando Resort & Spa, daily breakfast and game day transportation to and from the stadium. Game day tickets are lower level bowl seats in groups of 2 that are selected online at the time of registration and purchase. Three hours before the game, GOOD NEWS TRAVELS will host an exclusive BBQ TAILGATE for Roadtrip participants to get game day ready!
"We were excited about the possibility of another Clemson ACC championship and decided to create our first TIGER ROADTRIP and game day experience," says Skip Anders, GNT VP of Customer Development. "GNT provides trips all over the United States and Canada for clients of all ages. It made sense that we would create a one-of-a- kind travel experience for just Clemson Tiger fans. We love football and the Clemson Tigers and are looking forward to paving the road to the National Championship game together. This kind of travel package will become one of many products that GOOD NEWS TRAVELS will launch in the next year."
GOOD NEWS TRAVELS is a Greenville based company with roots that run deep for the Clemson Tigers. 35+ years ago, John Tribble, son of the late Anne Tribble who served as Clemson's women's basketball coach from the 1976-77 season through the 1986-87 season began to share his passion for people and travel. Recognizing a growing desire in people to explore the world around them, he began to create trips that challenged the mind, brought people together and captured their dreams in unexpected ways. By the late 80's, the news of John's creativity and enthusiasm had spread and GOOD NEWS TRAVELS was born. GOOD NEWS TRAVELS specializes in custom group travel for adults and students. For more information, call GOOD NEWS TRAVELS at 864 385 7722 or visit www.GOODNEWSTRAVELS.COM/roadtrip.