| | |
| --- | --- |
| Herbstreit: Clemson's out of Playoff race with injured Bryant | |
---
| | |
| --- | --- |
| Tuesday, October 24, 2017, 7:31 PM | |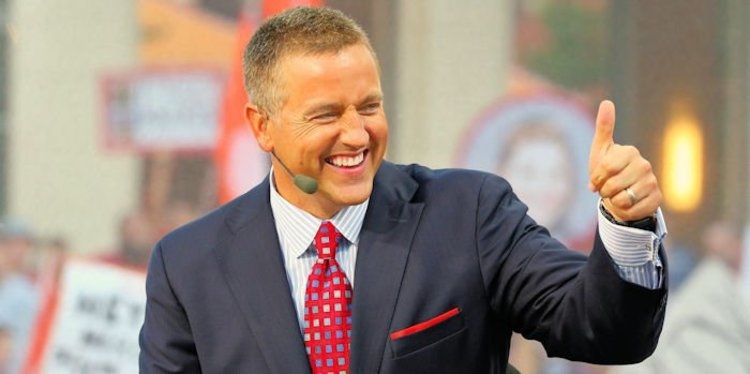 ESPN analyst Kirk Herbstreit says Clemson's Playoff hopes rest on the health of Kelly Bryant's ankle.
Bryant said Monday that he was feeling 80-85 percent healthy on the ankle, which sparked concern from both Herbstreit and fellow ESPN analyst Joey Galloway when it comes to Bryant playing Saturday night versus Georgia Tech.
"At 80-85 percent and you're one tackle away from that going down to 60 percent," Herbstreit said on College Football Live Tuesday, "because you're not just sitting in the pocket protecting it, it affects the gameplan and how they're going to call it this week against Georgia Tech. That is not good news. he will recover from the concussion and sounds like he's OK on that front. That ankle is not only big for this week but the rest of the year. Ankles don't just heal unless you give them time.
"If he's out playing this week, that's going to linger all year long and he's an ankle-turn away from (Zerrick) Cooper getting in there - and Clemson at that point, they're out. They're out of the Playoff discussion if they cannot keep Kelly Bryant healthy."
For that reason, Galloway thinks Cooper should get the call Saturday if Bryant's health doesn't improve.
"When you're talking about an ankle for a quarterback that runs the football, that is a big 20 to 15 percent," Galloway said. "Now if he was a pocker-passer just standing and delivering the ball downfield, that is a different conversation. When you think about 80-85 percent, it always depends where that 15 percent that is missing is located and what it means to your ability to do your job.
"When we saw him last against Syracuse with the ankle situation, he didn't look good when he was trying to run. When you're out on the field and don't have all your tools as a young quarterback, that is tough to deal with. I would hope that on Saturday if he is 85 percent, he would sit this game out and just get ready for the next game."
Herbstreit added that you can't assume Clemson will follow the same path as last year after a loss.
"This is a huge deal," Herbstreit said. "Not just for this week against Georgia Tech. We're all just assuming Clemson would do what they did last year. Lost to Pitt and had a couple games left at the end of the regular season and kinda righted the ship and won the ACC Championship. Off they went into the Playoff and they eventually won it all over Alabama. Those of us on the outside that really respect this program just assume that's going to happen again. But that's with the assumption that Kelly Bryant can run and is healthy.
"This is not Deshaun Watson just throwing BBs all over the field with Mike Williams and Jordan Leggett and company. This is a team that has been able to build an identity around the quarterback run game that's a real threat. it wasn't as big a threat with Deshaun Watson, but it is with Kelly Bryant."
Herbstreit's lack of faith in Clemson making a Playoff run without a healthier Bryant isn't as much on a backup quarterback, but more what Bryant brings to the Tigers attack.
"There's been a direction (to the offense) - the two backs now getting the ball, Feaster and Etienne, they really weren't the guys earlier in the year and were working their way towards that," Herbstreit said. "But as this offense started to create that identity at Louisville and Virginia Tech, we started to see that. Oh my gosh, you work in Kelly Bryant as a run threat, Etienne and Feaster with playaction off that - that is a dangerous combination. Cooper can throw it...I don't sense the same run threat. You go back to the chalk board and figure out, 'OK, if we don't have Kelly Bryant and the run threat at quarterback, that not only affects quarterback run, but how we run with these talented backs because they're playing off of Bryant's running ability.'
"I'm not trying to downplay what kind of player Cooper is. It's more representative of the identity Clemson's been able to build up with Kelly Bryant at quarterback. If you lose him, that's a big setback for that offense."