| | |
| --- | --- |
| Elliott says Feaster pushing for more playing time | |
---
| | |
| --- | --- |
| Monday, September 24, 2018 3:51 PM | |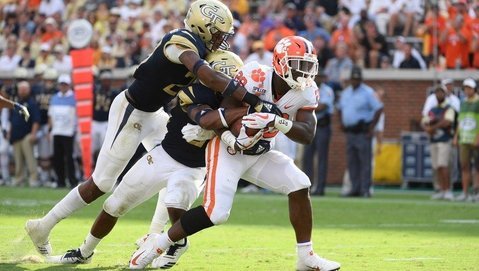 Clemson co-offensive coordinator Tony Elliott spoke to the media Monday and talked about the running back depth chart heading into the Syracuse game.
"Just to clarify that was really Travis' (Etienne) fault," he said about an interception against Georgia Tech. "We were trying to run a little screen to him. He didn't get enough of the defensive end. He sold it too quick. The defensive end then didn't rush because of the timing. Obviously, Trevor, you would like for him to try to throw that away. But that was more of a situation where Travis didn't execute his job the way he is supposed to."
For the season, Etienne has 46 carries for 391 yards and five touchdowns and was just named ACC running back of the week for his 11 rushes for 122 yards effort against the Yellow Jackets. He became the first Clemson running back to record consecutive 100-yard rushing games since Wayne Gallman against Wake Forest and South Carolina in 2016.
Elliott thinks that running back Tavien Feaster has the mentality now at practice to possibly receive more playing time.
"I think Tavien now is playing at a very high level in back to back games," he said. "Tavien is a guy I have always had to challenge. I'm really proud of him because now you are starting to see that demeanor every single day in practice and you are seeing him be productive in the game. Obviously, Travis is very productive with the ball but without the ball, I got to challenge him to play better - in pass protection. That first sack he was doing a little too much. He shouldn't have been up in the offensive line. He should have been getting out on the route. So, therefore, he picks off the center. Specifically, in my position, Travis is being challenged every day...When we started Travis had a big lead so he was getting two or three series before those other guys rotated. Now because of where Tavien is and Adam pushing that Travis every single day he has to bring it, more in particular without the ball."
During the Georgia Tech game, Feaster had 8 rushes for 75 yards and a rushing score. For the season, he has rushed 23 times for 130 yard and two touchdowns.