| | |
| --- | --- |
| Dabo and Kathleen Swinney named honorary Clemson alumni | |
---
| | |
| --- | --- |
| Monday, May 15, 2017 10:59 AM | |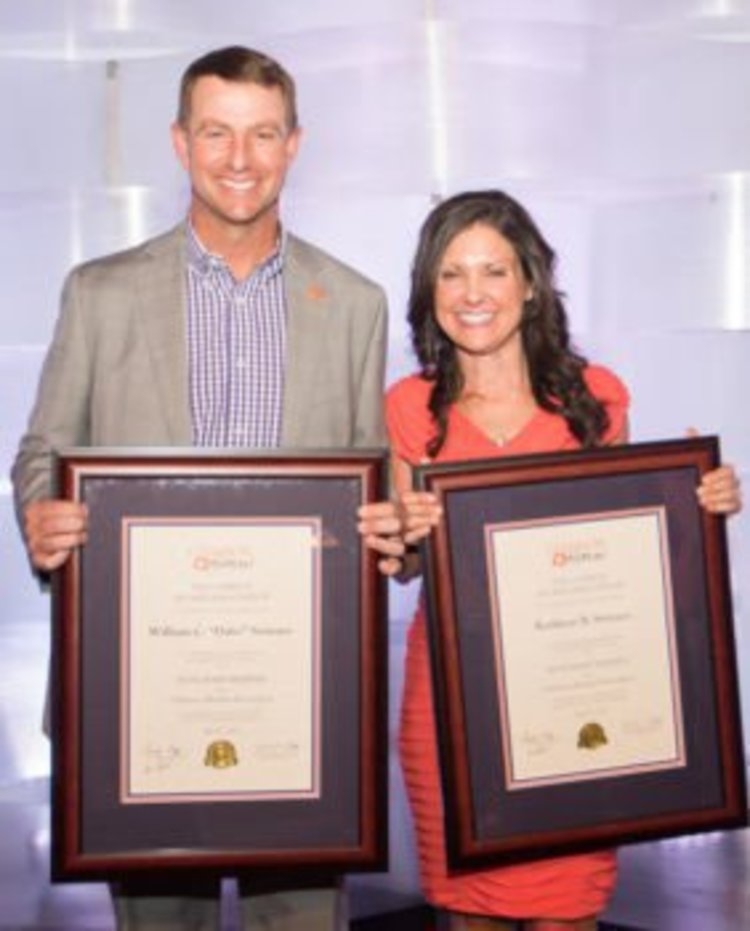 CLEMSON — Football Head Coach Dabo Swinney and his wife, Kathleen Bennett Swinney, have been named honorary alumni of Clemson University. They received the recognition at the 2017 All In Ball, an event presented by Dabo's All In Team Foundation.
A graduate of the University of Alabama,William Christopher "Dabo" Swinney began his career on the Clemson football coaching staff in 2003 and was named interim head coach in 2008, eventually taking on the role permanently at the end of that season.
Known for his recruitment of talented football players and enhancing the focus on student-athlete success in the classroom, Swinney led the Clemson Tigers to become the 2016 National Football Champions.
Kathleen Swinney, also a graduate of the University of Alabama and former schoolteacher, has not only been a support system for husband and her family, but has also focused her attention on using her high-profile platform as the first lady of Clemson football to better the lives of others.
The Swinneys are recognized for their impact in the community and the All In Team Foundation, whose mission is "to raise awareness of critical education and health issues in order to change the lives of people across the state of South Carolina."
The foundation raises funds for various initiatives at three major events: the All In Ball, the Dabo Swinney Ladies Football Clinic and the Dabo Swinney Football Camp for elementary, middle and high school athletes.
The funds go to breast cancer research, Call Me MISTER and The Family Effect (at the University of Alabama) and ClemsonLIFE, which provide programming for children and young adults with learning disabilities and special learning needs.
The foundation also provides grants to organizations throughout the Upstate with similar objectives.
Clemson Alumni Association President Col. Sandy Edge and Executive Director Wil Brasington, along with Clemson President James P. Clements and his wife, Beth, presented the Swinneys with the honor.
Honorary alumni are selected by the Alumni Association Honors and Awards Committee on the basis of outstanding service, lifelong devotion and loyalty to Clemson University or the Clemson Alumni Association. To see past honorary alumni or to view the award guidelines, visit the honorary alumni web page.