| | |
| --- | --- |
| Clemson travels to Kennesaw State Tuesday | |
---
| | |
| --- | --- |
| Monday, May 14, 2018 5:10 PM | |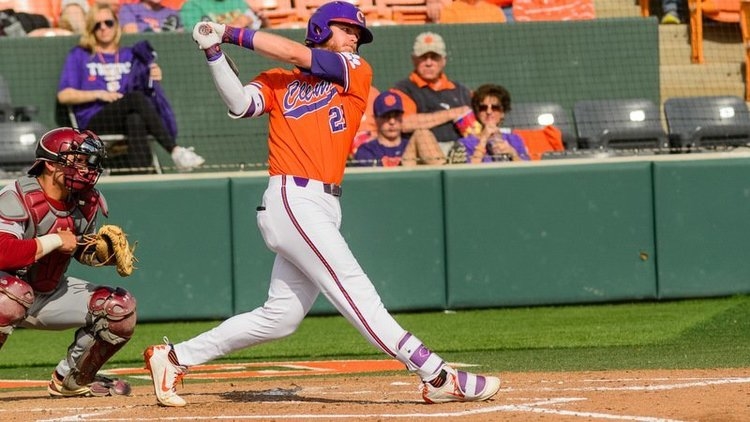 The Tigers play their final regular-season non-conference game of 2018 when they play at Kennesaw State on Tuesday night.
GAME SETUP
• Who - Clemson (39-13) vs. Kennesaw State (25-24)
• Best Rankings - CU - No. 4 Collegiate Baseball; KSU - NR
• When - Tuesday (6 p.m.)
• Where - Kennesaw, Ga. (Stillwell Stadium)
• Watch - ESPN+
• Video Announcers - Nathan McCreary, Scott Whitlock
• Listen (Radio) - WCCP (105.5 FM), ESPN Upstate
• Listen (Internet) - ClemsonTigers.com, TuneIn
• Live Stats - ClemsonTigers.com
• Social Media - ClemsonBaseball
SERIES HISTORY
• Overall Record - Clemson leads 1-0 (2018)
• Record at Kennesaw State - 0-0
STARTING PITCHERS
• LHP Mat Clark (CU - 2-0, 1.59 ERA) vs. LHP Ryan Kennedy (KSU - 2-6, 7.88)
CLEMSON OVERVIEW
• Clemson won two of three home games against Austin Peay last weekend.
• The Tigers are averaging 6.2 runs per game and hitting .255 with a .374 on-base percentage and 46 steals.
• The pitching staff has a 3.45 ERA, .234 opponents' batting average and 2.26 strikeout-to-walk ratio and Clemson is fielding .975.
KENNESAW STATE OVERVIEW
• Kennesaw State is led by 27th-year head coach Mike Sansing.
• The Owls won one of three home games against NJIT last weekend. They are hitting .280 and have a 5.11 ERA and .969 fielding percentage.
• Terence Norman is hitting .355, while Tyler Simon is batting .325. LaDonis Bryant has added 11 stolen bases as well.
QUICK HITS
• Clemson has allowed only 22 steals in 40 attempts.
• The Tigers are 38-5 when scoring at least three runs, 33-3 when scoring at least four runs and 31-2 when scoring at least five runs.
• Clemson is 25-3 when outhitting the opponent.
ONE-RUN SUCCESS
• Clemson has a 14-4 record in one-run games, tying the school record of 14 one-run wins in 2016 (14-6 record).
• Clemson has played 22 games decided by one or two runs and is 18-4 in those games.
• The Tigers swept William & Mary in three one-run games to start the season, then swept Virginia on the road in three one-run games in April.
• Clemson's two series sweeps with three one-run wins were the first two times in school history that happened.
• Clemson has five walkoff hits, including walkoff home runs by Jordan Greene (Florida State, May 7) and Grayson Byrd (Austin Peay, May 13).
• The Tigers are 37-14 (.725) in one-run games in Monte Lee's three seasons as head coach at Clemson.
GRADUATES
• Five Tiger players and two student assistants received their degrees during commencement ceremonies in Littlejohn Coliseum on May 10,11.
• Outfielders Robert Jolly and Drew Wharton and infielder Adam Renwick graduated with a degree in parks, recreation & tourism management.
• Infielder Patrick Cromwell graduated with a degree in communication.
• Lefthander Alex Schnell graduated with a degree in construction science & management.
• Student assistant coaches Mark Davidson (history) and Ben Paulsen (business management) graduated as well.