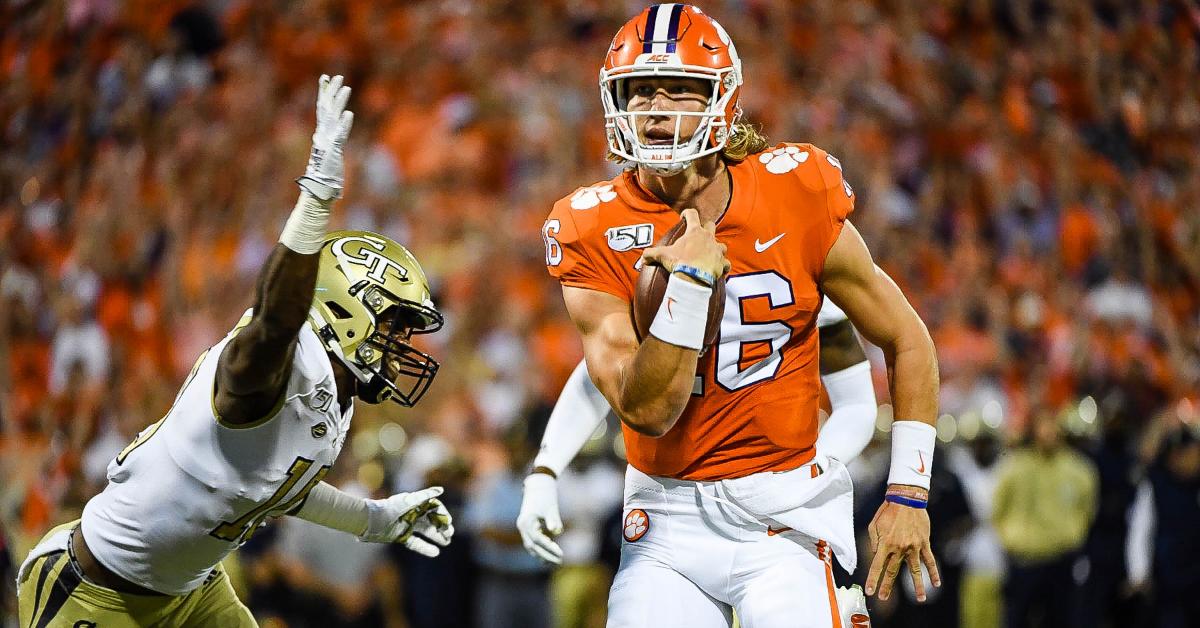 | | |
| --- | --- |
| Clemson quotes after 52-14 win over Georgia Tech | |
---
| | | |
| --- | --- | --- |
| Friday, August 30, 2019, 8:27 AM | | |
CLEMSON HEAD COACH Dabo Swinney
Opening statement:
"It's great to get the win. Our fans were awesome. I told the players in the locker room how blessed we are to have a fanbase that shows up and gives us a great environment. Our guys were ready and excited to show up and play."
On the Tigers' winning performance:
"We settled in and rushed for 411 yards, the most since 1957. It was fun to see what we could do in the trenches. There were contributions from all three phases. We had a goal-line stand. Most of their yardage came on three or four big plays that we can learn from.
"Travis Etienne rushed for a couple hundred yards and had the 90-yard score. That's the longest rushing touchdown ever by any team in this stadium. We had 13 different receivers and eight different rushers. We played 91 guys, and that's a great opportunity for us to grow as a football team. There were great contributions from all three phases."
On Trevor Lawrence's touchdown-saving tackle following an interception:
"I talk to our guys all the time about that. I don't expect to see perfection. I don't expect to see the eye of the Tiger. I want to see the heart of a champion. He gave us a chance to play goal-line defense and get an interception by Denzel Johnson because of that effort. That kind of play sets the tone for everything that we do."
On Isaiah Simmons' solid showing:
"Isaiah Simmons set the tone early with a great tackle for loss. He has so much length. He's hard to get away from. He's physical and he made some wild plays out there."
CLEMSON CO-OFFENSIVE COORDINATOR Tony Elliott
On offensive preparation:
"This was actually a tough game to get prepared for. We didn't quite know what to expect, and we knew we would have to get into the game and make some adjustments. Early on they [Georgia Tech] did some good things with their coverages, so that limited things early on. Once we got control of the line of scrimmage, we relied on those guys up front and running the football."
On Trevor Lawrence using his legs more:
"Each game is going to dictate that. The biggest thing we asked him there is just to make the system right. He's done a really good job of making the right decisions first and foremost, and he's a much better runner than people give him credit for."
CLEMSON OFFENSIVE COORDINATOR Jeff Scott
Opening statement:
"It was great to get off to a fast start. Really difficult opener. Openers are always difficult, but especially [when] you've got a new staff coming in, not knowing exactly what you're going to get. We planned for one thing, and give them credit, they came out and did something completely different. Felt like we settled in and really ran the ball. Really proud of that offensive line. Four seniors up there. That's our leadership, that's our experience, the heartbeat of our offense."
On the limitations early in the passing game:
"They played a lot of coverage. We want to be able to be a balanced team and we want to have an opportunity when they're giving us the throwing game to be able to execute that. When they're letting us run the ball, [we want to] take it. A quick death or a slow death. We really thought they were going to play a lot of man coverage and we were going to get a lot of opportunities."
On Travis Etienne's improvement from last season:
"[He's] just taking the next step..his maturity. He's always been a strong runner. I think for him the biggest step has been in pass protection. And that's another thing I should say, no sacks today, especially with all the different things up front. A lot of unknowns. To be able to come out with no sacks, that includes the running backs, offensive line and tight ends. Travis has worked hard. He's a humble guy, very hard-working. [He] doesn't listen to any of the outside noise or anything like that. It was great to be able to see him back and have some explosive runs."
CLEMSON DEFENSIVE COORDINATOR Brent Venables
On Clemson's overall body of work:
"Proud of our guys. I thought they came ready to play. I saw guys play with tremendous effort. A lot of passion. [I] thought we were physical. Our positioning was pretty good. [It was] the first game for a lot of guys as [starters] and I thought they performed well, particularly in the first half. We had a lot of situational football where our guys really responded, came through. We had a couple of forced turnovers and some fourth down stops. We saw a lot tonight."
On the growth of Clemson's defensive front:
"No doubt. And we left some money on the table. With a little bit of improvement and correction, [we] could have had a shutout. It's that close. [Georgia Tech] has done a nice job. They're doing the right stuff and using their personnel the right way. But absolutely, there's a ton that you saw our guys grow up from."
CLEMSON QUARTERBACK TREVOR LAWRENCE
On the tackle after the interception:
"I thought I had a quick throw to the outside and the corner made a good play. Right when I threw it, I thought, 'this is going to be a pick.' I just tried to make a play and give our defense a chance."
On team's response to the turnovers:
"We just responded to adversity. It's always good to see, especially with a team like this. Some things didn't go our way, but we went back and responded."
On the running game:
"It was great. The offensive line did a great job, and obviously Travis did too. We had to run the ball more than we thought we would, but the offensive line and running backs did a great job."
CLEMSON RUNNING BACK TRAVIS ETIENNE
"Just the leadership that we have, the experience that we have on offense, the older guys. Just rallying around us and knowing [we have to] keep our composure throughout the game and knowing that it's a four-quarter game and things are going to happen. It's how you respond to those things."
On if his fumble created motivation to get the ball back:
"Most definitely…. [I] hate when it happens because it's all what you can control. You never want to fumble as a running back… Everyone was like "You owe me, you owe me," so I was just trying to get it back for them."
On his 90-yard touchdown run:
"It was a great play call from coach. Guys went out there and executed it well. Diondre Overton gave me a great block down the sideline and it was off to the races."
On running into Jackson Carman:
"Yeah, I ran into Jackson, but it worked out for the better because Jackson got the corner right in front of him. He kind of just ran over the guy so it kind of worked out."
CLEMSON RUNNING BACK LYN-J DIXON
On his assessment of his performance:
"I felt like I played very well and played through the game scheme."
On what it's like to have a game in the books and to have film to review:
"[It's] really good. I can look at the film and look at the things I did [badly] so I can fix them."
On Clemson's defense responding well when they were put in tough spots:
"The defense, they're hungry. There's been a lot of talk, and I think they fed into that and they're going to keep getting better and better each week."
CLEMSON DEFENSIVE TACKLE TYLER DAVIS
On the atmosphere of Death Valley:
"It was very intense. It was amazing. I was kind of nervous at first, but I gathered myself."
On the preseason hype:
"I like to stay humble. I like to thank God for that. I just stay humble."
On when he knew he was going to start:
"I didn't really know until my coach told me, but I just try to prepare myself and be ready."
CLEMSON SAFETY DENZEL JOHNSON
On the game:
"It's a great feeling, obviously. The first game of the season, to be able to come out and play like that, it's an awesome feeling."
On the interception:
"I saw the ball and then the quarterback. I looked the quarterback in the eyes, and he looked me in the eyes. I ducked my shoulder and gave him a little hit stick."
On preparing for a new Georgia Tech offense:
"It was difficult at first, but Coach [Brent Venables] does such a good job of getting us prepared. He made it a lot easier for us."
CLEMSON WIDE RECEIVER FRANK LADSON JR.
On his mentality heading into the game:
"We've been starting since January. Coach Swinney preaches all the time that we are a different team and that we have to come in with a different mindset."
On his first career touchdown reception:
"It felt great, especially after missing most of fall camp. The offensive line did a great job and Chase threw a great ball. We had been running the ball down the field and Coach Swinney, Coach Scott and Coach Elliott decided to take a shot. I knew that it was my opportunity and Coach Scott had been preaching all week that, when your opportunity comes, you have to make the most of it, and that is what I did. It felt great to be out there with my team."
On first game as a Tiger:
"It was crazy playing on a Thursday night against an ACC team. Coach Swinney, the rest of the coaching staff and the older guys prepared me for the moment."
CLEMSON LINEBACKER ISAIAH SIMMONS
On the first game of the season:
"As long as camp is, all the guys can't wait to hit somebody new because we just hit each other every day. It was nice to hit somebody you don't know."
On new faces on the team:
"I think we did very well. I think the expectation was that we weren't going to be good at the linebacker and defensive line positions because of all of the experience that left, but I was really proud of the guys. I think we executed well, but of course there is a lot to learn from."
On fourth-down stops:
"Fourth-down stops are a big deal. That is something that we really pride ourselves in. We talk all the time about winning in the trenches and that is where that all started. They were just running the ball downhill, downhill, downhill. Of course, [the trenches] was a new void that everybody was questioning but I was proud of the guys for what they did."
On Trevor Lawrence's tackle:
"Without him, we would not have had a chance [at the stop] so I really applaud him for that effort. There are a lot of quarterbacks out there that would have thrown a pick and just jogged over there, but he gave everything he could just to give us another chance and allowed us to get the stop."
GEORGIA TECH HEAD COACH GEOFF COLLINS
Opening statement:
"I've first got to give a ton of respect to Clemson. Really good football team, really well coached. They did a great job tonight. Twenty-one point swing early. We had chances. We had 4th-and-1. We didn't convert. We got down on the goal line, didn't convert. Turnovers early hurt us. I think the story of the game was big plays. I thought we tackled well. I thought our guys ran to the ball. They had some really nice throws and catches and they broke some big runs. So the explosive plays, when we go back and look at it, limit those and it's a different game. Really proud. We had a bunch of young guys play. There were 22 freshmen who played in the game, 11 true freshmen who played in the game and we only have 11 seniors. I'm really proud of their contribution. We're just going to continue to get better. I'm just proud of the way they fought and of the way they stuck together. Injuries piled up on special teams, but the guys kept rolling in, trying to give their all for each other."
On building from this game:
"Just the tackling piece. Whenever you're playing against elite running backs and an elite offensive line, you can't give them anything. So we've got to make sure we're fitting in the gaps and any little creases where we're going to get exposed. So eliminating them. I do think that, as a whole, we tackled well. Just elite players who find a seam, they got us. Then just the 50-50 balls. Offensively, protecting the football, playing clean. We're still figuring out who we are, what our personnel can do. I'm proud of the offensive line. They went out there and battled. Any group was out there battling."
On Georgia Tech's perseverance:
"They're special. We're going to be so good moving forward. We're just going to get better and better every single week. The conversations as we're coming to the locker room, the belief, the love, I think that will transcend and we will continue to get better every week. Just proud of them. I told them last night how much I love them, how much I respect them and it might even be stronger after the way they fought and stayed together."