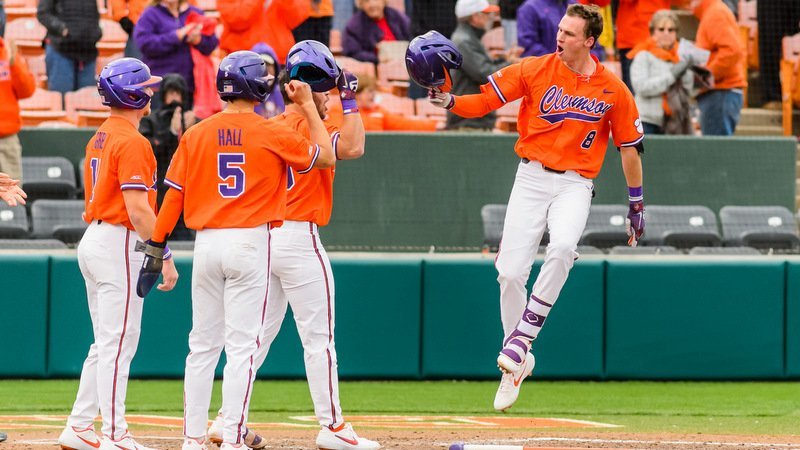 | | |
| --- | --- |
| Clemson hosts VMI for weekend series | |
---
| | | |
| --- | --- | --- |
| Thursday, February 21, 2019, 4:12 PM | | |
The Tigers continue their homestand with a three-game series against Virginia Military this weekend.
SERIES SETUP
• Who – Virginia Military (2-3) vs. Clemson (3-1)
• Best Rankings – VMI – NR; CU – No. 14 Baseball America
• When – Saturday 1 p.m., game two 60 minutes after; Sunday (1 p.m.)
• Where – Clemson, S.C. (Doug Kingsmore Stadium)
• Watch – ACC Network Extra
• Video Announcers – Fred Cunningham (Saturday), Ron Smith, Pete Yanity (Friday, Sunday)
• Listen (Radio) – WCCP (105.5 FM), ESPN Upstate
• Listen (Internet) – ClemsonTigers.com, TuneIn
• Live Stats – ClemsonTigers.com
• Promotion (Sunday) – Game Highlight – Kids run the bases
SERIES HISTORY
• Overall Record – Clemson leads 1-0 (1916)
• Record at Clemson – 0-0
STARTING PITCHERS
• Friday – RHP Jacob Menders (VMI, 0-0, 0.00 ERA) vs. RHP Brooks Crawford (CU, 0-0, 3.86)
• Saturday – RHP Adam Jewell (VMI, 0-0, 0.00) vs. RHP Davis Sharpe (CU, 1-0, 0.00)
• Sunday – RHP Zak Kent (VMI, 1-0, 3.60) vs. LHP Justin Wrobleksi (CU, 0-1, 6.35)
CLEMSON OVERVIEW
• Clemson built a 6-0 lead and edged Charlotte 7-6 at home on Monday behind four home runs and five stolen bases.
• The Tigers are averaging 5.8 runs per game and hitting .229 with a .386 on-base percentage and 12 steals.
• The pitching staff has a 3.00 ERA, .195 opponents' batting average and 6.57 strikeout-to-walk ratio and Clemson is fielding .986.
VIRGINIA MILITARY OVERVIEW
• Virginia Military is led by fifth-year head coach Jonathan Hadra.
• The Keydets lost at Virginia 9-0 on Tuesday. They are hitting .237 and have a 4.50 ERA and .960 fielding percentage.
• Jake Huggins has both of the team's home runs and is hitting .391 with seven RBIs. Will Knight is batting .389 with two steals.
QUICK HITS
• The only previous meeting between Virginia Military and Clemson took place on April 29, 1916 in a game Clemson won 2-0 at Lexington, Va.
• Seventeen of Clemson's 23 runs in 2019 have come on its 10 home runs.
• Grayson Byrd, Michael Greene, Jordan Greene, Sam Hall and Bryce Teodosio have all reached base in all four games in 2019.
POWER & SPEED SURGE
• Many prognosticators predicted Clemson's power numbers to drop off from 2018, when the Tigers hit 98 homers, tied for third in the nation.
• Clemson has belted 10 home runs in four games, good for 2.5 per game. The Tigers were second in the nation in that category in 2018 (1.6).
• Clemson has hit at least two homers in all four games, including a season-high four homers in the Tigers' 7-6 win over Charlotte on Feb. 18.
• Seven Tigers have accounted for the 10 homers. Logan Davidson, Davis Sharpe and Bryce Teodosio are tied for the team lead with two apiece.
• Clemson has also showed a penchant for stealing bases in 2019. The Tigers have 12 steals, an average of 3.0 per game.
• Six Tigers have accounted for the 12 steals. Logan Davidson has a team-high four steals, while Sam Hall is second with three stolen bases.
• Clemson is the only team in the nation with both seven homers and seven stolen bases in 2019 (through games of Feb. 19).
SHARPE SHINING AS FRESHMAN
• Freshman utility player Davis Sharpe has made an immediate impact, both on the mound and at the plate.
• He is 1-0 with an 0.00 ERA, .118 opponents' batting average and eight strikeouts against two walks in 5.0 innings pitched over one start.
• He is hitting .429 with two homers, three RBIs and two runs in two games on offense.
• He made his college debut a memorable one in a doubleheader against South Alabama on Feb. 16.
• In the first game, he started on the mound and tossed 5.0 scoreless innings of two-hit ball with eight strikeouts to earn the win.
• In the second game, he made his offensive debut and hit two homers with three RBIs as the designated hitter.
• He was named ACC Player-of-the-Week on Feb. 18 for his performances in the doubleheader against South Alabama on Feb. 16.