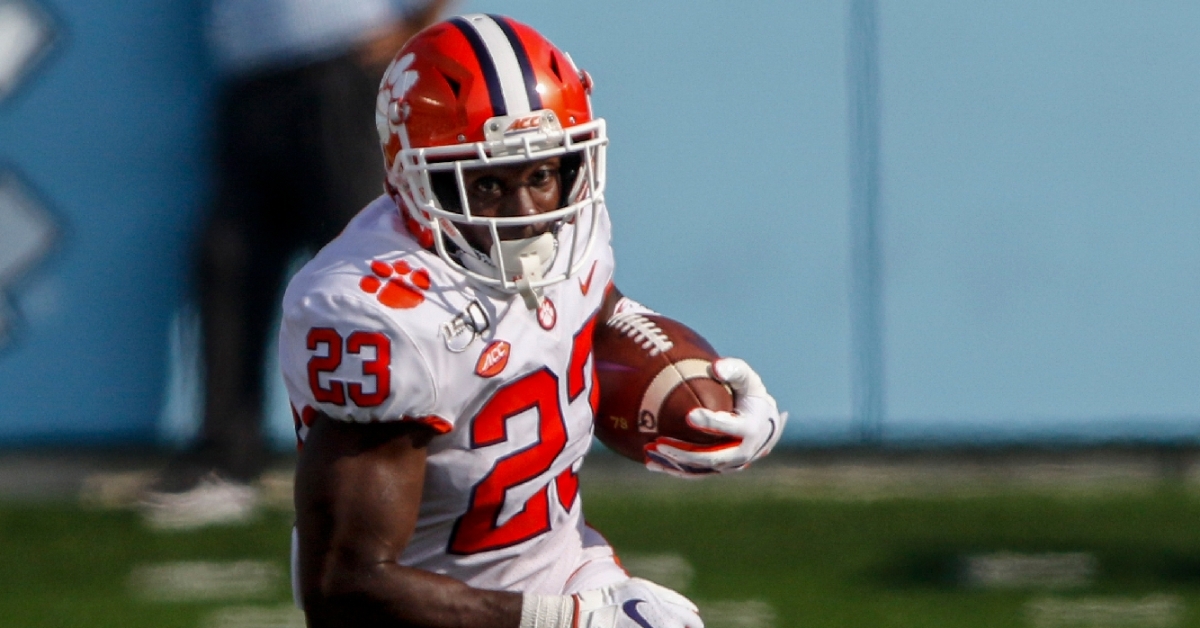 | | |
| --- | --- |
| Clemson falls from No. 1 spot in latest AP Top 25 | |
---
| | | |
| --- | --- | --- |
| Sunday, September 29, 2019, 2:09 PM | | |
Clemson dropped to No. 2 behind Alabama in the new Associated Press Top 25 on Sunday.
The Tigers held 55 of the 62 first-place votes a week ago before the close call at UNC, a 21-20 win after being favored by nearly four touchdowns.
It was a week with no upsets in the top-10 but some standout performances, with blowout wins for Alabama (59-31 over Ole Miss), Ohio State (48-7 at Nebraska), Oklahoma (55-16 over Texas Tech) and Auburn (56-23 over Mississippi State). Georgia was on a bye after a closer-than-expected win over Notre Dame the week before (23-17).
The new top-10 is Alabama (1,478; 29 first-place votes), Clemson (1,426; 18 first-place votes), Georgia (1,375; 4 first-place votes), Ohio State (1,324; 7 first-place votes), LSU (1,322), Oklahoma (1,264), Auburn (1,186), Wisconsin (1,046), Notre Dame (996) and Florida (986).
Clemson, which holds a 20-game unbeaten run, had been No. 1 since the final ranking of the 2018 campaign in both the AP and Coaches polls.
The Tigers are joined in the AP ranking by Wake Forest (22) and Virginia (23) from the ACC, while week two foe Texas A&M hung on to a No. 25 spot.
Clemson drops to #2 in AP poll after winning. First time #1 has dropped to #2 after a win since 11-8-15 when Ohio State won over Minnesota 28-14 yet fell to #2. Ironically, Clemson was the team that moved to #1.

— Tim Bourret (@TimBourret) September 29, 2019
For those of you who think it is rare for #1 team in AP poll to win and drop in polls.....it is first time it has happened in four years, but 75th time since AP poll started in 1936.

— Tim Bourret (@TimBourret) September 29, 2019
AP Poll - 9/29
RANK TEAM PV RANK CONFERENCE POINTS
1 Alabama (5-0) 2 SEC 1,478
2 Clemson (5-0) 1 ACC 1,426
3 Georgia (4-0) 3 SEC 1,375
4 Ohio State (5-0) 5 Big Ten 1,324
5 LSU (4-0) 4 SEC 1,322
6 Oklahoma (4-0) 6 Big 12 1,264
7 Auburn (5-0) 7 SEC 1,186
8 Wisconsin (4-0) 8 Big Ten 1,046
9 Notre Dame (3-1) 10 IA Independents 996
10 Florida (5-0) 9 SEC 986
11 Texas (3-1) 11 Big 12 919
12 Penn State (4-0) 12 Big Ten 878
13 Oregon (3-1) 13 Pac-12 817
14 Iowa (4-0) 14 Big Ten 731
15 Washington (4-1) 17 Pac-12 603
16 Boise State (4-0) 16 Mountain West 559
17 Utah (4-1) 19 Pac-12 534
18 UCF (4-1) 22 American Athletic 352
19 Michigan (3-1) 20 Big Ten 350
20 Arizona State (4-1) Pac-12 249
21 Oklahoma State (4-1) Big 12 215
22 Wake Forest (5-0) ACC 190
23 Virginia (4-1) 18 ACC 186
24 Southern Methodist (5-0) American Athletic 151
25 Texas A&M (3-2) 23 SEC 147
Others receiving votes:
Michigan State 147, California 141, Memphis 71, Appalachian State 50, Army 44, Missouri 26, Baylor 19, Colorado 19, Minnesota 15, USC 7, Tulane 1, Kansas State 1